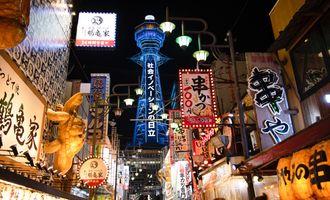 Bloomberg: Beware a USD/JPY Reversal
USD/JPY printed a 24-year high on Tuesday, and seems intent on reaching the highest level since 1990. But a prominent analysts warns of a violent reversal.
A research note from Simon White of Bloomberg laid out the thesis that dollar/yen has more chance of seeing 120.00 before 160.00. The yen, like many currencies, is performing horribly against the dollar this year. As it stands JPY is on track for its worst annual performance against the dollar in over 60 years.
The yen's weakness is primarily down to diverging central bank policies. Whilst the Federal Reserve Open Market Committee (FOMC) has raised rates aggressively over the last 10 months, the Bank of Japan (BoJ) is keeping them rock bottom.
The reports touches on Japan's widening trade deficit due to high oil prices as another catalyst for yen weakness. As well as the fact that international investors are abandoning Japan in favor of higher yielding assets.
However, White says the yen's decline is slowing growth. Which along side inflation, increases the chances of an economic shock in Japan. He goes on to suggest that typically Japanese investors repatriate capital in times of crisis. With a net investment international investment position (NIIP) of $3.5 trillion, any repatriation could trigger a tsunami of yen buying.
But here's the thing about the yen — it's like a catapult. The more it's stretched, the greater its propensity to rebound.
The report also highlights the growing chances the Bank of Japan will step in to stabilize the yen, or let government bond yields move higher. In this event, Japanese investors will be encouraged to sell foreign holdings and send money to Japan to fund domestic investments.
US Dollar to Japanese Yen Outlook
One look at the daily price chart shows just how stretched USD/JPY is on the upside. The yen has depreciated around 26% since the start of 2022, and 41% from January 2021.
The Relative Strength Index (RSI) of 79.12 suggests the rally is incredibly fragile and prone to reversal. However, as we noted yesterday, USD/JPY could extend towards 148.00 in the near-term.
Considering the steepness of the recent ascent, we may be in the final throes of this bullish push. Should USD/JPY squeeze higher towards 148.00 we expect to see profit-taking emerge. In this event, calmer conditions should prevail, leading to consolidation. Whereas, a drop below the 100-Day Moving Average (DMA) at 133.89 (blue) could be the catalyst for a deeper correction.
USD/JPY Price Chart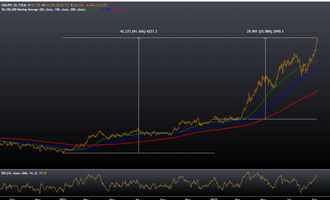 Elliot Laybourne
Elliott is a former investment banker with a 20 year career in the city of London. During this time he held senior roles at ABN Amro, Societe Generale, Marex Financial and Natixis bank, specialising in commodity derivatives and options market-making. During this time, Elliott's client list included Goldman Sachs, JP Morgan, Credit Suisse, Schroders Asset Management, and the Pennsylvania State Public School Employees Retirement System, amongst others. Today, he splits his time between Thailand and Dubai, from where he provides trading consultancy and business development services for family office and brokerage clientele.