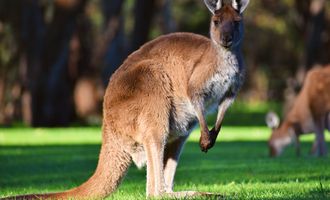 AUD/USD Forecast: Is the (Double) Bottom in?
AUD/USD is stronger on Friday as the Aussie Dollar comes out fighting against the strength of the seemingly unstoppable greenback.
The Aussie has recovered around 1.25% after testing the support at the July lows earlier in the week, climbing from 0.6700 to the current 0.6786. The appreciation follows the 50 basis point interest rate hike from The Reserve Bank of Australia on Tuesday.
As forecast, the RBA lifted the Official Cash Rate from 1.85% to 2.35% . Despite the the move being widely expected, AUD/USD firmed following the announcement. However, the weaker-than-expected Australian Gross Domestic Product (GDP) that followed, may limit gains.
Australian GDP released on Wednesday, showed the economy expanded less than expected in the second quarter. Q2 GDP of 0.9% was below the analysts forecast of 1.0%. Although, Year on Year (YoY) came in at 3.6% versus expectations of 3.5%.
Aussie Dollar to US Dollar Technical Analysis
The daily price chart shows a bullish double-bottom patterned has formed at 0.6700. We see similar patterns throughout the year have proved turning points.
A double-bottom in February, triggered a 9.8% AUD/USD rally to the year highs. Again in May, the Aussie appreciated over 3.00% from the double-bottom low of 0.685. With this in mind, technical traders are likely positioning themselves for a bounce from the key support at 0.6700. If the bullish momentum picks up, the 50-Day Moving Average (DMA) at 0.6891 (green) is a potential target. Above that, the 100-DMA at 0.6965 (blue) follows.
Additionally, the Relative Strength Index (RSI) is turning higher, lending credibility to the bullish view. However, rallies are likely to be sold, considering the weak economic data. For this reason, an extension towards the 50 and 100 DMA's should attract profit-taking. Nonetheless, the near-term outlook is positive, and remains so above 0.6700. However, AUD/USD's prospects deteriorate sharply on a daily close below that level.
AUD/USD Price Chart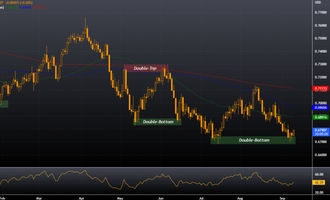 Elliot Laybourne
Elliott is a former investment banker with a 20 year career in the city of London. During this time he held senior roles at ABN Amro, Societe Generale, Marex Financial and Natixis bank, specialising in commodity derivatives and options market-making. During this time, Elliott's client list included Goldman Sachs, JP Morgan, Credit Suisse, Schroders Asset Management, and the Pennsylvania State Public School Employees Retirement System, amongst others. Today, he splits his time between Thailand and Dubai, from where he provides trading consultancy and business development services for family office and brokerage clientele.