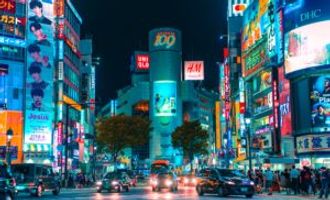 USD/JPY Close to Breaking 24-Year High After CPI
USD/JPY jumped to the highest level since 1998 on Tuesday after the US inflation data for August came in hotter than expected.
The Consumer Price Index (CPI) reading of 8.3% Year-on-Year came in above analyst expectations of 8.15. As did the Month-on-Month number of 1.0% versus the expected -0.1%. The unexpected beat sent shockwaves across markets, leading the major US stocks indices to their worst day in over two years.
The rise in the inflation rate spooked fixed-income markets, increasing the likelihood of a 100 basis-point hike at the next FOMC. Subsequently, markets are now predicting that benchmark rates will hit 4.25% next year. As a result, the dollar caught a strong bid, which lifted the US dollar Index higher by 1.5% to 109.50.
Yen Performance 2022
The dollar's rally drove USD/JPY to 144.96, narrowly missing the 24-year high of 144.99 recorded on September 9. The yen is somewhat firmer on Wednesday, and currently trading around 0.5% stronger at 143.78. Despite the mild recovery, the Japanese yen is one of the worst-performing Emerging Market (EM) currencies this year. The yen has depreciated by 25% year-to-date, leading many to question it's so-called safe-haven status.
The yen's poor performance this year follows the Bank of Japan's (BOJ) reluctance to raise interest rates. Unlike the Federal reserve, which has hike rates considerably this year, the BOJ is yet to act. Subsequently, capital continues to flow west in search of yields.
Dollar to Yen Forecast
The long-term monthly price chart shows USD/JPY is approaching the key resistance offered by the 1998 high of 147.67. As such, we should expect to see profit-taking emerge should the rate move higher from the current level of 143.78. The high Relative Strength Index (RSI) reading of 83.38 also indicates the rate of ascent may be unsustainable. Taking these factors into consideration, USD/JPY may be close to a near-term top. However, if the rate surpasses 147.67, an extension towards the 1990 high around 160.00 can't be ruled out.
USD/JPY Price Chart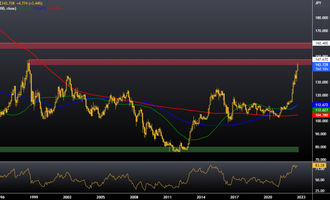 Elliot Laybourne
Elliott is a former investment banker with a 20 year career in the city of London. During this time he held senior roles at ABN Amro, Societe Generale, Marex Financial and Natixis bank, specialising in commodity derivatives and options market-making. During this time, Elliott's client list included Goldman Sachs, JP Morgan, Credit Suisse, Schroders Asset Management, and the Pennsylvania State Public School Employees Retirement System, amongst others. Today, he splits his time between Thailand and Dubai, from where he provides trading consultancy and business development services for family office and brokerage clientele.