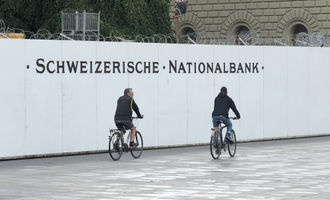 EUR/CHF Sets Stage for More Downturn After Hawkish SNB

Crispus Nyaga
The EUR/CHF exchange rate crashed to a record low on Thursday after the Swiss National Bank (SNB) delivered a surprise rate hike. The pair dropped to a low of 0.9490, meaning that it has crashed by more than 7% this year alone.
Swiss National Bank rate hike
For a long time, the SNB was the most dovish central bank in the world. It resisted hiking interest rates and even pushed Swiss rates to a negative level. 
This dovish tone changed in the second quarter when the bank decided to deliver its first interest rate hike in more than a decade. More so, the rate hike was not the usual 25 basis point. Instead, the bank decided to hike by a whole 50 basis points.
On Thursday, the SNB caught the market off guard when it decided to deliver its second rate hike of the year. While most analysts were expecting the bank to hike, the size of the increase was significantly bigger than expectations. The bank decided to hike rates by 0.75%, in line with what the Federal Reserve did on Wednesday.
The decision was a surprise for two main reasons. First, unlike in other countries, Switzerland's inflation is relatively modest. It rose by less than 4% last month, which is much lower than in other countries.
Second, the rate hike came at a time when the Swiss franc is substantially stronger than its key peers like the euro. Historically, the SNB has been a key proponent of a weaker franc in a bid to incentivize exports.
Therefore, the EUR/CHF price dropped because the SNB has become more hawkish than the European Central Bank. In its statement, the bank hinted that more rate hikes were on the table. The statement said:
"It cannot be ruled out that further increases in the SNB policy rate will be necessary to ensure price stability over the medium term. To provide appropriate monetary conditions, the SNB is also willing to be active in the foreign exchange market as necessary."
EUR/CHF forecast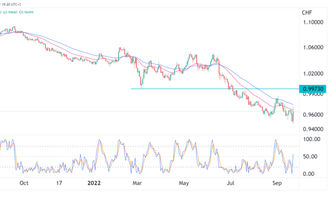 The four-hour chart shows that the EUR/CHF price has been in a strong bearish trend in the past few days. It crashed to a low of 0.9470 and then pulled back to the current level of 0.9650. The pair moved below the 25-day and 50-day moving averages and the important support level at 0.9973. At the same time, the Stochastic Oscillator has moved above the neutral level of 50. 
Therefore, the pair will likely resume the bearish trend as sellers target the next key support level at 0.9500. Learn more about how to send money to Switzerland.
Crispus Nyaga
Crispus is a financial analyst with over 9 years in the industry. He covers the stock market, forex, equities, and commodities for some of the leading brands. He is also a passionate trader who operates his family account. Crispus lives in Nairobi with his wife and son.