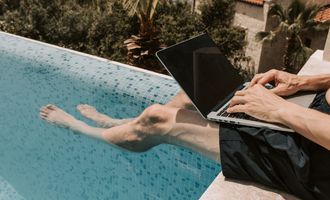 12 Most Popular Digital Nomad Cities Compared by Cost of Living

Yasmin Purnell
In 2022 more people than ever are embracing the ability to work remotely from anywhere in the world. There are approximately 15.5 million digital nomads in the US alone – the global figure is thought to be upwards of 35 million.
Earlier this year, Airbnb released their top 10 destinations for British nomads, featuring five cities actually within the UK itself. Here, MoneyTransfers.com has analysed the cost of living within these locations, plus two more top digital nomad destinations – London and Bali –  to help those working remotely weigh up where they might like to be based.
Jonathan Merry, CEO of MoneyTransfers.com comments: 
"We're seeing a consistently upward trend of remote working becoming the norm around the world – with more and more people requiring quick access to their funds when working and living internationally.

With many workers no longer constrained to one single location, the cost of living of popular digital nomad hubs is a key consideration for many workers looking to stretch their paycheck by living abroad".
One months rent in LA equals 5 in Bali
For digital nomads looking to rent a flat for a more long-term stay in another city, accommodation costs are going to be a key point of consideration. Out of the 12 cities we reviewed, the most expensive city by far for a 1 bed apartment in the city centre is Los Angeles, costing an average of £2,261 per month. London, as you might expect, follows not far behind, with an average monthly rent of £1,854.
On the other end of the scale, one month's rent in LA could buy you five months rent in Bali, costing an average of £424 a month to rent a one bedroom apartment in a city centre. 
LA and Dubai workers take top earnings
A large perk of being a digital nomad is that you're not tied to the average salary in the city you're living in – however, it can still be helpful to know the average earnings the locals around you are on.
LA and Dubai are top of this ranking factor, with workers in LA earning an average of £4,422 after tax, while those in Dubai earn an average of £,4045. Digital nomads might be interested to note that the average salary of someone living in Dubai is more than £1,000 per month than that of someone living in London, but monthly rent is around £400 less.
Transport
Understandably, most digital nomads rely on public transport to travel around their foster city, as the paperwork required to buy a car in a foreign country can be lengthy and complex. Nomads looking to utilise public transport would find the most cost-effective monthly passes in Cape Town (£25), Seoul (£34.19), and Lisbon (£34.68). Conversely, in Bali – another extremely popular digital nomad destination – a monthly public transport pass would set you back just £8.64.
On the other end of the spectrum, a monthly pass in LA would set you back £85.18, with Manchester not far behind at £78.04.
Wine around the world
Some items see quite a large variance when it comes to food shopping. Lisbon, for example, enjoys low prices across the board – a bottle of mid-range wine costs just £3.37, a litre of milk is the cheapest at £0.69, while a loaf of bread costs an average of £1.07.
In contrast, a mid-range bottle of wine can cost as much as £13.98 in Dubai, with Seoul sporting the second-highest prices at £12.43. Within the UK, prices sit at around £7 in each city. British nomads dependent on their morning cup of tea may be interested in the differences in the cost of milk in the countries reviewed. In Lisbon, a litre of milk can be purchased for just 69p – whereas in Seoul, the same quantity is more than double the price, costing an average of £1.76.
Utility bills
Utilities in the countries we compared don't differ greatly with two notable exceptions: Bali, and Cape Town. These were the only two locations with an average monthly utilities cost of well under £100, with bills in Bali costing £40.74 a month, and utilities in Cape Town costing around £66 per month.
The remaining countries analysed in our study had an average utility bill cost between £100 – £200 per month, with bills in London costing the most at £244.35 a month.
UK most expensive for childcare 
Only 26% of digital nomads have underage children, and just 41% of those travel with their children. However, those digital nomads that do choose to travel with their family, or expats moving to a city on a more long-term basis may still be interested to know the childcare costs around the world. 
The UK has been heavily criticised in recent years for the high cost of childcare. Recent statistics showed that, in fact, the UK has the second most expensive childcare system in the world. Out of the cities compared in this study, London has the most expensive childcare costs at £1,560 per month for one child. In contrast, Bali has the cheapest child care at just £84.52 per month, followed by Cape Town (£173), Seoul (£316), and Lisbon (£353).
Just four out of the 10 cities compared had monthly childcare costs over £1,000, three of which are in the UK – London, Bristol, and Manchester.
Yasmin Purnell
Yasmin Purnell is a Content Writer and Editor for Moneytransfers.com. Yasmin has a wealth of experience writing across a range of topics within the personal finance, student, and business niche. Yasmin joined the team with the one main mission to provide accessible financial, career and business information and advice for all.