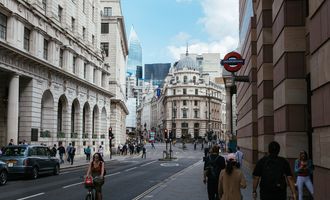 GBP/USD Forecast Ahead of the UK GDP Data

Crispus Nyaga
GBP/USD edged higher on Tuesday after four consecutive sessions in the red. Even so, it remains below the previously steady support zone of $1.1500 amid a strong US dollar and concerns over the stability of UK financial markets.  
Concerns over instability in UK markets
On Tuesday, the bulls successfully defended the critical support zone at $1.1000 after the better-than-expected UK jobs data. On the one hand, the number of unemployment claims rose by 25,500 in September; exceeding the economists' forecast of 4,200 and prior month's adjusted figure of 1,100. Even so, the country's unemployment rate dropped from 3.6% to 3.5%.
 Despite these bullish figures, the currency pair has remained below $1.1500; a level that had been a steady support level for decades prior to mid-September. Indeed, the Bank of England (BoE) has warned that there still exists a "material risk to UK financial stability".  
 As part of its latest efforts to support the UK financial markets, the UK central bank doubled its bond-buying daily limit to 10 billion pounds on Monday, to continue to the end of the week. This follows the sell-off in government bonds and the subsequent soaring of yields.
US dollar strength
At the same time, GBP/USD is also reacting to a strong US dollar. An ultra-hawkish Fed has boosted the greenback against the British Pound and other currencies in recent months.
 On Monday, the Fed Vice Chair Lael Brainard reiterated on the need for the central bank to remain aggressive in tightening its monetary policy. Indeed, the job numbers released on Friday heightened bets for further rate hikes by the Fed.
 In the ensuing sessions, investors will be keen on the Fed meeting minutes and US inflation data. Speech by BoE's Governor Andrew Bailey and UK's GDP will also impact the currency pair.  
GBP/USD forecast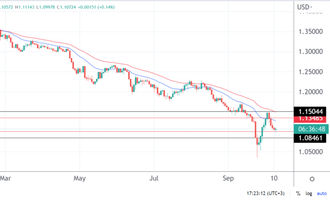 As shown on a daily chart, GBP/USD is trading below the 25 and 50-day exponential moving averages. Based on these indicators, coupled with the fundamentals, I expect the currency pair to remain below the critical zone of 1.1500, which is along the 50-day EMA. In fact, a move above the aforementioned level will invalidate this thesis.
In the short term, the range between 1.1348 and 1.1010 will be worth watching. Failure by the bulls to defend the highlighted support will give the bears an opportunity to retest the lower level of 1.0846.
Crispus Nyaga
Crispus is a financial analyst with over 9 years in the industry. He covers the stock market, forex, equities, and commodities for some of the leading brands. He is also a passionate trader who operates his family account. Crispus lives in Nairobi with his wife and son.