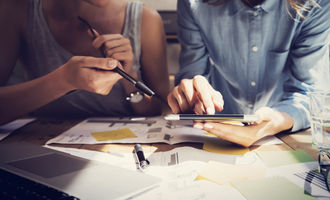 Help At Home: Two Thirds of Young Adults Want More Financial Advice From Parents

Mehdi Punjwani
MoneyTransfers.com has analysed data from a Canadian survey and found that almost two thirds of young adults wanted more conversation with their parents about money and finances – whereas 38% of parents thought this was the case.
These numbers speak to a gap concerning financial education and where it should be coming from. In times of economic hardship, with inflation climbing ever higher and consumer costs increasing, it's understandable that money worries are at the forefront of young peoples' minds.
Over 70% of young adults (aged 18-24) in the survey cite the cost of living as their biggest challenge in life, followed by inflation at 54%. Yet while two thirds of young adults are 'really stressed' about their finances, only 44% of parents believe their children are experiencing this level of concern.
Climbing worries
The poll revealed a vast majority of young adults (83%) say they need more support when it comes to finances and money management, and over two thirds (68%) said they felt overwhelmed – feelings that were underestimated by their parents.
This shows that there is room for parents to provide more education and advice when it comes to personal finances. However, as young adults are more engaged with their finances than their parents believe, where else does the information come from?
Who should be educating young people about finance?
There are multiple sources of information available to people of every age, so it's no surprise that both social media (25%) and online articles (26%) are also relied on for financial advice. 
However, while almost three quarters of parents think they are the main source of advice, the reality is that young adults rely equally on their parents (45%) and banks or financial advisers (44%).
In fact, another study earlier this year found that 83% of parents believe the responsibility for teaching children about finances lies with themselves – but 31% of parents also say they 'never' talk to their children about household finances. 
This suggests that there is perhaps more to do at home to provide education and advice on personal finance, as this can have long-term effects on their children's financial confidence. Of the young adults who reported being engaged in their finances, over 80% were more likely to be confident in their ability to save money and 82% experienced increased feelings of financial responsibility. 
It's clear that young people expect more when it comes to financial education, and even though there is a wide array of information available, education should really start at home. Young adults are clearly interested in managing their finances, and giving them an early start can only help.

Jonathan Merry, CEO of MoneyTransfers.com
Mehdi Punjwani
Mehdi is a writer and editor with over five years of experience in personal finance, writing for brands including MoneySuperMarket, Equifax and The AA. He graduated from Brunel University with a BA and MA, and likes to spend his free time hiking, travelling, and reading.