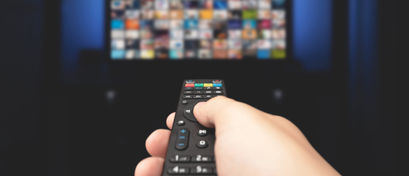 US Video Streaming Subscribers Could Save Up To $800 A Year

Yasmin Purnell
MoneyTransfers.com has revealed the extortionate amounts video streaming subscribers could be shelling out every month – with savings up to $800 to be made a year.
The global video streaming market is expected to grow to a value of $330.5 billion in 2030, with the quality of video streaming and quantity on offer to viewers only expected to expand to new heights in the next eight years. However, the growing number of streaming services available begs the question – what's the cost to consumers?
Surprisingly, the majority of households have no intention of changing or decreasing their video subscriptions – even in the light of the cost of living crisis sweeping across the globe. However, with an ever growing number of services to choose from, the astronomical annual savings that could be made by cancelling subscriptions could change a few minds or at the very least, inspire some households to cut down on the number of services they sign up to.

Jonathan Merry, CEO of MoneyTransfers.com
How much can households save on video streaming subscriptions?
We calculated the annual cost of subscriptions to all of the major streaming service providers: Netflix, Prime Video, Disney+, Hulu, BritBox, Apple TV, HBO Max, and Spotify. The overall annual cost for a subscription to all of these services comes to a whopping $807.63 a year.
| Subscription Service | Monthly Cost – UK | Annual cost – UK | Monthly Cost – US | Annual Cost – US |
| --- | --- | --- | --- | --- |
| Netflix | £6.99 | £83.88 | $9.99 | n/a |
| Prime Video | £8.99 | £95 | $14.99 | $139 |
| Disney+ | £7.99 | £79.90 | $7.99 | $79.99 |
| Now TV | £9.99 | n/a | n/a | n/a |
| BritBox | £5.99 | £59.99 | $6.99 | $69.99 |
| Hulu | n/a | n/a | $7.99 | $79.99 |
| Spotify | £9.99 | £99 | $9.99 | $99 |
| UK TV Licence | £13.25 | £159 | n/a | n/a |
| Apple TV | £6.99 | £69.99 | $6.99 | $69.99 |
| HBO Max | n/a | n/a | $14.99 | $149.99 |
| Hayu | £4.99 | £43.99 | n/a | n/a |
*Prices accurate as of November 2022
How many video subscriptions does the average person have?
According to the Nielsen State of Play 2022 report, 24% of those surveyed have subscriptions to two paid streaming services, with 23% having three paid subscriptions, and 18% having four. In 2022, there was an estimated 18% year-on-year increase in the average weekly time spent streaming video content, as streaming services are pushed to offer higher-quality content and premium offerings amidst the fierce competition between providers.
Interestingly, this is a fairly significant shift to 2019 figures. In 2019, 35% of subscribers had just one paid subscription – 21% of respondents had three paid subscriptions. With the constant evolution of various paid subscription services offering higher-quality shows, viewers are branching out into more services.
If we calculate the annual cost of two of three subscriptions, then the average US person could be spending between $199 (Netflix and Disney+), and $349 (Netflix, Hulu or Disney+, and HBO Max) for video streaming services.
These findings echo the results of Nielsen's report. The survey revealed that the average spend on video streaming services is between $20 – $29.99 per month (21%) in 2022. 15% estimate they spend $50 or more, while just 3% of those surveyed estimate they spend $4.99 or less a month.
One thing is clear: it's financially impossible for the vast majority of people to gain access to all the TV they want to watch. Viewers have to carefully pick and choose what subscriptions they take on. 64% of viewers say they wish there was a bundled video streaming service, while 46% feel that it's actually harder to find content to watch because there are so many different services available.
UK Savings
In the UK, another factor needs to be taken into account: the TV licence. A TV licence is required in the UK to watch BBC iPlayer and any live TV. It's estimated that around 92% of UK households are licensable, which means an additional cost of £159 per year, or £13.25 a month for the majority of households.
This means that the overall cost for all eight major streaming services (Netflix, Prime Video, Disney+, BritBox, Spotify, AppleTV, Hayu, and NowTV), plus a TV licence, comes to £810.63 per year.
Households with two subscriptions per year and paying for a TV licence will have an annual expenditure of £337.88 (for Netflix and Prime Video).
In 2021, YouGov reported that 1 in 2 Brits have multiple streaming subscriptions, while two-thirds of respondents had no plans to decrease or change their streaming plans. 
However, new data shows that more UK households are cancelling their subscriptions in 2022 in order to reduce their spending – a survey from Kantar World Panel reported that UK homes with at least one paid subscription has fallen by 937,000 between January and September 2022. It's highly possible that in light of the recent price increases across a number of subscription services this year, many households are changing their minds and cutting costs due to necessity.
Yasmin Purnell
Yasmin Purnell is a Content Writer and Editor for Moneytransfers.com. Yasmin has a wealth of experience writing across a range of topics within the personal finance, student, and business niche. Yasmin joined the team with the one main mission to provide accessible financial, career and business information and advice for all.