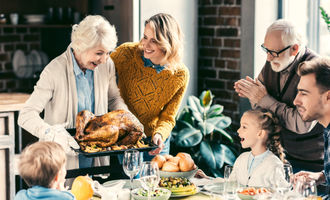 One in Four Americans Plan on Skipping Thanksgiving in the Wake of Rising Food Prices

Mehdi Punjwani
Based on research analysed by MoneyTransfers.com, a quarter of all Americans are planning to pass on Thanksgiving celebrations in 2022 in an attempt to save household finances. 
This is a rise from last year, when a 2021 survey reported that 90% of Americans planned to celebrate the holiday. The numbers come as the world's economy is struggling and inflation is on the rise – with the cost of living expenses, including food, rising beyond the scope of many Americans.
Generational differences
In fact, 45% of all respondents this year felt Thanksgiving was causing them financial stress – with Gen Z and Millennials (54% and 51%) feeling the strain more so than their older counterparts.
But at the same time, those belonging to Generation Z were also the least likely to have the smallest budget (under $100) for their thanksgiving dinner at 18%, compared to 40% of Generation X respondents not planning on spending more than $100 on their celebrations.
Conversely, baby boomers were the most likely to spend over $200 on Thanksgiving.
A year of financial strain
The holiday period is always a costly time of year for many people, but the strain is particularly tough as inflation hit a 40-year high of 8.6% earlier in 2022. As a result, Thanksgiving plans across the country are taking hits, as people try to find ways of cutting the costs.
While a quarter of Americans are planning to skip the holiday altogether, over half of all respondents planned to keep their gathering small (57%), make fewer dishes (53%) and ask guests to contribute with dishes or items (52%). One in five Americans feared they may not have enough money to cover Thanksgiving this year, while a third are certain they'll be spending less than they did last year.
Rising food costs
MoneyTransfers.com looked at the cost of some Thanksgiving food staples to see how much costs had increased compared to last year, and found that among the biggest climbers were the price of eggs, increasing by 43%, as well as butter and margarine (34%), flour (25%), and canned fruits (19%).
Turkeys have become more expensive too, but Americans have their limits – almost 90% of households will still serve Turkey at Thanksgiving (including 41% of those who say they follow a vegetarian, vegan or pescatarian diet!). Instead, many will be looking for ways to cut the cost of their poultry as well as other foods.
In another survey, when asked if they planned to adjust their spending habits over the holidays, 68% of respondents said they would – with over a third of Americans intending to make more from scratch (37%), have less side dishes and dessert options (36% and 35% respectively), and cut out alcoholic beverages (27%).
The holiday season might normally be associated with happiness and celebrations, but for many Americans – an increasing amount this year – it heralds financial stress and worries. There are a few ways to mitigate the rising prices, but at the end of the day it's still likely to cost a pretty penny,

said MoneyTransfers.com CEO Jonathan Merry
Mehdi Punjwani
Mehdi is a writer and editor with over five years of experience in personal finance, writing for brands including MoneySuperMarket, Equifax and The AA. He graduated from Brunel University with a BA and MA, and likes to spend his free time hiking, travelling, and reading.