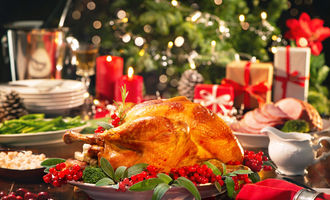 Cost of Christmas in 2022

Yasmin Purnell
This year, six in ten people in the UK surveyed by YouGov said they would be spending less on Christmas than they usually would. However, how much less is less? 
has taken a look into the different Christmas costs and multiple studies done into Christmas spending in the UK to find the true cost of Christmas in 2022, broken down by category.
Key findings
– The cost of a Christmas dinner from Aldi is actually more than £4 cheaper in 2022 compared to the same ingredients in 2021.
– Data suggests that UK households spend an average of £740 more in December due to Christmas spending.
– 36% of people surveyed are planning to spend more on gifts this year than previous years, with the average gift spend being £388 in 2021.
Jonathan Merry, CEO of MoneyTransfers.com comments:
Perhaps the most surprising finding regarding Christmas spending in 2022 is the general lack of any impact on spending, in spite of the current economic uncertainty the UK – and indeed, the globe – is facing. 

In fact, it appears that many households are accepting their fate to need to spend a little more this year in light of rising costs, and have factored that into their Christmas planning.

Jonathan Merry, CEO of MoneyTransfers.com
Overall spending
The Bank of England calculated that UK households spend almost £740 more (29% more) in December than other typical months when average spending is around £2,500 each month.
In December there is a:
10% increase on spending on clothing, footwear, and textiles

3.4% increase on furniture

2% increase on shopping at specialist food stores

1% increase on computers and phones

0.68% increase on alcohol, drinks and tobacco
Regionally, the highest spend over Christmas is in London, with an average household spend in December of £1,695. The region with the lowest spending – and the only one spending under £1,000 – is the North East, spending an estimated £992 per month.* Of course, regional differences can only paint half the picture, considering the average salary tends to be higher in the capital.
| Region | Amount spend in December |
| --- | --- |
| London | £1,695 |
| South East | £1,459 |
| East England | £1,322 |
| Scotland | £1,245 |
| South West | £1,210 |
| West Midlands | £1,164 |
| North West | £1,121 |
| East Midlands | £1,077 |
| Yorkshire & Humberside | £1,061 |
| Wales | £1,056 |
| Northern Ireland | £1,048 |
| North East | £992 |
*Prices estimated in 2020
Cost of Christmas Dinner
In 2021, research from Statista showed that the cheapest cost of a Christmas dinner in the UK came to just £27.38 from Aldi – covering the cost of "9 Christmas dinner ingredients, including turkey, Brussels sprouts and Christmas pudding". On the other end of the scale, the same ingredients from Waitrose would set a household back £42.17.
For 2022, MoneyTransfers.com aimed to replicate that research, taking a look at how much 9 Christmas dinner ingredients from Aldi would cost this year considering the rise in the cost of living. Here's what we found:
| Christmas Dinner Ingredients | Price (Aldi) |
| --- | --- |
| Frozen Turkey Crown (1.53 – 2.5kg) | £13.99 |
| Albert Bartlett potatoes (2kg) | £1.99 |
| Parsnips (500-600g) | £0.62 |
| Carrots (1kg) | £0.45 |
| Brussel sprouts (500g) | £0.95 |
| Red cabbage | £0.61 |
| Cranberry sauce (200 – 335g) | £0.55 |
| Sage and onion stuffing mix (170 – 250g) | £0.43 |
| Christmas pudding (800 – 907g) | £3.69 |
| Total: | £23.28 |
From the nine ingredients listed above, we calculated a total Christmas dinner cost from Aldi* as £23.28 – demonstrating that in fact, the total cost for these ingredients has decreased in 2022 compared to the previous year when shopping with Aldi.
Average Christmas gifts spend per head in the UK 2019-2022
In 2021, YouGov revealed the average Brit spent about £388 on Christmas presents, with respondents aged between 45 and 55 spending the most. In 2022, the forecast for average spending on Christmas gifts was slightly lower compared to last year.
Out of anything, consumers are predicted to spend the most on toys (an average of £44.50 per person) this year. In 2021, in contrast, the highest spend was on consumer electronics – perhaps suggesting that everyone is pinching their pennies this year on everyone except children!
In a survey commissioned by MoneyTransfers.com, we revealed that 36% of respondents were planning on spending more on gifts in 2022 compared to previous years.
Average spend on Christmas decorations
In 2021, research suggested that the majority – 35% of females and 31% of males – of people surveyed were planning to spend up to £50 on Christmas decorations. 
However, a different survey by Ultra LEDs revealed that Brits had spent an average of £355 on Christmas decorations in 2021 – with 47% saying they had spent more compared to 2020. Conversationally, however, 2020 is the year Christmas was 'cancelled' due to COVID-19 lockdowns, so it's perhaps not all that surprising that spending on Christmas in general increased in 2021.
Yasmin Purnell
Yasmin Purnell is a Content Writer and Editor for Moneytransfers.com. Yasmin has a wealth of experience writing across a range of topics within the personal finance, student, and business niche. Yasmin joined the team with the one main mission to provide accessible financial, career and business information and advice for all.