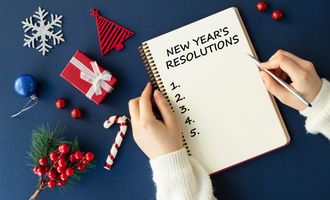 Percentage of Britons with money-related New Year's resolutions DOUBLES amidst cost of living crisis

Mehdi Punjwani
After soaring inflation, rising petrol prices and even supermarkets feeling the strain, Brits are now twice as likely to have savings-oriented new year's resolutions for 2023, compared to this time last year. 
It comes after a tough year for Brits, with fuel prices skyrocketing as well as the day-to-day living costs – so it's no wonder that finances are at the forefront of peoples' minds. 21% of respondents also said they wanted to 'reduce spendings on living expenses', including things like food and energy.
Saving more money was the second-most common new year's resolution for 2023, the only financial goal in the top four – with the other three responses being to exercise more (50%), eat healthier (48%), and lose weight (40%). These are regulars on the new year's resolutions list, making up the top three last year too.
Further down the list were resolutions to quit smoking (20%), cut down on alcohol (18%) and to become vegetarian/vegan (5%). 
Across the pond
After an economically tough year worldwide, with many feeling the pinch on their household funds, it makes sense that the majority of people are turning their attention to their finances. Almost three in five Americans believe 2023 will be the year of 'living sensibly', and three quarters are feeling unsettled about the state of the world and economy. 
"Setting goals is a great way to start any year – but it's important to make them attainable.

Having realistic targets can keep you motivated and focused, but if you set something unachievable and you realise a couple months in you won't get there, it's an excuse to stop trying. Finance is a good area to focus on – there are plenty of ways to go about saving money and budgeting, and in the tough times we've been facing it can only help."

MoneyTransfers.com CEO, Jonathan Merry
Keeping resolutions
It's all well and good making a new years resolution, as this writer will tell you from personal experience, but when it comes to keeping them – who fares better out of Brits and Americans?
Mehdi Punjwani
Mehdi is a writer and editor with over five years of experience in personal finance, writing for brands including MoneySuperMarket, Equifax and The AA. He graduated from Brunel University with a BA and MA, and likes to spend his free time hiking, travelling, and reading.