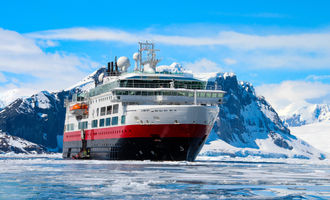 Antarctic tourist experiences more than triple between 2018 and 2022, amid fears of environmental impact

Mehdi Punjwani
As interest in Antarctica booms and Google searches for 'Antarctica cruise' jump by 400% in two weeks, there are growing fears about the detrimental impact the increase in tourism is having on the continent's environment. With the number of cruise vessels sailing through the region increasing every year, as well as the number of tourists making footfall, experts are worried that increased activity may be harming the icy south pole.
Rising tourism
There were over 74,000 cruise passengers in the Antarctic ocean in 2019-2020, more than double the number of passengers in 2014-2015 – and this number looks to be growing further. 
A huge jump in the number of searches for 'Antarctica cruise' in the last few months, and the appearance of multiple viral videos on social media platforms such as Tik-Tok, point towards an even more recent uptick. 
While this could be explained in part by the seasons – Antarctic summer begins around October/November – some also say travel companies are starting to recognise the value of travel influencers. 
MoneyTranfsers.com has analysed a range of data based on Antarctic tourism to find that some tourist activity in 2021-2022 was significantly higher than at any point in the last five years. Most notably, there were 200 Emperor Penguin colony visits and almost 300 Deep Field Experience trips – compared to fewer than 100 penguin colony visits in 2017-2018, and just over 50 Deep Field Experience trips in 2016-2017.
Environmental impact
The rise in popularity of the Antarctic continent coincides with some more worrying data. Carbon emissions per passenger-day has also been rising since 2014-2015, and carbon emissions in total reached a peak an all-time high in 2016-2017 at 167.6 ktCO2. While these figures do not cover more recent years due to limitations in data gathering, it shows a concerning trend.
To further illustrate the point, a study from 2022 shows exactly how human presence has been affecting the Antarctic landscape. After analysing snow samples from 28 different sites, scientists found an increased presence of black carbon from fossil fuel – in the form of soot or other impurities. 
These impurities absorb more solar energy compared to snow on its own, and the absorption of this extra sunlight and heat contributes directly to the accelerated melting of ice.
And it isn't just fears of increased warming and melting – human presence also seems to be directly affecting other inhabitants of the island. MoneyTransfers.com has also looked at a study surrounding wildlife in Antarctica to find that human behaviour and presence is causing anxiety and defensiveness in two species of penguins on the continent. 
Additionally, chinstrap penguin colony numbers have fallen by up to 77% since the early 1970s, alongside the increase in tourism to Antarctica. Some believe this may be due to reduced access to krill, their main source of food, as a result of the changing ocean ecosystems.
Travelling green + cost
The burning question is, is there really a way to be a tourist in Antarctica without causing damage to the environment? Technically speaking, not really – whether by air or by sea, any way of travelling to such a remote place is going to inevitably lead to greenhouse gas emissions. 
But small-vessel tours are available with minimal impact on the environment, following the rules of the Antarctic Treaty for Sustainable Tourism. These expeditions usually depart from the southernmost tip of South America, and offer people a chance to embark on a rewarding trip of a lifetime.
"There aren't many places in the world like Antarctica – it's a beautiful and unique place that needs protection from harmful human influence. Sustainable tourism is great if it works, and if it can help raise awareness of the challenges faced by Antarctica and the rest of the world, that can only be a good thing."

MoneyTransfers.com founder Jonathan Merry
So when is the best time to visit? As discussed above, the ocean is only navigable during the summer months from around October/November to March. There are a number of permitted expedition companies that organise tours to Antarctica, including Quark Expeditions, National Geographic Expeditions, G Adventures and more.
Mehdi Punjwani
Mehdi is a writer and editor with over five years of experience in personal finance, writing for brands including MoneySuperMarket, Equifax and The AA. He graduated from Brunel University with a BA and MA, and likes to spend his free time hiking, travelling, and reading.