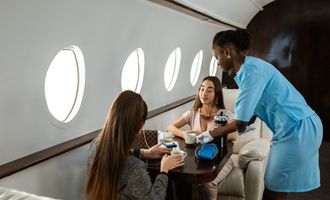 1 in 2 First Class Travellers Don't Care About Their Carbon Footprint

Yasmin Purnell
Latest research has revealed that 1 in 2 first-class travellers don't care what their carbon footprint is – a significantly larger percentage than the 21% of the general Great British population who said the same.
1 in 2 British First or Business class travellers don't care about their carbon footprint: In comparison, just 21% of the Great British population surveyed say the same
First class tickets have the highest emissions: A first-class ticket on a longhaul flight can have as much as nine times more carbon emissions than an economy ticket on first-class flights
Price remains a top concern: 70% of Brits who have flown first or business class in the past year don't mind paying for greener flights, provided they are cheap
The study asked British passengers who had flown first or business class in the past 12 months a series of questions about their carbon footprint and greener travel, revealing the startling figure – although 72% of those same consumers said they "don't mind paying for more products that are good for the environment".
The study comes after Heathrow CEO, John Holland-Kaye, said that, "wealthy people…and wealthy nations should be funding the energy transition in aviation to help support developing countries" at the World Economic Forum in Davos earlier this month.
"Forcing monumental change within an industry as mammoth as the aviation sector starts with the grassroots, and if the passengers funding the largest percentage of airlines profits aren't strongly-minded regarding greener travel, then it seems unlikely that airlines will move with much haste.

What seems to be key here is that airlines find that crucial balance between greener ways to fly while still keeping their price points attractive to their most affluent customers."
First-class passengers have the highest carbon footprint
The choice to fly first-class is a privilege only a select few even have the option to choose from to begin with. An estimated 80% of the world's population are unable to fly at all – with an even smaller percentage of those remaining able to afford the $3,000 – $12,000 a first-class flight costs on average.
However, the choice to fly first-class is also a choice to have a higher carbon footprint. In the past, a World Bank Study has revealed that first class passengers can have as much as nine times the carbon footprint of economy passengers. More recently, the BBC reported that a first-class ticket on a long-haul flight emits an average of four times more carbon emissions than an economy seat on the same flight, while the International Council on Clean Transportation estimated carbon emissions to be 2.6 to 4.3 times more than if they fly in economy.
Costs are a higher priority
While those choosing to fly business and first class may be a privileged few, price still remains a concern. 70% of those who have flown first or business class in the past year told the same survey that they are not concerned if a flight is "green" energy, as long as it is cheap – suggesting, perhaps, that fewer passengers are likely to opt for a flight seen as more environmentally friendly if there are still high carbon emissions, lost cost alternatives out there.
With business travellers accounting for as much as 75% of airline profits (despite making up only around 12% of passengers), it seems unlikely that many airlines will risk their custom with increased prices for more eco-friendly flights.
Yasmin Purnell
Yasmin Purnell is a Content Writer and Editor for Moneytransfers.com. Yasmin has a wealth of experience writing across a range of topics within the personal finance, student, and business niche. Yasmin joined the team with the one main mission to provide accessible financial, career and business information and advice for all.