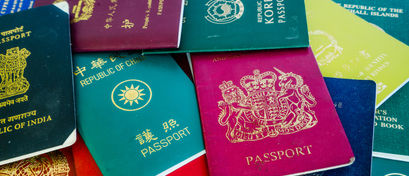 Japanese Passport Ranked World's Most Powerful For Sixth Year Running in 2023

Mehdi Punjwani
MoneyTransfers.com analysed Global passport data which has revealed that the Japanese and Singapore passports are the most powerful in the world, tied at number one and ranking ahead of South Korea in third. The Japanese and Singaporian passports give their holders access to 193 territories around the world.
It's the sixth year running that Japan has topped this particular passport index, which is based on the number of destinations each passport holder can access without a visa. While the top three countries are all in Asia, the next fifteen passports all belong to European nations - including the UK.
In fact, the only two nations in the top twenty outside of Asia and Europe are New Zealand and the United States (both ranked joint 7th alongside Belgium, Czech Republic, Norway and Switzerland, allowing access to 187 territories).
On the other side of the scale, the Afghani passport has been ranked as the least powerful in the world, offering visa-free access to only 27 territories. It's followed by the Iraqi, Syrian, Pakistani and Yemeni passports in the bottom five.
| Rank | Country | Number of territories they can access visa free |
| --- | --- | --- |
| 1 | Japan | 193 |
| 1 | Singapore | 193 |
| 2 | South Korea | 192 |
| 3 | Germany | 191 |
| 3 | Spain | 191 |
| 4 | Finland | 190 |
| 4 | Italy | 190 |
| 4 | Luxembourg | 190 |
| 5 | Austria | 189 |
| 5 | Denmark | 189 |
United Arab Emirates the biggest climbers, Yemen the biggest fallers
Although Japan topped the rankings, some of the biggest shake ups include Yemen, Syria and the United Arab Emirates. Political strife in large parts of the Middle East means Yemen and Syria are amongst the worst affected, each losing nine ranking points to leave them in the bottom five.
Other passports that have gotten less powerful include Nigeria and Iraq (both minus two), and North Korea, Bangladesh and Afghanistan (all minus one).
The UAE has seen the biggest improvement in their passport's power, giving its holders visa-free access to 178 territories - an improvement of 106. It was followed by Colombia (plus 70), Ukraine (plus 67), Moldova (plus 61) and St Vincent and the Grenadines (plus 59).
Different index, similar story
MoneyTransfers.com has investigated further into exactly how these rankings are decided, and after analysing multiple other indexes we can reveal some key variations. While in the above data set the UAE was the biggest climber despite not being in the top 20 overall, alternate research based on slightly different parameters places the United Arab Emirates at the top with the most powerful passport.
This data takes into account visa-free travel options as well as how welcoming these countries are to other nationalities. As a result, after the UAE, the next most powerful passports belong to Sweden, Germany, Finland, Luxembourg, Spain, France, Italy, Netherlands and Austria - all tying for second.
Despite the different methodology used to calculate the rankings, it has made little difference to the least powerful passports - with Afgahistan, Syria, Iraq, Yemen and Pakistan making up the bottom five once again.
Powerful or friendly passports?
Further research takes a slightly different approach to passports. Here, multiple factors are taken into consideration, including enhanced mobility based on travel benefits, quality of life, and overall desirability - plus an investment index and a more in-depth quality of life assessment. In these rankings, the United States passport is the most powerful, followed by Germany, Canada, Netherlands and Denmark.
On the other side of the scale was Yemen, Syria, Central African Republic, Somalia and South Sudan - while North Korea and the Vatican were unranked.
However when you break these rankings down by their separate factors:
Singapore ranks number one for both enhanced mobility and investment index, but 130th for quality of life

Sweden finished first for quality of life, followed by Finland, Denmark, Canada and Germany

The UK ranks 7th overall, 32nd for enhanced mobility, 16th for investment, and 8th for quality of life
While different indexes tell slightly different stories, the overall picture is quite clear. East Asian passport holders are currently the strongest, followed closely by the UAE. However you cannot ignore the rest of the picture - with war-torn countries consistently taking lower places, this is one of many datasets that highlight inequality and suffering in regions like Africa and the Middle-East.

Jonathan Merry, CEO of MoneyTransfers.com
Mehdi Punjwani
Mehdi is a writer and editor with over five years of experience in personal finance, writing for brands including MoneySuperMarket, Equifax and The AA. He graduated from Brunel University with a BA and MA, and likes to spend his free time hiking, travelling, and reading.