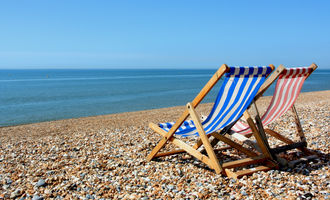 41% of Brits Are Torn Between a Staycation or Flying Abroad

Emily Sherlock
It's just hit March, signs of spring are around us already, and our thoughts at Moneytransfers.com are turning towards the upcoming summer, or more importantly where it is that we'll be spending our holidays.
The summer of 2022 was touted to be the welcome back boost that the travel industry needed, after losing the previous two summers to lockdown measures and border closures as a result of the Covid-19 pandemic. In the end, the fanfare was not quite as anticipated. Instead of our summer of fun, flight cancellations, airport delays and staff shortages all dominated the headlines.
A Summer of Staycations
So what does this mean for 2023? Can we expect this year's holidays to be back and bigger than ever? Sadly, in the midst of a cost of living crisis, brought on by rising energy costs and high rates of inflation, this seems extremely unlikely.
A study which surveyed 2,000 UK residents found that a whopping 41% of them admitted that they were either unsure of what sort of holiday they would take this year, or were considering booking a staycation. While staycations, a term that means holidaying in the UK, are certainly nothing new and enjoyed unprecedented market growth in the midst of the pandemic, the number of those considering them has more than tripled from last year when respondents were asked the same question. Indeed, back then only 12% of participants admitted to being either unsure of their plans or considering a UK getaway.
Jonathan Merry, CEO of Moneytransfers.com believes that this jump could be down to a number of factors.
With the current instability that we're witnessing at the moment, I think people are reluctant to make plans in advance and want to see how their finances take them through the colder months before committing to a significant additional expense. However, there is also a growing sense that the public has lost trust in the travel industry as a result of last year's headlines.

Jonathan Merry, CEO of MoneyTransfers.com
What's Deterring Brits From Travelling Abroad?
Anxiety surrounding airport delays was given by respondents as a key reason for not wishing to holiday abroad. 18% of those surveyed said that they would be flying less in 2023 because of this, while 15% of those who still planned to fly admitted that they would be avoiding the worst-hit airports.
A further study confirmed that one-fifth of people felt that going abroad was just simply too expensive this year.
It's all too easy in these circumstances to consider staycations as a sort of second best option, only endured because of the cost of living crisis and airport troubles of 2022. However, this should not be the case at all! 2022 was the hottest summer on record in the UK, and many people in the survey admitted that this was also a big factor in their decision to stay at home.
Beach Destinations Remain A Favourite Among Brits
Holidaymakers may have changed their minds about travelling overseas, but one thing they're certain on is the type of holiday they prefer. While 25% of respondents favoured a beach break in 2022, this number has shot up even more for 2023, with 29% of those surveyed looking for sun, sea and sand!
With some gorgeous beaches on our doorstep, a staycation can get you to the seaside for less. In order to save even more money, we recommend taking the time to research some of Great Britain's lesser known beaches, such as Botany Bay in Kent or Polly Joke in Cornwall. Not only are they likely to be less busy than the more typical beach destinations in these counties – Margate and Newquay – but accommodation will generally be cheaper and easier to find too.
Here at Moneytransfers.com we've researched the ten cheapest counties for a week's beach break in the UK. We've based these prices on two adults and two children sharing an Airbnb for seven nights in the peak holiday month of August.
Cheapest Coastal Breaks for Families
| | | |
| --- | --- | --- |
| County | Average Total Weekly Cost | Our Top Resort |
| Denbighshire | £743.75 | Rhyl |
| Isle of Wight | £745.22 | Ryde |
| North Yorkshire | £809.20 | Scarborough |
| East Sussex | £974.16 | Brighton |
| Pembrokeshire | £981.75 | Tenby |
| Kent | £988.16 | Whitstable |
| Devon | £1,009.75 | Totnes |
| Lancashire | £1,062.25 | Blackpool |
| Cornwall | £1,254.75 | Polzeath |
| West Sussex | £1,480.85 | West Wittering |
Delightful Denbighshire in North Wales comes out on top, averaging out at less than £190 per person. Home to sandy Kinmel Bay and bustling Rhyl, with its traditional donkey rides and indoor water park, it is also the perfect gateway for exploring some of the lesser-known beaches in neighbouring Merseyside.
Surprisingly our research found that a week at even the most popular beach resorts of Scarborough and Brighton cost on average less than £1,000 for the whole family. With the average price of a week's stay in Benidorm coming in at more than double that (£2,100 per family, according to 2022 research from Thomas Cook) it's easy to see why the UK has become so popular.
Booking a beach break in the midst of the summer holidays might be low on your agenda if you don't have children, but the beauty of the UK is that it also caters to couples seeking a child-free city break. We've looked at some of the cheapest destinations for a weekend away, based on two adults sharing over a long weekend (three nights) in September.
Excluding more well-known cities such as London and Liverpool allows you to discover some of the UK's truly hidden gems, such as a cider farm in the middle of Truro, the Weald and Download museum in Chichester, or a trip aboard the Mary Rose in Portsmouth.
Cheapest City Break Locations for Two
| | | |
| --- | --- | --- |
| County | Average Total Weekend Cost | Our Top City |
| Wales | £308.35 | Cardiff |
| Lancashire | £311.62 | Manchester |
| Hampshire | £348.69 | Portsmouth |
| Devon | £369.80 | Exeter |
| West Sussex | £376.62 | Chichester |
| North Yorkshire | £381.75 | York |
| Cornwall | £381.90 | Truro |
| East Sussex | £441.56 | Brighton |
| Kent | £519.23 | Canterbury |
| Cheshire | £565.23 | Chester |
Only 12% of people were considering a staycation in 2022, yet last year saw a staggering 300% rise in staycation bookings. But with even more people considering holidaying in the UK than ever before, we at Moneytransfers.com have a feeling that 2023 is going to be the staycation's best year yet!
Emily Sherlock
Emily is a writer with 15 years' experience in the industry. Having trained as a journalist and worked for many years managing a team at a City marketing firm, Emily's expertise runs from foreign holidays to forex, and when not writing she can often be found enjoying countryside walks in Surrey or planning her next trip abroad.