Moving to Turkey Checklist
If you are considering Turkey as the destination for the next stage of your life, here's a handy checklist you can use to ensure you are ready to make the move.
Learn about finances in Turkey.

Find a job in Turkey.

Find a place to stay in Turkey.

Move your belongings and vehicle.

Move your pets, if any.

Make sure your passport, visa, and residence permit are in order.
Turkish Visas, Work Permits, and Residency Requirements
In total, there are 34 different types of visas granted by Turkey. The largest number of them, or ten, are business/tourist types of visas, two are official visas, seven are visas for students, another seven are working visas, and eight are other types of visas.
Besides Turkish visa requirements, expats who want to enter the country need to carry a passport that will remain valid for the duration of their visa and an additional 60 days. For example, foreigners with a visa that permits them to stay for 90 days should carry a passport that will remain valid for at least 150 days from the moment they enter Turkey.
Work Permits in Turkey
Apart from nationals from the Turkish Republic of Northern Cyprus, people from every other country in the world need a work visa and permit to work in Turkey.
Getting them can be a little cumbersome as the application process requires quite a few documents and information from both the employee and the employer. However, as long as the applicant has either a job contract or a job offer in Turkey, the work permit should be granted.
Applicants should submit their applications to the Turkish Embassies or Consulates in their countries at least one month and at most two months before they travel to the country.
Moving to Turkey
There are countless reasons why someone would want to move to Turkey. Spread between Europe and Asia, Turkey is the bridge between Western and Oriental cultures. Despite not being the country's capital, Istanbul is Europe's most populous city and one of the world's most important trade centers.
As a result, It is hardly surprising that the largest number of expats in Turkey reside in Istanbul, Ankara, and Izmir. Besides expats, Turkey is also an excellent destination for digital nomads who will appreciate the country's low cost of living and hospitality. According to the latest stats from the Turkish Statistical Institute, there are over 26,000 foreign workers in Turkey. The largest portion of them, or 2,258, are Americans.
As a country that is particularly fond of animals, moving to Turkey with a dog, cat, or other pets is not complicated. People with pets need to make sure they are in good health, don't carry any zoonotic diseases, and are free of internal or external parasites before arriving in the country. Additionally, they need to carry pet passports, health certificates, vaccination cards, blood tests, anti-rabies certificates, import permits, and pet microchips.
Puppies and kittens younger than three months can only enter the country with their mother, who also needs to fit the criteria mentioned above. Turkey also has a list of banned breeds of dogs, travelers need to be aware before entering the country.
Adapting to Life in Turkey
Another fact that speaks about the country's geographical balance is that the Earth's land center is in Turkey. This means that its climate and landscapes are as diverse as it gets. With four seasons, Turkey is neither too hot nor too cold.
Living in Turkey means living between four seas and enjoying hot and dry summers and mild and rainy winters. In addition to the busy lives in the major cities, people looking for a more laid-back lifestyle also have plenty of options to choose from. Fethiye has the Butterfly Valley, the home to over 100 species of butterflies, Cappadocia has hot air balloon rides almost every day, and plenty of other cities that are sure to match anyone's pace of life.
Similarly, there is food for every taste in Turkey as well. One of the sweetest benefits of living in Turkey is having unlimited access to delicious pastries. Desserts are arguably the most essential element of Turkish cuisine, which is a direct descendant of Ottoman cuisine.
This means that the food in Turkey is a fusion of multiple cuisines, influenced by Mediterranean, Balkan, Middle Eastern, Central Asian, and Eastern European recipes. Some of the most popular Turkish dishes include Şiş kebap, Döner, Köfte, Pide, Kumpir, and Meze.
Despite being a secular state, religion and tradition are very important to Turks, particularly in the smaller towns and villages. In addition to hijab clothing and animal sacrifice on the first day of the Kurban Bayram holiday, there are plenty of other Turkish traditions that some Western people may find surprising.
Finally, learning the Turkish language is recommended to completely adapt. While tourists can certainly get around speaking English, knowing Turkish at the basic level, at least, will be quite advantageous for people who want live, work, and form relationships in Turkey.
Cost of Living in Turkey
At the time of writing, $1,000 is the equivalent of ₺18,650, which is more than double the minimum wage in the country. Compared to countries like the USA, Canada, the UK, and Australia, expenses in Turkey are considerably cheaper in every aspect.
Of course, living in the big cities is noticeably more expensive, but still, a single person with a monthly income of more than $1,000 can live comfortably virtually everywhere in Turkey.
According to recent reports, the average monthly costs in Turkey are 63.4% cheaper than in the USA, which means moving to Turkey as an American retiree is not only doable, but it is actually a great idea.
Here's a shortlist of the estimated monthly expenses, without rent, for a single person and a family of four living in the most popular Turkish cities:
Ankara - ₺22,262 = $1,193 as a family and ₺6,326 = $339 as a single person.

Antalya - ₺22,274 = $1,194 as a family and ₺6,444 = $345 as a single person.

Istanbul - ₺25,789 = $1,382 as a family and ₺7,326 = $392 as a single person.

Izmir - ₺23,564 = $1,263 as a family and ₺6,702 = $359 as a single person.
That being said, rent is actually the biggest monthly expense in Turkey. The average rent in Turkey can vary from ₺4,000 to ₺6,000 ($214 to $321) per month on the Aegean and Mediterranean coastlines, all the way to ₺100,000 ($5,362) on the most luxurious areas of Istanbul.
As for utilities, electricity is the most expensive one and can cost between ₺80 and ₺200 ($4.29 to $10.72) per month, gas is around ₺70 ($3.75), water is ₺30 ($1.61), and the internet is ₺50 ($2.68) per month, on average.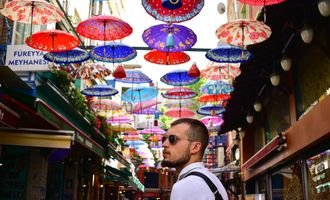 Cheapest and Most Expensive Cities in Turkey
Even though it is the country's most expensive city, living in Istanbul, Turkey, isn't as expensive as living in other European metropolises. Sure there are activities and attractions in Istanbul that can drain any budget, but for people who just want to live normally, it can be affordable. In addition to Istanbul, other cities considered expensive by Turkish standards include the capital, Ankara, Izmir, Antalya, and Bursa.
On the other hand, living in almost any of the other cities in the country is cheap. There are dozens of cities in Turkey where you can buy a house for an average price of under ₺250,000, including Agri, Mus, Bingol, Bitlis, Bilecik, Kars, Siirt, and many others.
Transport and Infrastructure
Any potential expat in Turkey will be happy to know that the country has a well-developed infrastructure and transport routes in more than decent condition. In the years between 2012 and 2019, 7,463 traffic fatalities were recorded in Turkey, which translates to 9.3 fatal accidents per 100,000 inhabitants per year. According to these figures, driving in Turkey is comparably safe, as the world average is much higher at 17.1, and the US average is 12.2 fatal accidents.
Moreover, anyone who sees themselves living in Turkey as a foreigner should know that the country has 67,300 km (41,818 miles) of roadways, 10,400 km (6,462 miles) of railways, and 1,200 km (745 miles) of waterways. In addition, there are 51 airports (0.60 per 1 million inhabitants) and 1,217 commercial harbors (14.31 per 1 million inhabitants) in Turkey.
Those who don't drive can always get around Turkey using public transit means of transportation like a city bus, metro, tram, funicular, and ferries for very affordable prices.
Working in Turkey
Turkey's unemployment rate has been over 10% since 2015, which is one of the disadvantages of living in Turkey. Finding work in the country can be very tough and competitive, particularly for jobs that don't require special skills and qualifications.
As the case is with many other countries, there is high demand for IT jobs, but also for talented professionals in the fields of engineering, finance, sales, and supply chain management. It is also very common for English-speaking expats to find work in the tourism and education industries.
Moving to Turkey for work means accepting a somewhat rigid and conservative workplace culture. Men and women are expected to dress professionally and keep relationships with their coworkers professional. For example, gift-giving between coworkers isn't part of the Turkish workplace culture.
The usual business hours in Turkey are 9:00 AM to 5:00 PM, with a one-hour lunch break between 12:00 AM and 1:00 PM. Muslims may take five daily prayer breaks and get shorter hours during Ramadan. Some expats might find the working hours in Turkey difficult, as most countries in the world have work hours shorter than 45 per week.
Americans moving to Turkey will be surprised to find out many that public-sector jobs are better paid than jobs in the private sector. However, most of them are reserved for Turkish citizens, and foreigners can only apply for them after receiving Turkish citizenship.
The best-paid jobs in Turkey include:
Senior executives with an average annual income of ₺1,112,540 = $59,690

Investment bankers with an average annual income of ₺857,460 = $46,005

Lawyers with an average annual income of ₺798,780 = $42,856

Doctors with an average annual income of ₺740,480 = $39,728

Bankers with an average annual income of ₺697,560 = $37,425
Health Insurance for Expats in Turkey
The Turkish healthcare system consists of both public and private health services. Expats can only apply for universal health insurance after staying in Turkey for over a year. Even though it is a public service, getting access to medical care through universal health insurance in Turkey requires paying a small fee. In 2021, the fee was ₺850 per year, though its price changes every year.
On the other hand, private health insurance in Turkey starts from ₺1,300 per year. While both public and private health services in Turkey are at a very high level, private healthcare has the upper hand. Private healthcare beneficiaries can expect shorter queues, more doctors that speak English, and other similar privileges compared to the public.
In addition to a Turkish work visa and work permit, expats must have health insurance to work in Turkey. In Turkish law, employers are only obligated to pay their employees wages based on the hours they worked, while health insurance is considered a benefit provided by the employer on their initiative.
School and Higher Education in Turkey
The compulsory education in Turkey lasts 12 years, i.e., four years of primary school, four years of middle school, and four years of general, vocational, or technical high school. There are a few things that anyone planning on moving to Turkey permanently and hoping to send their kids to school there should know.
Compulsory education in public schools is financed by the state and is free for all children between six and 19 living in Turkey, including children of expats. Education in public schools in Turkey is done solely in Turkish. However, there are plenty of private and international schools with relatively expensive tuition that offer education in foreign languages.
As for universities, with a 94.2% schooling rate, Turkey ranks 2nd in the world in access to higher education. One of the many reasons to move to Turkey is to get easy access to some of the best universities in Europe. While higher education in Turkey is not free, it is incomparably cheaper than studying in the USA or the UK.
Finances, Taxes, and Remittance
Turkey has a progressive income tax system with four individual tax rates:
15% tax for monthly incomes up to ₺13,000

20% tax for monthly incomes between ₺13,001 and ₺30,000

27% tax for monthly incomes between ₺30,001 and ₺110,000

35% tax for monthly incomes over ₺110,000.
An expat living in Turkey for less than six months is still considered a non-resident, and they are expected only to pay tax on income they earned in Turkey. After six months, they get a resident status and are liable for income tax on income they earn anywhere in the world.
Corporate tax, on the other hand, has a fixed rate of 22% for both resident and non-resident companies in Turkey.
As the world's 20th largest economy, remittances play a minor role in Turkey's GDP. In 2021, the country received an inflow of $795 million, which accounted for only 0.1% of the GDP.
Expats relocating to Turkey should open a bank account as soon as possible to enter the country's finance system. Creating a bank account is easy, only takes up to an hour, and can even be done online. The required documents for opening a bank account in Turkey are a passport copy, a tax number, a utility bill, and a filled-out form from the bank.
Marrying and Starting a Family in Turkey
People planning on emigrating to Turkey for good should also think about getting married and starting a family in the country. Turkish law only recognizes civil marriages, though foreigners can have a religious ceremony if they want.
Foreigners also need to obtain a document from their home countries that will prove that they are allowed to get married. They can marry in front of authorities from their home countries, like the embassy or the consulate, or in front of Turkish authorities. The country only recognizes monogamous and heterosexual marriages, and there are four conditions for marriage in Turkey.
Additionally, while every expat with residency in Turkey who has had the resident status for more than five years can apply for citizenship, marrying a Turk can reduce this waiting period to three years. It is important to note that Turkish law doesn't pass down citizenship to children based on their place of birth but on kinship.
Children born in Turkey with a foreign mother or a foreign father can get Turkish citizenship at the moment of their birth, only if they don't get another country's citizenship by the descent of their parents.
Buying Property in Turkey
One of the last but essential things to know before moving to Turkey is that the country's real estate market is very open to foreigners. Turkey sees expats buying houses as a direct foreign investment, so its property-buying process is as simplified as it gets.
The lowest average price for a two-bedroom apartment in small coastal towns is as low as $60,000. Of course, there are plenty of luxurious options as well that come with special benefits like obtaining Turkish citizenship by investment. Investors ready to spend at least $400,000 in the Turkish real estate market can get Turkish citizenship in as quickly as 60 days.
Retiring in Turkey
Spending your retirement in a country that is a mix of western and oriental culture, with abundant natural beauty and an affordable cost of living, sounds like a dream. Turkey doesn't have a retirement visa, and foreigners who are interested in spending the best days of their lives in this magical land have to apply for a residence permit instead.
Short-term residence permits are issued by the Turkish Ministry of Interior, most of which can be extended nearly indefinitely. After residing in Turkey for eight uninterrupted years, foreigners can be granted a long-term residence permit.
Is Moving to Turkey a Good Idea?
From its cuisine and culture to its landscape and weather, Turkey is a unique country in many ways. As the 6th most visited country in the world, it offers plenty of relocation options that make moving to Turkey easily possible for a variety of different immigration needs.
FAQ
Can I move to Turkey without a job?
Can you live in Turkey without speaking Turkish?
Does Turkey give jobs to foreigners?
Hristina Nikolovska
An internship in a digital marketing agency during her freshman year of university got Tina into content. A decade later, she's utilizing her educational background in English and knack for research to craft website content on crypto and ensure readers are fully informed. When she's not investigating the crypto market and expanding her knowledge, you'll find her randomly roaming cities and sunny coasts all over the world.