Moving to Canada: Checklist
Before browsing for houses in Canada or looking for the best schools for your kids, here's a mini-guide with essential steps you should complete before moving.
Read and learn as much as possible about Canada

Check job vacancies and career opportunities

Check visa requirements, immigration laws, and procedures

Collect and submit the required documents for a long-stay Canadian visa

Check transport options and organize your belongings

Pack for the trip
Canada might be super-close from the American perspective, but you should never take relocation for granted. But don't worry if you have done nothing from the list; we're here to help and guide you through the process.
Visas, Work Permits, and Residency Requirements
Canada offers several visa types, so finding which permit applies to you and which requirements you'll have to meet is essential.
Canada operates as a parliamentary democracy and a constitutional monarchy comprising ten provinces and two territories, with immigration laws applying on the federal level. In other words, Canadian visa requirements are the same regardless of the province you plan to call your new home.
Nevertheless, everything starts with checking whether you are admissible to Canada, given that immigration officers will deny your application if you are inadmissible. The reasons for inadmissibility could include security issues (espionage, terrorism), international rights violations (war crimes), previous offenses, medical problems, or misrepresentation.
Note you can visit Canada even if you are inadmissible by receiving a temporary residence permit. Of course, you must demonstrate a valid, justified reason for travel. Unlike Canadian permanent residency, most visitor visas have a short expiry and are no longer valid after you leave the country.
Besides temporary residence permits, the Canadian government issues other visa types:
Work visas

Student visas

Business immigrant visas

Express Entry visas
The Express Entry program allows skilled workers and qualified individuals to apply for Canadian work permits and complete the process in six months or less. Otherwise, the entire process could take up to two or three years.
Depending on the visa type, you might need some or all of the following documents:
Birth (and marriage) certificates

Medical results

Proof of funds

Digital photos
Moving to Canada
After you check the admissibility and find employment in Canada, it's time to prepare for the relocation. Even though Canada and the United States share the world's longest international border with 5,525 mi of terrestrial boundary, a move to your Canadian home requires planning.
For instance, foreigners should pass language tests with accredited organizations to show their proficiency in French or English. Likewise, applicants should prepare medical records and organize documents to facilitate the move.
One of the primary benefits of moving to Canada is the reduced cultural shock Europeans or Americans will experience. After all, Europeans colonized Canada in the 16th century, and these 400 years have greatly influenced the Canadian lifestyle. Nevertheless, doing your research is essential, so learn as much as possible about the country.
Moving Your Things to Canada
Moving to a new country can be stressful and challenging, but you could reduce last-minute stress by understanding transport options and cost implications.
For instance, if you are moving to Canada from the USA, you'll need two copies of the BSF186/A forms to document your personal effects. In addition, all travelers must submit a Declaration Card and list everything they bring to Canada.
Depending on the number of transported goods, you could opt for air or sea freight. Shipping by sea is cheaper, but air freight arrives in Canada in a much shorter time. Either way, you'll need to consult a removal company and ask for an estimate before doing anything else.
Moving Your Vehicle to Canada
If you are an American moving to Canada, you'll probably want to bring your car with you. Thus, you'll be glad to know that the Canadian government allows the import of used vehicles as long as they meet specific standards prescribed by Transport Canada.
Foreigners can check the vehicle's admissibility in the Registrar of Imported Vehicles (RIV) and inform the US Customs that the car will leave the country permanently.
Moving to Canada With Pets
Bringing your dogs or cats to Canada shouldn't be a problem because they are exempt from import permits, but exotic pets must meet Canadian requirements.
In most cases, the Canada Border Services Agency (CBSA) and the Canadian Food Inspection Agency (CFIA) will inspect the pet. Consequently, you'll have to pay an inspection fee.
Additional costs you might experience include veterinary guidance, testing, and quarantine. Again, hiring a professional pet relocation service could be the most straightforward option when transporting your animal friends to Canada.
Adapting to Life in Canada
Canada is famous for its family-friendly, open-minded society that cherishes equality and diversity while respecting individual freedoms. Also, Canucks have a reputation for politeness and punctuality.
For instance, tipping for services and frequent volunteering is ingrained in Canadian life, and the same goes for the passion for hockey and other winter sports. In addition, people living in the Land of Maple Syrup might use slang and terms typical for Canada, including washroom, toonie, loonie, or toque.
Weather
The country's various climatic conditions can be a double-edged sword for expats in Canada because the weather varies from mild to extreme. So, everything depends on your location, but the common ground for all Canadian provinces is snowy winters.
For instance, the area around Toronto has a continental climate with warm summers, while the weather around Vancouver on the west coast is often rainy and temperate.
Culture and Language
In a broad sense, Canadian culture combines French, British, and American influences with distinctive elements from other nationalities. So, diversity is among the primary reasons to move to Canada for many people, with more than 60 languages spoken across the country.
The official languages are French and English, with most Francophone Canadians living in Quebec.
Transportation and Infrastructure
Over the years, Canada and the US fully integrated their road, air, and rail services, creating an efficient network for consumers and suppliers in North America. Moreover, Canada ranks at the top among the G7 countries for road provision, with 1.5 million kilometers of roadways.
Likewise, an expat living in Canada will be glad to hear that the country has the third-largest railways network among OECD nations, with strategic links to the US railway system.
In addition, Canadians have ten international airports and several major shipping ports, including Quebec, Vancouver, and Montreal. Thus, Canada has plenty of trading hubs ensuring a constant supply of various goods. Transport of passengers is also efficient and diverse.
Cost of Living in Canada
Overall, living costs in Canada are similar to those in the United States. Gas prices are higher in Canada, while the average rent in urban areas is lower. However, given Canada's massive size, the costs vary widely from one province to another.
For example, the monthly rent in Vancouver or Toronto is comparable to New York or London, with three-bedroom apartments outside the city center costing around $2,000-$2,500.
Because of the cold climate, Canada imports a lot of fresh produce, making fruit and vegetables more expensive than produce in Europe or the US. Likewise, Americans moving to Canada and driving to work will notice that gas prices are 20-25% higher than those in the United States.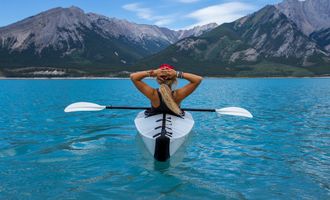 Cheapest and Most Expensive Canadian Cities
Despite the higher living costs and snowy winters, the Great White North is an attractive destination for expats. After all, Canada offers various living options, from bustling urban neighborhoods to remote, serene areas.
Canadian cities with the lowest average living costs are:
Winnipeg

Timmins

Weyburn

Quebec City

Prince George
On the other hand, cities with the highest costs and the highest average rent in Canada are:
Vancouver

Toronto

Ottawa

Montreal

Calgary
Working in Canada
As of November 2022, Canada's unemployment rate is down to 5.10%, compared to 6.10% in November 2021. Since the long-term average is 8.12%, the current unemployment rate is among the lowest in Canadian history.
Nevertheless, market conditions are tight, with labor shortages increasing inclusivity and drawing in the foreign workforce. For instance, recent immigrants (10 or fewer years in Canada) comprised 8% of the total labor force in 2021.
In other words, there are plenty of jobs in Canada for foreigners, with many expats working in technology, healthcare, and finance. Likewise, the Canadian labor pool needs more veterinarians, web developers, welders, drivers, and general laborers/support workers.
Although Canada needs more skilled workers, the country also offers plenty of opportunities for low-wage employers, including housekeepers, food service workers, or front desk clerks.
The average annual salary in Canada is $72,000, with entry-level positions starting at around $52,000. In translation, the average hourly wage is $36.92. Yet, salaries vary per region, with Alberta having the highest and British Columbia having the lowest average yearly salaries.
People moving to Canada for work should also note the 11.1% gender wage gap. The difference in hourly earnings between male and female employees significantly decreased in recent decades, but male employees continue to have higher hourly earnings.
Canadian Healthcare
Canada is famous for its free healthcare system, Medicare, which covers medically necessary treatment like surgeries, childbirth, and some prescription drugs.
However, each Canadian province administers a separate healthcare system, making the availability of services different from one region to another. The Canada Health Act prescribes national healthcare standards, while territorial governments provide on-the-ground medical services.
Unfortunately for foreigners living in Canada, the public healthcare system is only partially free for expatriates. Non-residents have to cover some medical costs, making private health insurance a safe bet, especially in the early days of your arrival.
School and Higher Education in Canada
It's no secret that Canada has one of the best education systems in the world. After all, Canada has ranked among the top five nations since 2016. In the 2022 US News report, the Canadian education system ranked 4th.
So, if you consider moving to Canada permanently with your family, know that the country invests over 5% of its GDP in schools and higher education.
Modern teaching methods encourage participation, experimentation, and student engagement, resulting in higher scores on tests and exams. Thus, Canada is an excellent option for expats with children.
In addition, the education costs in Canada are comparatively lower than what students pay in the US. Also, university admission relies more on the student's GPA and TOEFL/IELTS scores than the GRE/GMAT results.
The top-rated education system motivates many to emigrate to Canada, given that the country has seven universities among the top 200 in the world. Overall, students in Canada can choose between 16,000 university programs.
Finances, Taxes, and Remittance
Thanks to the formal tax treaty between the US and Canada, Americans employed in Canada can avoid double taxation. In addition, the totalization agreement determines when a US expat should pay into the Canadian or American social security system.
Nonetheless, most American expats in Canada must file tax forms to the Canadian and American governments, including the T1 General form on income tax and benefit returns.
So, a US citizen moving to Canada should file the T1 form by April 30th, while self-employed expatriates have an extension until June 15th.
The deductions available to American expats include foreign earned income exclusion, foreign tax credit, and a foreign housing deduction. Typically, expatriates use these tax credits to erase their US tax debt.
Of course, many Americans employed in Canada send money to relatives or friends in the US, with an average yearly remittance of $2,855. Besides the United States, top destinations for remittances from Canada include India, China, and the Philippines.
In 2015, the Canadian government reduced remittance costs, while modern money-transfer services offer hassle-free payments. So, a person living in Canada as an American should have zero problems transferring funds back home.
Marrying and Starting a Family in Canada
Canadian provinces might vary slightly regarding requirements for legally marrying a Canadian citizen, but the process is nearly identical across territories.
Of course, you must meet the minimum age requirement and have previous marriages dissolved before applying for a marriage license. The validity of this permit is three months. Unlike the Canadian marriage certificate, the marriage license is only valid in the province you are in.
Many same-sex couples are moving from the US to Canada to get married because the country has no residency requirements and allows civil marriage for same-sex couples. Polygamous marriages are not legal.
Buying Property in Canada
Starting on January 1st, 2023, the Canadian government will enact a two-year ban prohibiting non-Canadians from purchasing residential real estate. Before this act, there were no restrictions on how much property a foreigner could buy in Canada. Yet, a 25% foreign buyer's tax, a 2% closing fee, and stamp duties were obligatory.
So, foreigners seeking residency in Canada will have to consider alternative options once the purchasing ban becomes active. Companies not controlled by Canadians also fall under the category of being prohibited from buying real estate.
Then again, there are many unknowns about the new legislation, with various organizations advocating for exemptions. After all, the policy is against the government's immigration targets of welcoming 465,000 during 2023.
Retiring in Canada
Many foreigners dream of retiring in the south of Canada because of the country's strong economy, cultural activities, and access to healthcare. Even though Canada dropped out of the top 10 countries for retirement security in 2022, foreigners worldwide would be eager to spend their retirement years enjoying the Canadian lifestyle.
The standard age for retirement in Canada is 65, and expatriates in Canada can apply for the Canada Pension Plan (CPP) after they meet this requirement. In addition, you could start receiving the pension at the age of 60, but monthly amounts will be smaller.
Of course, the earlier you immigrate to Canada and start working—the higher the pension. Another benefit of retiring in Canada is the availability of single-payer health insurance because of the publicly funded universal system.
Is Moving to Canada a Good Idea?
And there you have it—a comprehensive moving guide for foreigners settling in Canada and making it their new home. With its advanced economy, employment opportunities, and natural beauty, Canada attracts expatriates from around the globe. Yet, the country is not idyllic, and there are cons to living in the Great White North. Thus, this in-depth guide is a must-read for anyone moving to the second-largest country in the world.
FAQ
How much money do I need to move to Canada?
Can I live in Canada if I am a US citizen?
What is the minimum wage in Canada?
What are the disadvantages of living in Canada?
Darko Radic
Despite his BA in English, Darko's interests slowly strayed away from analyzing Shakespeare and re-reading the classics. Instead, he goes above and beyond to build his online writing portfolio, covering everything from SEO and digital marketing to finance and crypto. Effortlessly, he dives into reports and research papers to extract the juiciest parts and make the reader's life easier. When not writing, Darko typically explores mountain trails with his loyal Belgian Malinois.