Checklist for Moving to Italy
No matter how much planning you do, these things can sometimes develop a course of their own. Nevertheless, the fact that you're moving to an entirely different country or continent (if you're from the US) means you should have a list of things you need to do before and after your arrival in Italy:
Research forums to see if Italy is the right fit for you

Check passport validity

Create a budget

Find out about visa requirements

Check if you're eligible for work

Get your papers in order (some might require Italian translation and Apostille)

Pick a city (search for housing and transport options)

Buy your one-way ticket to Italy

Go to the immigration office to apply for 'permesso di soggiorno' (residence permit)

Get your Italian tax number

Buy a local SIM card
So, that's a wrap on our moving to Italy checklist. If you haven't changed your mind yet, read on for the specifics.
Italian Visas, Work Permits, and Residency Requirements
Italy is part of the Schengen Zone, meaning that if you have an EU passport, you can freely travel and move between all member countries. Also, as an EU citizen, you are not required to own a visa to stay in Italy.
If you're an American traveling to Italy as a tourist, you are permitted to stay for a total of 90 in 180 days. If you plan on living in Italy for a year or longer, you must get an entry visa before booking a plane ticket.
There are several types of entry visas, and to find out which one you're eligible for, your first contact should be the Italian Embassy in the US - or you can find the nearest Italian Consulate. For instance, if you're going to study in Italy, you will have to get a student visa. Similarly, if you are moving for work, you will probably need an Italian work visa. Here's the list of entry visas:
Student Visa

Work Visa

EU Blue Card

Self-employed Visa

Golden Visa

Elective Visa.
Once you've obtained the type of entry visa that validates the reason for your travel, you can go ahead and book your ticket to the land of pizza, pasta, and gelato. When you get there, you will have eight days to apply for an Italian residence permit, so it's vital for you to have all supporting documents ready (tax return, proof of income, lease for an apartment in Italy, etc.).
Of course, depending on your entry visa, you can be eligible for one of the two types of residence permits:
Permesso di soggiorno (valid for up to 2 years)

Carta di soggiorno (valid for five years).
Also, if you're relocating for work, there are two types of work permits Italy issues. One is called lavoro subordinato and is issued to employees whose visa will be sponsored by their employer. The other is the lavoro autonomo, intended for self-employed foreigners in Italy or digital nomads–people qualified to apply for a long-stay visa.
Lastly, there's the family reunification visa intended for those with a family member (parent or child) in Italy or who are married to an Italian citizen. For instance, if you're an American working in Italy and wish to move with your family there, this would be the type of long-stay visa they would require.
Moving to Italy
From the lush alpine meadows and the picturesque Amalfi coast to the azure waters of the island of Capri, Italy has plenty to satisfy all tastes. And one of the best things about it is its Mediterranean climate. Temperatures in Italy, depending on their region, vary from 0 °C to 12°C in winter and 20°C to over 25°C in summer. Summers are hot and dry, humid along the coastline, while springs are sunny with occasional thunderstorms in the northern and central areas. Winters are relatively mild, with snow in the north of the country.
Expat Community in Italy
As of 2021, there are approximately 5,036,000 expats in Italy, especially in cities like Milan and Rome, with nearly 2 million expats come from Romania, Albania, and Morocco. In addition, most expats who choose Italy enjoy a somewhat high quality of life which is something you'll find reassuring.
Italy ranks high in regards to ease of settling in and getting used to the new culture. However, beware that the bureaucratic system is extremely slow. Also, if you're planning to start a business, know that Italians prefer the social way of doing business. Above all, Italians cherish personal relationships. They are very friendly and welcoming and rest assured, it will not be hard to make new friendships once you get there.
Moving Your Pets to Italy
If you are concerned about leaving your four-legged friend behind, don't be - moving to Italy with a dog or a cat is possible. In fact, Italy is so pet-friendly that, according to present laws, you can bring up to 5 different pets with you. However, you will need to do some extra paperwork and ensure your little friend(s) have received the required vaccines.
As per the law, dogs, cats, and ferrets need to be microchipped or identified with a legible tattoo, should be at least 12 weeks old, and should be vaccinated for rabies. The details are available on the official site of the Italian Ministry of Health.
Adapting to Life in Italy
Over the ages, poets and artists found Italy inspirational and even magical. The Romans thought of it as the home Jupiter had promised to Aeneas of Troy. Of course, what you make of Italy is entirely up to you.
First off, Italians have the best and healthiest diet in the world–the Mediterranean. Second, get ready to become absolutely hooked on pasta. If you thought pizza was your thing, one of the 300 different formati of pasta will probably change your mind. Italians are mad about them. Coffee too, they drink up to 6 or 7 espresso shots a day. Americans moving to Italy might miss their 'Americano buckets' but this simply is not the way Italians enjoy coffee.
Also, breakfast is usually just a cappuccino, croissant, and maybe some fruit. So if you're a breakfast person, we suggest you do that at home. Otherwise, lunch will probably become your meal of the day. Italians are so big on lunch that most of them go home for it. They have pausa pranzo, when even shops close to celebrate the sanctity of lunch.
Americans relocating to Italy should also be warned that bringing small household appliances or other electronic gadgets (hairdryer or beard trimmer) might not be the best idea. This is because the voltage system might be an issue, and you'll need to pay someone to convert them, meaning you're better off buying new ones.
And finally, it's useful to know that many Italians do not speak English. If you're relocating to one of the larger cities like Rome, Venice, Florence, or Milan, you'll have no trouble finding English-speaking Italians - but expats in Italy residing in the interior or rural areas might face a real challenge in this department - so we recommend downloading a language app or two. But hey, if there's a will, there is a way right?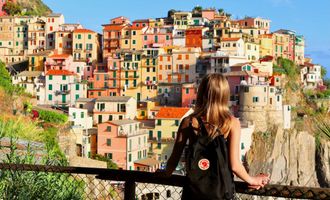 Cheapest and Most Expensive Italian Cities
Italy has a mind-blowing 58 UNESCO World Heritage Sites, and that record-worthy list includes the Colosseum, Milan's Gothic Duomo, and the Dolomites. Unfortunately, the fact that most Italian cities are centuries old often makes them overcrowded and messy. On the bright side, wherever you look, you'll be surrounded by history and art.
Research says the best places to live in Italy for expats are smaller cities like Genoa, Padua, Lake Como, Pisa, and Treviso though these are not exactly the cheapest. They are simply the most alluring for expats and of course, they come with delicious food, friendly faces, and stunning scenery.
If you're looking for a more affordable option, however, you should consider the following:
Naples

Lecce

Padova

Palermo

Bari
The estimated cost for renting an apartment in each of the above ranges from around €1100 to €1400. In fact, of all the larger cities, Bari is the cheapest place to live in Italy. However, just like in the US and anywhere in the world, if you want an even cheaper option, you can always go to rural areas.
For those looking for a more comfortable or even luxurious option, here's the list of Italy's most expensive cities:
Milan

Florence

Bolzano

Venice

Bologna
As you can see, Milan is at the top and currently holds a record-high price of €17.7 per m2 per month for renting an apartment. If you opt for Bologna, however, you would need to pay much less, around €13 per m2.
Transport and Infrastructure
One of the benefits of living in Italy is that the country is well connected by both air and land. It has 77 airports, 7 of which are international. Also, the country's main traffic and transport routes are well developed and well maintained which makes going from one place to another super easy, and cheap too. Most Italians prefer to travel by car, though be warned that they are somewhat aggressive drivers. Also, owning a car is an expensive option for both Italians and expats, especially those living in larger cities.
Here's a list of available public travel options in Italy:
Train Transport in Italy
Operated by Trenitalia and .italo, trains are an efficient and cost-effective option for anyone living in Italy, not just expats. Plus, most big cities are connected via high-speed routes. There are also regular and international trains that can take you to neighboring countries.
Bus Transport in Italy
Italians have two types of buses, intercity and suburban. This type of travel is also very cheap but much slower when compared to trains. Tickets can be purchased from the nearest bar, newsstand, ticket machines and even online.
Metro in Italy
A fast and affordable option available in seven cities, including Milan, Rome, and Naples with Milan's network being the most extensive - four lines and more than 100 stations. As an American moving to Italy, this will probably be your preferred form of travel. Tickets can be purchased at metro stations.
Trams and Ferries
Similar to trains, trams are a convenient and very cheap option to move around the city, especially in Torino, Napoli, Trieste, and Milan which have the largest tram networks. The downside is that not all cities have trams and in some, the network is under construction.
There are two types of ferries - navi and traghetti. The former will take you to Sicily and Sardinia, while the latter will take you to nearby islands.
Other Methods of Transport in Italy
Metered taxis, ridesharing and Uber are also available and preferred by some expats living in Italy. Be warned however that when you get into a taxi, you have to tell the driver to turn on the meter. Popular ridesharing apps are MyTaxi, WelcomePickups, and Scooterino, while BlaBlaCar is used mainly for intercity travel.
Italy is also a bike-friendly country, with most big cities having a well-developed cycling network, so if you're up for it, feel free to exploit it as a means of transport. Of course, there's also walking - which many find convenient as they get to see and enjoy as much of Italy as possible.
Cost of Living in Italy
On the global map, Italy ranks 27th, with its cost of living being higher than that of Greece, Portugal, and Spain and lower than that of the US, Israel, and Switzerland. But you're probably more interested to know how the cost of living compares to that of your country or the US.
According to research by NetCredit, the cost of basic grocery shopping in Italy is $35.60, while in the US, it is $25.71. In other words, Italians spend 33% of their salary on groceries while Americans only 12%.
Housing expenses in Italy, including garbage, water, heating, and electricity, are lower than the European average by 2.2%. It has a price level index of 97.8, meaning living in Italy is considered to be somewhat cheap.
Transport services are affordable, though owning a car is a little more expensive than other places - prices for personal transport equipment in Italy are 2% higher than the rest of the EU.
Being the home of renowned fashion brands, Italy's clothing is also slightly pricier at around 3% higher than the EU average. Restaurants and hotels are also costly while entertainment, recreation and culture is a bit cheaper.
The average rent in Italy is around €12.2 per square meter which means that the rent for an apartment of around 80m2 would cost around €1000 per month. In the US, a 2-bedroom apartment costs an average of $1295. But of course, it all depends on the region and city. As with most countries across the globe, apartments in large cities, especially in the center, are much more expensive and difficult to find.
Working in Italy
The average annual wage in Italy is around €28.000, while in the US it's over $69.000. Unemployment rate on the other hand, is nearly double higher compared to that of the US. In fact, the unemployment rate in Italy currently stands at 9.8%. In comparison, in the US it's 5.5% and France has an unemployment rate of 8%.
But despite this, there are plenty of jobs for expats in Italy. This is mainly because there are a lot of foreign companies based in Italy that need English-speaking employees. We did a basic search on Glassdoor which showed over 400 jobs available across all of Italy specifically looking for English speakers. From guides to models to administrative staff, the opportunities are varied and of course some of them offer a solid wage by Italian standards.
Here are some popular Italian job sites which may be of help:
Given that Italy relies strongly on tourism and hospitality, expats living in Italy with experience in this field should have no difficulties finding a job. Other jobs in demand, as per the Italian labor market, are waiters, cooks, sales assistants, delivery and goods transport personnel. But there is also a rise in demand for tech-related positions like software developers, engineering specialists, system analysts, advertising and marketing specialists, as well as health and nursing specialists.
Note however that due to the pandemic and the developments in Ukraine, employment requirements have dropped by around 30% noting a more significant drop for women (33.4%) compared to that of men (26.7%).
Italian Healthcare
This might sound strange to a US citizen moving to Italy but the country has a national health service that offers universal coverage, free of charge plus co-payments for pharmaceuticals and outpatient care. Moreover, the total healthcare expenditure is 9.2% of Italy's GDP which means the average Italian generates around €3000 on medical bills–all paid by the Government.
The good news for expats is that the so-called Tessera Sanitaria or Italian Health Insurance Card can be acquired by expats too as long as they have an Italian tax number. However, the process of obtaining one is a bit tiresome because it cannot be done online. To find out how to get health insurance in Italy for expats you will have to locate the nearest ASL office in Italy (Local Health Authority). Once you get there, you will receive a list of all the documents you need to prepare to apply for the card.
The bad news is that depending on the type of visa you have, student or work, you might or might be required to pay a fee. For instance, expats who have been hired through an employer, by default are classified as mandatory which means they will not be required to pay. If however, you are self-employed, you will most probably have to pay taxes and social contributions before you become eligible to apply.
Also, if you're moving to Italy as an American, you're probably wondering whether your US health insurance will be valid in Italy. Unfortunately, it most probably will not unless you have international coverage. So, if you cannot get the Italian health insurance card, your best option is to do an in-depth research and find a private insurance company.
School and Higher Education in Italy
At 99.02%, Italy is the 34th most literate country according to population literacy. In regards to the Italian education system, the country ranks 43rd in the world with a 56.9 quality index and 46.13 opportunity index. In other words, even though the country invented the typewriter, barometer, telephone, and espresso machine, Italians enjoy a moderately rated education.
If you are emigrating to Italy with small children, you should know that education in the country is free and compulsory for children who are 6 to 16 years old. Education in Italy starts from nursery, kindergarten, elementary school, and middle school, and ends with high school. Of course, there are private kindergartens and schools which offer education according to EU standards, so if you're interested in this, you'd have to search your area in order to find the one that best suits your budget and needs.
One of the benefits and most important things to know before moving to Italy is that it is the home of some of the oldest universities in the world, most of which rank pretty high on global charts too. Moreover, Bologna is the highest-ranked public university in Italy along with those in Padova, Florence, and Rome's La Sapienza. What future Italian students should know is that the government and the EU is investing quite a lot in modernizing education, especially in regard to digital education.
Finances, Taxes, and Remittance
If you're going to be working and living in Italy as an American or any other citizen for that matter, you will have to get familiar with their tax system. For starters, people in Italy pay taxes according to their tax residence. What this means is that Italians working abroad pay taxes in the country where they work while foreign citizens with tax residence in Italy are subjected to Italian taxation, regardless of nationality. Italy's tax revenue as a percentage of the GDP currently stands at 29%.
Types of Taxes in Italy
Now, in regards to types of taxes there are several of which the personal income tax is the most important for any expat living in Italy. The IRPEF which is the Italian acronym for personal income tax, has a progressive rate which ranges from 23% per year for those with up to €15.000 income, to 43% for those earning €75.000 or more. There are also regional tax rates which, depending on the region, range from 0.7% to 3.33% and municipal taxes which also vary in accordance with the taxpayer's municipality. These range from 0% to 0.8%.
Also, Italy has a standard VAT (Value Added Tax) rate of 22% paid by all who spend money in the country. This rate is lower for some basic food and health products.
People who are moving to Italy for work or are planning to start a company there should know that corporate taxes are paid on the basis of the type of company. Italian companies are taxed on worldwide income while non-residents are taxed only on what has been generated in Italy.
Also, an Italian branch of a foreign company would be taxed the same as an Italian subsidiary. So, the rates for corporate tax, branch tax, and capital gains all amount to 24%, plus the 3.9% IRAP or regional tax on productive activities. On the bright side, Italy has no branch remittance tax.
Finally, this year Italy's outgoing remittances note a jump of 7.7%. What's more, numbers show those who have succeeded in their goal to emigrate to Italy have sent over €2 billion to countries like Bangladesh, Pakistan, Morocco, the Philippines, and Romania.
Marrying and Starting a Family in Italy
Italians love weddings and recognize both religious and civil ones. Most Italians are Catholic so church weddings are the usual type but they also do outdoor and simple civil weddings. And the best part is, anyone can get married in Italy, all they need is proof of their identity and a few other documents.
If you're living in Italy as an American and have found your better half there, we suggest you start your quest for the right documents by paying a visit to the nearest Italian municipality. Some municipalities waive certain requirements but the most basic documents are:
Valid passport or national ID card

Original birth certificate or certified copy

Evidence that any previous marriage/s have been terminated (women whose previous marriage ended in the past year may need to provide additional documents)

An affidavit or Dichiarazione Giurata, a sworn statement before a consular office of your native country, stating that there's no legal impediment for the marriage to take place

Atto Notorio or a declaration signed by two witnesses confirming there is no legal obstacle for the marriage to take place (this cannot be signed by family members)

Dichiarazione di Matrimonio or declaration of intent to marry that will be submitted to a civil registrar
Of the above-listed documents, those which are not issued by an Italian authority will need to be legalized and translated into Italian. Also, civil ceremonies are usually performed by the mayor or deputy and cost between €500 and €9.200.
If an American couple moving to Italy wishes to undergo a religious marriage, they would have to do it before a Roman Catholic minister in order for it to be valid. Marriages are also performed in English at the Vatican but you would have to contact the parish of Saint Patrick's Church to learn more about the required documents.
As far as starting a family goes, Italians are pretty generous to expats. In fact, all medical consultations and care during pregnancy are free of charge for all women. Moreover, non-EU citizens who have obtained a residence permit are entitled to claim maternity benefits. And all foreign national citizens who are waiting for their long-stay Italian visa to be issued can apply for maternity benefits within 6 months of the birth of their child.
However, a child born in Italy to non-Italian parents must wait until they are 18 years old to apply for citizenship. Moreover, during these 18 years they must have a fully regulated and uninterrupted stay in Italy; otherwise, they will not be eligible.
Buying Property in Italy
If you've got this far, you're probably resolved on moving to Italy permanently, and according to Bloomberg, Americans and Britons are buying Italian property like crazy. Why? First, because there are no restrictions on foreign ownership, secondly, because of tax incentives and generally lower prices and third of all, because working remotely looks to be here to stay.
For those who've worked out the financial part, and have found a reliable realtor to make the offer (you can also do this solo), the only thing that is left is to get the sale contract, sign it and voilà, you've got yourself a casa! The bonus here for Americans who immigrate to Italy is that there is a bilateral agreement between the two countries allowing the same privileges to Italians buying property in the US and vice versa.
There is a catch though, and it's called tax. Anyone buying property in Italy is obligated to pay a registration tax which ranges from 3% to 7%, VAT of up to 22%, land registry tax which is just 1%, and a notary fee from 1% to 2.5%. The legal fees, on the other hand, vary from 1% to 2.5% (+VAT) and, of course, if you're buying through a realtor they can charge you up to 4%. In total this would be from around 11% to 38% of the price of the house you're buying.
Retiring in Italy
You've found the best place to live in Italy as an expat and now you're thinking of retiring there. Or you're just exploring the idea of spending your autumn years surrounded by beautiful landscapes, excellent food and wine, and incredible culture. Whichever it is, know that it's possible.
At present, the retirement age in Italy is 66.7 years for men and 65.7 years for women. But if you want and can retire early, it makes no difference— you can still retire in Italy. All you need to do is prove that you still have income, either as a pension or social security check, real estate investments, or any other type of investment. This will be the basis for your residency in Italy and of course, a means for you to pay your housing and other costs. Be advised that your pension will be subjected to a 7% flat tax rate.
Finally, since the Italian healthcare system is public and as a retiree, you will be paying taxes, once you get your visa permit affairs in order, you will be able to apply for the Italian Health Insurance Card. However, if you prefer to have private health insurance, you can also get quotes from Italian insurance companies and spend a portion of your retirement savings on getting private health insurance.
Is Moving to Italy a Good Idea?
To la dolce vita or to not, the choice is yours. Our extensive research on the reasons to move to Italy, the free healthcare system and life as an expat, will be your reliable guide no matter whether you're studying, moving or retiring to this unique country. And if you still have doubts, just check the weather in Italy, or see a photo of the Amalfi coast, we guarantee it will make your decision easier.
FAQ
How much money do you need to move to Italy?
Can I live in Italy as a US citizen?
Can I speak English in Italy?
Darko Jacimovic
With over six years of writing experience, Darko is a prolific writer in multiple industries including, but not limited to, digital marketing, SEO, finance, and technology. Acquiring a BA in English pushed him to pursue his lifelong dream to conquer the internet and take over the SERPs with high-quality content. While looking for his next travel destination, Darko developed impeccable research skills that helped him craft some of the most popular stats pages on the World Wide Web.