Checklist for Moving to Spain
Relocating is one of the most significant steps people can take in their lifetime, and it's not surprising that many people choose Spain as their destination. However, even though Spain is one of the most sought-out countries for expats, there's still a list of things you need to consider before deciding to embark on this journey:
Check the visa requirements and see if you have the required documents to move.

Get to know Spain as a country.

Explore how expats live in Spain.

Decide where you'd like to live and research housing options.

Explore job opportunities and healthcare coverage.

Administration in Spain (banks, taxes, etc.).

Create a budget plan.

Small things that are not so small (adapting to life abroad, transportation options, language, climate).
Spanish Visas, Work Permits, and Residency Requirements
As it's the case with any other country in the world, residency, visa, and work permit requirements in Spain depend on where you're coming from. Namely, E.U. and EEA citizens don't need a visa for long-term studies or work, while third-country nationals can stay up to 90 days in 180 days for work, study, tourism, or establishing their residence. There are several different visa types you can apply for, and the Spanish Ministry of Foreign Affairs provides information about all of them.
Spanish Work Visa Requirements
If you plan on working in Spain and you're an EU/EEA national, the process is pretty straightforward, and you'll be allowed to work in Spain simply by having your papers. Still, remember that you'd need to have NIE and residency registration (empadronamiento).
However, it gets a bit complicated for third-country nationals. Regarding visa type, there are plenty of employment visas in Spain, from research and internship visas to entrepreneur and investor visas. Other than the employee visa, we'll discuss in a bit, work permits Spain issues include the self-employment visa and a visa for highly qualified workers and intra-company transfers.
Finally, you can get a visa for family members if you're an expat who has already obtained a legal residency and work permit in Spain. That document is called the family reunification visa, and it's valid only for third-country expats, while there's a special one for family members of E.U. citizens.
Employee Visa in Spain
If you're moving to Spain for work, the most common and basic way to do it legally is by obtaining this visa. However, the most important thing you need to know is that you can only get this type of visa if you have a valid contract with a Spanish employer. This visa covers seasonal workers as well, and there are numerous documents you need to provide together with your application:
National visa application form

A recent photograph

Valid passport

Permit to reside and work for someone in Spain ("autorización de residencia y trabajo por cuenta ajena")

Work contract

Criminal record certificate

Medical certificate

Proof of residence in the consular district

Evidence of the representative's identity and capacity

Visa fee payment
Here are a few more essential things to know:
If the contract with your employer lasts one year, the visa will be valid for the first 90 days. Once in Spain, you must register with the Spanish Social Security Department and request a Foreigner Identity Card. This is optional for seasonal workers.

Your passport will be in the consulate during the visa processing time.

ACRO Certificate is needed for U.K. residents.
What to Know Before Moving to Spain
Being a Mediterranean heaven for people who like living a laid-back life, Spain boasts glorious landscapes mixed with sophisticated architecture, diverse culture, and mouth-watering dishes, as well as a relentlessly hedonistic lifestyle that can be felt in every corner of the country. In the following sections, we'll discuss some of the most important aspects of living in Spain you should be aware of before moving.
Climate in Spain
Just like the Spanish culture, its climate is quite diverse. According to the Köppen Climate Classification System, there are 13 different climate regions in Spain. Spain has more than 3,000 hours of sunshine annually, the hottest months being July and August. In short, Spain has mild winters and hot summers in the south and east of the country and a bit colder winters and warm summers in the northern part. Andalusia tends to be the hottest part of Spain, while the lowest temperature ever in Spain was recorded in Leon.
Spanish Cuisine
Due to the ever-growing influence of other cuisines and the diversity between Spanish regions, it's difficult to say which are the classic Spanish dishes. However, one thing can be said with certainty—Spanish dishes alone can make you emigrate to Spain.
Spain is the #1 producer of olive oil globally, so it's apparent that it's one of the Spanish cuisine trademarks. Other than that, the Spaniards generally love to use parsley, oregano, rosemary, and thyme. Furthermore, next to vegan options, you'll find jamón (ham), fish and seafood, chicken, and pork on the average Spanish table. Some of the most famous dishes consumed in Spain include but aren't limited to: paella, gazpacho, fideuà, croquetas, jamón, churros, and patatas bravas.
Languages Spoken in Spain
Castilian Spanish is Spain's primary and official language, but the story doesn't end there. Namely, the Spanish Constitution claims there are four more co-official languages: Catalan/Valencian, Galician, Basque, and Aranese. According to the 2019 research from Pew Research Center, you would hear Castilian Spanish in 81% of homes, Catalan and Valencian in 8% and 4%, respectively. The list is concluded with Galician and Basque, with 3% and 1% of respective homes in Spain speaking these languages.
Expats in Spain
Romanians are the biggest expat community in Spain when it comes to E.U. nationals, with 1.1 million of them living there. The second largest group of foreigners who chose Spain as their home are Moroccans (830,000), while Britons with 407,000 and Italians (377,000) are trailing by a large number. The total number of expats in Spain amounts to more than 6 million for the first time in Spanish history.
By 2021, around 40,000 American citizens have decided to start a new life in Spain. Most chose Madrid, but many opted for Catalonia, Andalucia, Valencia, and Galicia. Close to 2,000 more women moved to Spain from America, while retirees tend to live in sunny paradises such as Costa del Sol. Although the highest number of foreigners live in Madrid and Barcelona, with 972,000 and 895,000 expats, respectively, other provinces such as Almeria, Girona, Malaga, and Lleida have a more considerable proportion of foreigners when compared to Spanish-born people.
Relocating to Spain
Transporting Your Belongings
There are many ways to ship your belongings to Spain, including air freight, train, road, and sea transport. The cheapest option, especially if you have extra time on your hands, is via sea since Spain has many ports, and a 20ft container would cost close to $440. Still, that price heavily depends on your container's outgoing and incoming locations.
Additionally, there's the option of hiring a moving agency that can take care of everything for you. The average price range for moving your belongings from the U.K. to Spain is from $1k to $5k. Finally, moving your belongings by air transport is one of the common mistakes when moving to Spain so try to avoid it if you want to save money.
Transporting Your Pets
Although Spain is considered to be expat-friendly, the bureaucracy involved can push a lot of people away. Your pet (dog, cat, or ferret) needs to be identifiable with a microchip/tattoo, have an E.U. passport, and have proof of rabies vaccination. As it's the case when moving to France, you aren't allowed to bring dogs, cats, and ferrets younger than 15 weeks (12 weeks + 21 days vaccination period).
The process is even more complicated if you're, for example, moving to Spain with a dog from a non-EU country. Namely, if you're arriving from a non-EU country, you must adhere to strict rules and bring your pet through designated points of entry. Furthermore, you'll have to provide additional identification and vaccination documents, both in accordance with E.U. models.
Adapting to Life in Spain
The biggest favor you can do for yourself before moving to any country (including Spain) is to learn the language and become as "local" as possible. English is not particularly accepted since, although they can generally speak it, Spaniards like to preserve their language and are often reluctant to speak English. Still, Spanish isn't that difficult to learn, and phrases such as ¿qué tal?, hombre, and ¡mucho gusto! will help you adapt to the Spanish lifestyle faster.
If you're moving to Spain from the U.S., you might find it challenging to adapt to Spaniards being expressive and sometimes even too touchy-feely. Luckily, you've probably met many in the U.S., so it shouldn't be too hard to adapt to their way of talking and expressing emotions.
Furthermore, you can meet many new people while waiting in line for your soon-to-be favorite restaurant. Eating out is a big deal in Spain, and you'll probably meet different people with similar interests while waiting for a table to free up. Regarding meeting new people, kids and pets can be super helpful since meeting new people in public playgrounds, parks, and the beach is pretty standard for people living in Spain.
Finally, it's essential to support and follow the local culture. Party with the locals, get your groceries from the local shops, visit the frequent festivals, don't talk about politics if you're not going to complain about politicians, and whatever you do, don't be rigid.
Cost of Living in Spain
Cost of living is one of Spain's main selling points since, when compared with the U.S., this Mediterranean country will provide you with an objectively similar (or better) quality of life you had in the U.S. for the same amount of money. Of course, it's never that simple since the job market and salaries are different, but a regular U.S. citizen moving to Spain will notice much lower rent and the price of utilities, better rail transport, and lower food prices overall.
Clothing Prices
The fashion giant Inditex alongside brands such as Decathlon and Primark are primarily why Spain is one of the meccas of cheap clothing items in the E.U. Namely, clothing and footwear prices in Spain are 10.6% lower than the European Union average, and they're only more affordable in Bulgaria, Romania, and Hungary.
Food Prices
If you plan on emigrating to Spain, you'll be happy to hear that the price of food in Spain is lower than the E.U. average by €200 per year. Namely, even with the latest essential foods price surge due to the war in Ukraine, the yearly food spending for an average Spanish family is projected to go up to €2,300 per annum.
Average Rent in Spain
Average rent prices in Spain are around 57% lower than the average rent cost in the United States, and in 2021, renting one square meter in Spain cost €10.8. Although there's a lack of data for 2022, the prices are reasonably higher now since the pandemic's end brought a surge of tourists to almost all Spanish cities.
Entertainment Cost
Recreation and culture prices in Spain are 6.4% lower than the European Union average, while restaurants and hotels are 11.8% cheaper when Spain's compared to its E.U. counterparts.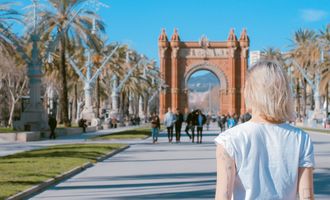 Cheapest and Most Expensive Spanish Cities
Spain's population density is 94 people per km2, which is quite lower than in most Western countries. For example, Germany stood at 238 people per km2 in 2020. Spanish geographical layout and its population's historical movements caused some of the cities to be more attractive for both expats and locals. Therefore, the cheapest cities are only sometimes the best options to live in, usually due to a lack of job opportunities.
However, here's our evaluation of the best cheap places to live in Spain:
Santiago de Compostela

Vigo

Cordoba

Toledo

Huelva
The most expensive ones, but also the ones with the highest number of work and leisure opportunities, are:
Barcelona

San Sebastian

Bilbao

Palma de Mallorca

Madrid
It would be a bold move to determine a single city as the best place to live in Spain as an expat since there are so many great cities, and your personal preferences must be considered. If you prefer living by or close to the shore, the more expensive options would be Palma, Barcelona, Valencia, Marbella, etc. Cheaper but not cheap options would include Malaga, Cadiz, Alicante, and Murcia. Whichever of these you opt for, you will make a good decision regarding quality of life.
Transport and Infrastructure
If you're moving to Spain as an American, you'll be amazed how Spain's main cities and towns are connected by a unique system of trains, buses, and airplanes. Most often, the best way to move across Spain is by using the high-speed national rail system called Renfe. Although the country has 59 airports and you can go anywhere by plane, Renfe's high-speed train AVE or other high-speed trains can take you from Barcelona to Madrid for as little as €15. The journey of around 600 kilometres (372 miles) will take approximately 2h 30min.
One of the main benefits of living in Spain is the reasonably-priced metro system for inner-city transport in Madrid, Barcelona, Valencia, Bilbao, Malaga, Granada, Seville, Cadiz, and Palma de Mallorca. The quality of public transport is best shown through the fact that the total number of passengers increased by 26.3% between August 2021 and 2022, and the intercity transport levels also showed a 27% YoY increase.
Air transport is also essential to the Spanish economy since it creates 1.7 million jobs and adds 113.2 billion to the Spanish GDP. Ryanair was the leading airline in Spain in 2021, holding 21% of the total market share, and Spanish carriers Vueling and Iberia hold the second and third places, respectively.
Finally, sea transport is also possible for Spanish passengers and transporting goods. Namely, the port of Santa Cruz de Tenerife had 159k passengers in 2021, while the Baleares was second on the list with 102.4 thousand passengers.
Working in Spain
Most expats cite job opportunities as the main reason to move abroad. However, one of the things to know before moving to Spain is that the Spanish job market isn't something this country should be proud of. At 12.6%, Spain has the highest unemployment rate in the E.U. However, although Spain and Greece have the lowest number of job opportunities in Europe, there are job vacancies in Spain as well. For example, according to official reports, in Q3 of 2021, Spanish companies reported 120,000 vacant positions.
The most sought-after employees are in the construction, transport, and logistics sectors. There's also a need for more specialized staff, such as doctors, nurses, and qualified staff in the services sector. On the plus side, in 2021, there were 1.9 million foreigners privately employed in Spain, while there were close to 400k self-employed expats living in Spain.
Finally, the average salary in Spain is €1,751 per month, which is 20% less than the E.U. average. The gender pay gap in Spain is at 9%, which is, although not great, 3.6% lower than the E.U. average.
Healthcare in Spain
Unlike the job market, healthcare in Spain is among the best in the E.U. As an expat, you have two options. You can apply for the national healthcare plan or purchase private life insurance. The prices of private health insurance in Spain vary from as low as €60 and can go up to €300 depending on your options.
As far as the national healthcare service goes, if you're eligible, almost all of your medical needs will be covered entirely free. Dental and eye care are not covered unless it's an emergency and medicine prescriptions require participation. Other than that, eligible patients won't have to pay anything when visiting their doctor or healthcare center.
Health Insurance in Spain for Expats
People employed in Spain are automatically eligible for receiving free public healthcare services since their employer is obligated to pay for their social security contributions. All employees need to do is obtain their medical insurance card (Tarjeta Sanitaria Individual) at the nearest SNS office.
For self-employed people, things get complicated since they must apply for a social security number and pay social security contributions themselves. Once the social security contributions are taken care of, you become eligible for SNS medical care.
Healthcare in Spain for E.U. Citizens
All E.U. citizens who possess the European Health Insurance Card (EHIC) can receive state-provided healthcare free in Spain for up to three months, no questions asked. If you plan to stay in Spain for over three months, you must sign up and get the National Healthcare plan.
Healthcare in Spain for Americans
If you're an American moving to Spain, your insurance won't cover your medical expenses in Spain unless you have an international plan. However, you can take advantage of the public healthcare system if employed in Spain. If not, private healthcare in Spain is also quite affordable and reputable.
School and Higher Education in Spain
Spain's education system is pretty good and above the European standard. Regarding quality, some reports even show it's the 17th-best education system in the world. Nursery and preschool are optional, the latter being funded by the state. At the same time, primary and secondary (middle school) education are mandatory and free in Spain for children between the ages of 6 and 16.
After completing the compulsory secondary studies, students can choose between getting a Bachillerato certificate enabling them to go to college or getting vocational training which should make them eligible for the skilled-job market. If they decide to go to one of Spain's 76 universities, it can be free of charge since public universities in Spain are funded by the government.
However, if you're living in Spain as an expat, you'd have to pay a fee to get a bachelor's degree. Luckily, the fees aren't that high since obtaining a university education in Spanish public universities can cost anywhere between €680 and €1,400 per year, depending on your specialty. The average for 25-34 year-olds in Spain who had a tertiary qualification in Spain was 49% which is 2% higher than the average in OECD countries.
Studying in Spain has plenty of benefits, from spending your college days by the sea eating tapas to obtaining a Spanish student visa. There are plenty of universities in Spain with English curricula, but learning a new language is always a good decision. If you decide to settle in Spain, getting proper education for you or your children is one less thing to worry about.
Finances, Taxes, and Remittance in Spain
Before we start analyzing tax information, remember that the Basque and Navarra regions have their own tax systems so the rules might differ from the rest of Spain. VAT in Spain is 21%, and the state's main regulatory body for taxes is "Agencia Estatal de la Administración Tributaria."
The branch remittance tax rate is 19%. The tax applies to after-tax profits paid to a foreign head office unless the head office is an E.U. resident or can benefit from a tax treaty and certain conditions are fulfilled.
Corporate Taxes
One of the reasons to move to Spain is that the corporate income tax rate, in general, is 25%, while the branch tax rate is 25% + 19% tax on after-tax profits remitted to the foreign head office (if applicable). Finally, the capital gains tax rate is also 25%. Resident companies need to pay taxes on worldwide income, while non-resident companies without a permanent establishment in Spain are only required to pay taxes for Spanish-source income.
Individual Taxation
If you're living abroad in Spain, you become a tax resident if you spend more than 183 days on Spanish soil or if your business, professional, or economic interests are in Spain. The individual income tax rate is progressive, and it grows from 9.5% for up to €12,450 all the way to 24.5% for amounts higher than €300,000. Capital gains tax rates go from 19% to 26%. Married couples can choose to file jointly or separately, and the penalties for tax evasion are from 50% to 150% of the unpaid tax liability.
Marrying and Starting a Family in Spain
One of the possible shocks you might encounter if you're living in Spain as an American is that marriage procedures are slightly more complicated in this European country. Documents needed to get married in Spain are:
Valid passports.

Original birth certificates.

A certificate that both parties are legally allowed to get married, often referred to as the certificate of no impediment. This includes proof of previous marriages ending (divorce/annulment/death certificates, if applicable).

Empadronamiento certificate - certificate of residence. At least one of the parties getting married needs to be either a Spanish citizen or a resident of Spain in the previous two years.
If you immigrate to Spain and marry a local, you could obtain various rights you wouldn't have as just an expat. Namely, you could benefit from getting work and residency permits faster, joint personal income tax declaration, access to social security even if only one partner is employed, and more.
As far as same-sex couples are concerned, Spain is a country that legally recognizes them and allows them to form a partnership called "pareja de hecho." This allows same-sex couples to obtain many rights, including the right to adopt a child, buy or inherit property, etc.
Buying Property in Spain
If you want a long-stay Spanish visa, buying property in Spain can be one of the best options since you have no restrictions on purchasing property or land as a foreigner in Spain. What's more, anyone buying real estate in Spain worth at least €500,000 is eligible for a so-called golden visa. To get the visa, you'll also need to be older than 18, have health insurance in Spain, have no criminal record, and not have previously rejected requests for a Schengen Visa.
Housing prices have been going up YoY in the last couple of years, and the percentage of homeowners in Spain is relatively high, at 75.8%. However, although it pays off to invest as an expat living in Spain, the prices are only for some people's pockets.
In the most expensive parts of Spain (Madrid, Barcelona, San Sebastian), property prices go above $3,000 per square meter on average, while owning a property in Vigo, for example, would cost you around $1,500 or more. On average, property prices are increasing across Spain, and this trend is expected to continue in the following years.
Retiring in Spain
Retirement heaven for many, Spain boasts huge expat communities in most coastal cities and towns. However, the Basque region has grown in popularity for retirees who prefer a cooler climate. Still, a pension of over $2,000 per month will guarantee you comfortable retirement days even in the big cities, while you could make do with less if you choose one of the smaller towns in Spain.
As far as legalities go, you won't need a residence permit if you're an E.U. citizen. If you're not from the E.U./EEA and fancy moving to Spain permanently, you'll need a non-working (non-lucrative) residence visa. To obtain this visa, you'll need to fulfil several requirements. Other than having your own health insurance and a clean criminal record, among other things, you would have to provide proof of income.
Namely, the minimum required amount should equal 400% of Spain's Public Multiple Effects Income Indicator (IPREM). For each family member in the applicant's care, the amount is increased by 100%. As of 2022, Spain's IPREM is €579.02. Therefore, Spain is probably the perfect choice for Americans who love the Mediterranean and have over $141,542 in retirement savings on average.
Is Moving to Spain a Good Idea?
At first glance, it's an absolute yes. All things considered, we'd say probably! Spain is a great place to live, no one can deny that. However, whether it's good enough for you depends on your requirements and preferences. All in all, Spain is safe, beautiful, and expat-friendly, which is good enough for you to at least consider moving there.
FAQ
Can a U.S. citizen move to Spain?
How much money do I need to move to Spain?
Where do most Americans live in Spain?
How much money do you need to retire in Spain?
Does Spain have good healthcare?
Do expats pay taxes in Spain?
Darko Jacimovic
With over six years of writing experience, Darko is a prolific writer in multiple industries including, but not limited to, digital marketing, SEO, finance, and technology. Acquiring a BA in English pushed him to pursue his lifelong dream to conquer the internet and take over the SERPs with high-quality content. While looking for his next travel destination, Darko developed impeccable research skills that helped him craft some of the most popular stats pages on the World Wide Web.