Moving to Thailand Checklist
If you're sold on the idea of making Thailand your new home, you should check this mini guide to help you get started and understand what needs to be done.
Research expat forums to see if Thailand is the right fit for you

Make sure your passport is valid

Check vaccination requirements and travel restrictions

Learn about visa requirements

Check if you're eligible for work

Make copies of all documents you might need

Pick a region or city and look for accommodation and transport options

Check with immigration about your residence permit

Enquire about a Thai bank account

Buy a local SIM card
Thai Visa Requirements, Work Permits, and Residency
Tourists can enter Thailand with or without a visa. At present, over 50 countries are exempt from visa, and 19 qualify for visa on arrival. Americans don't need a visa to go to Thailand but entering as tourists limits them to staying for a maximum of 30 days. People planning to move to Thailand would need to apply for a non-immigrant visa or another category of long-stay Thai visa.
Work Permits
As far as work permits go, if you're going to stay in the country and work, you would need a type B visa or Business visa. In addition to the universal documents like a visa application form and two passport-sized photos, you would also require other documents, such as a letter of approval from the Ministry of Labor which would have to be obtained by your Thai employer.
If you're going to apply for a Thai work visa because you're planning on doing business there, the paperwork is entirely different. The upside, however, is that this visa will be the basis for your immediate family to apply for a long-stay visa.
Note that once you enter Thailand with your type B visa, you will have to apply for an official work permit with Immigration and the Ministry of Labor or the One-Stop Service Center. Another important piece of information is that only people who've been issued work permits in Thailand can engage in work or start a business in Thailand. Finally, the fees for this type of visa range from $50 to $140.
Other Types of Residence Permit (Retirement)
In addition to work permits, there are visas for investors, expert specialists, researchers, and scientists, and then there is the non-immigrant visa O-A long stay visa, which is intended specifically for retirees.
At present, the requirements for this visa category demand that the applicant is over 50 and has no intentions of getting a job in the country. Another requirement for those planning to expat to Thailand as retirees is a bank deposit of THB 800,000 or a monthly income of an equivalent amount.
The fee for applying for this visa type is around $140 and legally permits the holder to stay in Thailand for up to one year with an obligation to report to an immigration officer every 90 days.
As far as becoming a permanent resident of Thailand goes, it is possible but requires the applicant to have had a non-immigrant visa for at least three years prior to the submission of the application.
Moving to Thailand
Ranked 11th in the world for ease of settling in and health and well-being, with 77% of expats declaring they live a happy life there, Thailand is a dream for anyone who wishes to start a new life. Moreover, surveys show Bangkok, popularly known as the City of Angels, is the 6th best city for expats.
Thanks to its hospitality, Thailand's popularity as a destination for starting a new life is growing by the year. Moreover, the latest data reveals there are nearly 3.6 million expats in Thailand, representing 5.2% of the total population.
Most of them are located in Bangkok, Chiang Mai, Pattaya, Phuket, and islands like Koh Samui and Koh Tao. But considering Thailand is among the top 10 favorite destinations for expats, chances are no matter which corner you move to, you'll find a welcoming fellow expatriate.
If you're considering moving to Thailand with pets, you should know that the country is pet-friendly, and unless you have a pit bull terrier or an American Staffordshire terrier, you will have no problem bringing your pet to the country.
If you have a more unique pet, you would have to check with CITES. Other than that, as long as you meet the requirements requested by the Embassy of Thailand, which include a photo and passport of your pet, vaccination record, and microchip certificate, you should have no issues.
Adapting to Life in Thailand
Thailand is the beating heart of Southeast Asia, and Bangkok, with its canals, is the Venice of the East. Similar to countries in the region, Thailand enjoys a tropical climate with a mean annual temperature of 26.86 °C and a mean annual precipitation of 1593.42 mm. And just like Italy's Venice, it's often exposed to natural disasters like flooding, heat waves, and droughts caused mainly by seasonal monsoons and the El Niño-Southern Oscillation cycle.
In addition, Thai cuisine may not be the healthiest in the world, but it certainly scores high in terms of favoritism for 27% of Americans. Plus, one of the main benefits of living in Thailand is that you'll be enjoying a great variety of dishes, including the king of curries, the Massaman curry, Tom Yum Kung, and the Som Tam, which are listed as the top 50 foods in the world.
Another convenient circumstance about Thailand is that English is widely spoken and understood by locals. Many of them also speak other Asian languages, so if you've started learning the language and find it challenging, don't worry. Thanks to the high number of expats living in Thailand, English is not only a currency for cross-cultural dialogue, but unofficially it's spoken by around one-third of the population.
Cost of Living in Thailand
Thailand ranks 4th out of 52 countries according to personal finances for expats. In fact, for 85% of expats disposable household income in Thailand is beyond sufficient to lead a comfortable life which is why the country ranks 3rd among expats in regard to cost of living. Moreover, Thailand is 65% cheaper than the US, with an average monthly cost of living amounting to $742.
In regards to household expenses, regardless if you're living in Thailand as an American or European, the country will seem super affordable as data says the average monthly expenditure per household is THB 21.3 thousand or around $600.
Naturally, monthly expenditures vary according to the region, and in this sense, Bangkok and surrounding areas lead the pack. The average monthly expenditure there is THB 31.1 thousand per household (around $880), while Thailand's northern region has the lowest, at THB 16.59 thousand or a little over $450.
Finally, if you're emigrating to Thailand, you should know that even though raw food prices have risen by 3.5% YoY, housing remains cheap. In fact, the average daily rental rate of accommodation in the central region of Thailand has been reducing since 2015 and was THB 967 or less than $30 per day at the end of 2021.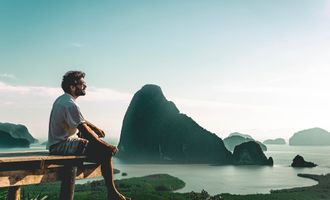 Cheapest and Most Expensive Thai Cities
The Land of Smiles is packed with UNESCO-protected cultural heritage sites, and it's also the home of beautiful natural parks and rainforests that shelter several endangered species. And the best part is that such unique landmarks exist in Chiang Mai, which is not only the cheapest place to live in Thailand but also a top destination for digital nomads. Other affordable cities are:
Hua Hin

Ko Chang

Kanchanaburi

Chiang Rai

Pak Nam Pran
And then there are the more costly cities like Bangkok, Phuket, Koh Samui, and Krabi, which are famous as beach and party destinations. Bangkok, for instance, was among the top 50 most expensive cities for expats until recently. Luckily it has now dropped to the 57th position, while multiple forums still cite it as the best place to live in Thailand as an expat. Other popular expat destinations are:
Kanchanaburi

Koh Tao

Koh Samui

Pattaya

Pai
Transport and Infrastructure
Surely the first thing that comes to mind when you think of transport in Thailand are the tuk-tuks. But there's more to Thailand than tuk-tuks and taxis. In fact, Thailand has 38 airports, with Suvarnabhumi Airport accounting for 91% of passengers.
Moreover, Thailand's affordable and excellent transportation system is supported by 180,053 km of roadways, 4,127 km of railways, and 4,000 km of waterways served by 839 harbors. Also, driving by yourself is an option, though a more expensive one, and requires a Thai or international driving license.
Working in Thailand
The unemployment rate in Thailand is just 1.5% which is significantly lower than that of the US, currently standing at 5.5%. Foreign direct investments are projected at THB 40000.00 million by 2023, pointing to a strong and prospective economy. In fact, Thailand ranks third among ASEAN countries for FDI, with Japan, Singapore, and the USA being its largest investors. In other words, as an expat in Thailand, you should have no issues finding a job as long as you're eligible for a work permit.
In regards to wages, Thailand has one of the highest monthly minimum wages in ASEAN, which range from THB 9,000 ($235) to THB 10,000 baht ($261), depending on the province. Some of the most in-demand jobs for expats are in the education, hospitality, and real estate sector but also in IT, digital marketing, and ecommerce.
In fact, if you're moving to Thailand for work you should know that the country intends to become 61% digitized by the end of 2022, so if you have skills that might aid this endeavor, you could probably score a high wage too.
Finally, given the amount of FDI and the fact that the country is gradually shifting from an agrarian to an industrial economy, Thailand abounds in investment opportunities if you want to venture as an investor. Value-added manufacturing is one of the most promising sectors in Thailand, with electric vehicles, medical devices, and electrical and electronics leading the pack.
Healthcare
If you're moving to Bangkok or any other city in Thailand, you should know the country has a universal healthcare system that applies to all its citizens. Moreover, in accordance with the law, all expats must be covered by either public or private health insurance.
Those who have a contract with a Thai employer are eligible to access the public system, which is ranked 27th in the world. The fault with healthcare, however, are the always crowded waiting rooms. That's why the best health insurance for expats in Thailand is a private one.
School and Higher Education
The literacy rate in Thailand is 92.9%, and the education system is free and guaranteed by the Thai constitution. Similar to Western countries, primary and secondary education are mandatory, while preschool intended for 3-to-6 years olds, is optional. After this, there is vocational (DVT) and tertiary education.
If you're relocating to Thailand with family and have school-aged children, you should know the public education system still has a long way to go. At present, enrolments to lower and upper secondary enrolment are low at 86% and 69%, respectively, leaving disadvantaged communities, migrants, and children with disabilities out of the school system.
Thailand's universities, on the other hand, rank 48th in the world. Presently Thailand has 12 public universities, 39 private, and 49 colleges, all of which are regulated by the government. Moreover, these universities presently host more than 15,000 international students so if you're moving to Thailand alone because you will be studying there, chances are you will find your pack soon enough.
Mahidol University is the best and currently ranks 512th in the world, along with Chulalongkorn and Chiang Mai University, which are further down the list of global universities but rank second and third in the country.
Finances, Taxes, and Remittance
Similar to Indonesia, Thailand has quite a lot of taxes levied on companies, investors, and individuals. From corporate and personal income tax to car tax, fuel, tobacco, beer, and VAT, which in the first ten months of 2022 generated over THB 766 billion or nearly $23 million. In fact, in December 2021, Thailand's tax revenue as a percentage of the GDP was 13.3%.
Types of Taxes in Thailand for Expats
First off, all resident and non-resident individuals (people present in the country for over 180 days within a calendar year) who are earning income from sources in Thailand are obligated to pay personal income tax.
The tax rate is progressive and taxed on Thailand-source income, while foreign source income is taxable only if brought into the country in the year derived. For this type of tax, the rates vary from 5% for up to THB 300,000 to 35% for more than THB 5 million. Capital gains are also taxable as per the normal PIT rates.
If you're living in Thailand and you have a company or intend to start one there, you should know that a limited, public company or partnership is considered resident if it's incorporated in the country and registered with the Thai Ministry of Commerce. Typically, corporate income tax is 20% with a branch tax rate of 20% and a standard corporate income tax rate for capital gains. There is also a 10% branch remittance tax on after-tax profits.
And lastly, an important piece of information about those earning and living in Thailand: it is possible to make remittances through commercial banks though you would have to provide evidence about the purpose as the transfer must be approved by the Bank of Thailand. In September 2022, remittances in Thailand amounted to 20969 THB Billion.
Marrying and Starting a Family in Thailand
Official numbers reveal that over 271 thousand marriages were registered in Thailand in 2020, and some estimates say one-tenth are to foreigners. And if your reasons to move to Thailand include a special someone or a fellow foreigner, we congratulate you on picking an awesome location though we must inform you there is some light paperwork involved.
Anyone, except for LGBTs, can get married in Thailand. Expats will most likely need to obtain an Affirmation of Freedom to Marry from their embassy and other basic documents like a passport and translated birth certificate. Therefore, the best course of action is to visit the registrar's office, where you would get a list of all the documents needed to get married in Thailand.
Also, no matter whether you are an expat living in Thailand or a resident, only marriages recorded in the country's Registry are valid. If you want to have your union blessed by a Buddhist monk, you can do it in addition to the formal, civil marriage.
Buying Property in Thailand
When it comes to housing, Thailand offers plenty, especially in the central area, where the growth rate of new residential buildings has increased by 26.5%. Legally, however, a foreigner cannot directly own land. Luckily, there are alternatives for people who wish to emigrate to Thailand:
Set up a Limited Company

Enter into a long-term lease agreement with a landowner
Once you've got that settled, you can apply for a construction permit and build a house in your name. The property tax rate varies from 0.01% to 0.7% depending on the type of land with a transfer fee of 2%.
Retiring in Thailand
Thailand is a long-time favorite for both expats and retirees because it's the perfect mix of affordable prices and foreigner-friendly destinations. And considering medical tourism is projected to reach $24.4 billion in 2027, the country does not only offer more affordable medical care, but some estimates say it could save you up to 85%. And if you're planning on retiring in the south of Thailand, we'd recommend the island of Koh Samui, where there are palm beaches, ornate temples, coconut groves, spas, and even a luxury retirement resort.
Is Moving to Thailand a Good Idea?
The Land of Smiles appeals to many; couples wanting to get married, digital nomads seeking a better bang for their buck, retirees wanting to spend their mornings looking at perfect sunrises, and even prospective investors. Regardless of the reason, consider the above things to know before moving to Thailand to ensure your relocation goes as smoothly as possible.
FAQ
How much money do you need to move to Thailand?
Can an American citizen live in Thailand?
What are the cons of living in Thailand?
Hristina Nikolovska
An internship in a digital marketing agency during her freshman year of university got Tina into content. A decade later, she's utilizing her educational background in English and knack for research to craft website content on crypto and ensure readers are fully informed. When she's not investigating the crypto market and expanding her knowledge, you'll find her randomly roaming cities and sunny coasts all over the world.