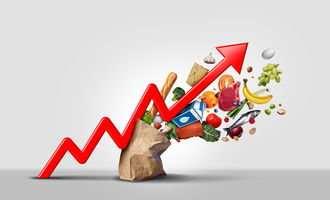 Investors Shorting British Pound as Recession Looms

Daniela Kirova
As inflation begins to bite in the UK, investors are increasingly taking short positions against the British pound. It hit a four-decade high at an annual 9% in April. After the UK energy watchdog raised the household energy price cap by 54% at the beginning of April, food and energy prices entered an upward spiral, CNBC reported.
An 'apocalyptic' outlook
According to Bank of England Governor Andrew Bailey, consumers can reckon with an "apocalyptic" outlook. Data from a recent survey showed every fourth Briton has resorted to skipping meals. The GBP has lost almost 8% compared to the dollar over the past year, clocking in under $1.25 this morning, slightly above a recent two-year low.
To avoid recession while anchoring inflation expectations, the Bank of England faces the unenviable task of hiking interest rates.
Recent Commodity Futures Trading Commission (CFTC) data show that institutional investors and asset managers held almost 130,000 short positions against the pound, compared to just over 30,000 long ones.
According to Sam Zief, an executive at JPMorgan Private Bank, the sterling is "awfully cheap" at the moment. He told CNBC in an interview:
The ECB is just coming out of negative rate territory and we think there are non-linearities to doing that, where the BOE is already in positive rate territory — we don't think they can really hike all that much further. So even though we do think sterling recovers a bit against the dollar come the end of this year, we have really been trading sterling short on the crosses, so long commodity-sensitive currencies, growth-sensitive currencies or even the euro against sterling. It's really not one of our favorite currencies in the G10.
Goldman Sachs Co-Head of Foreign Exchange Strategy Zach Pandl said:
While the UK faces a similar trade-off as other major central banks between slowing growth and well-above-target inflation, the BoE has chosen to place a relatively bigger weight on the growth outlook while still relying on supply-side factors to bring inflation down to target.
The ECB will start raising interest rates in July, in between SNB meetings. Pandl added:
A preemptive hike in June, an intermeeting hike, or balance sheet action cannot be ruled out. Given the variety of potential policy tools, we think this trade is better in FX than rates which should be a more direct approach to the policy goal. Our main motivation for this trade is to isolate the policy differential, but it is also negatively correlated with risk sentiment. We think that is appropriate, but it is also the key risk to the trade, in our view.

Image source: lightwise
Take a look at our guides! If you're in the UK and you would like to send money abroad, we created some helpful guides on how to send money to different countries from the UK.