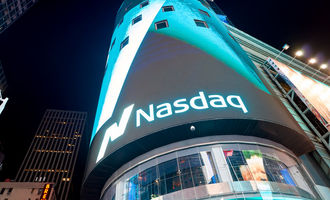 NASDAQ Falls for Seventh Week in a Row

Daniela Kirova
NASDAQ dropped by just under 4% over the last week, marking its seventh week of losses in a row. Tech companies haven't seen a selloff like this since the dot-com bubble burst. The tech-heavy index has not seen so many losses in more than two decades, CNBC reported yesterday.
The war in Ukraine, rising interest rates, inflation, and COVID-19 lockdowns in China are destroying the market. Tech stocks are especially hard-hit, after recent historic rallies.
Index is down almost 30% since November peak
The index has lost just under 30% since its peak on November 19 last year. While faring somewhat better, the S&P 500 recorded a 20% drop from its high yesterday.
The US Federal Reserve intends to keep raising rates to fight inflation, leading to worries that higher capital costs and falling consumer confidence will eat away at profit margins.
The biggest losers are Cisco, Tesla, and Dell
Cisco lost 13% after hinting at an unanticipated revenue drop in the current quarter. Considering how prevalent it has been in the entrepreneurial sector, Cisco was once seen as a trailblazer for the economy. Its losses reflect uncertainty about the future, supply issues due to pandemic lockdowns in China, and the decision to cease operations in Russia and Belarus.
On its earnings call, the company stated:
Given this uncertainty, we are being practical about the current environment and erring on the side of caution in terms of our outlook, taking it one quarter at a time.
Elon Musk-associated stocks took a hit too. Tesla lost 14% and Twitter, which Musk is currently in the process of buying for $54.20 per share, dropped to $38.29 on Friday, down 6%.
Dell, Shopify, Apple, Alphabet (Google), and Amazon lost 11%, 10%, 6.5%, 6%, and 5% respectively. This is Apple's eighth week of registering losses.   
Workday, a cloud software company, lost around 9% after analysts downgraded the stock on recession concerns. Okta, a security software company, dropped by 14%.
Tech index has lost a fifth of its value
NASDAQ has lost 20% in Q2/2022 so far and looks like it's on track for its most painful quarterly performance since the last quarter of 2008.