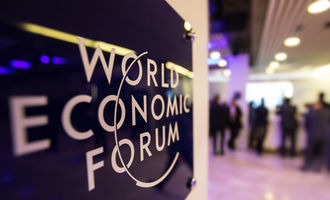 Davos Panel: Europe was 'Naïve'

Daniela Kirova
After failing to counter Russia's attack, the European Union needs to now strike flexible global alliances, former and current leaders told CNBC on a World Economic Forum panel.
Too Euro-centric
In Davos, ex-prime minister of Finland Alexander Stubb said:
We are too Euro-centric on this crisis, in the sense we think this is Russia versus the West — it is much broader than that. It is an uncomfortable debate for us Europeans and the North Americans to have, because we fully realize we have more to lose than to gain in this one.
More attention to India, Brazil, UAE
Top EU diplomat Josep Borrell explained earlier this month that the West needed to pay more attention to countries like India, Brazil, and UAE and try to convince them to condemn Russia. No attention to China is needed as the country refused to condemn Moscow's unprovoked invasion of Ukraine.
'Shock therapy' for the EU
The EU should look beyond the US in order to achieve its foreign policy aims. Austrian foreign affairs minister Alexander Schallenberg described the EU as having been "naive" in the situation preceding the invasion of Ukraine. He added that the war had become "like a shock therapy" for the EU.
Bemoaning past mistakes
Some EU countries attempted to do business with Russia in recent years in a bid to increase economic ties with the country, or at least communicate some western values to it. For example, Germany increased its energy supplies from Moscow rapidly after 2014, when the latter annexed Crimea illegally.
Hungary also deepened its economic connections to the Kremlin despite warnings from Latvia and the rest of the Baltic countries. Estonia, Lithuania, and Latvia have all been trying to form alliances with the West since the Soviet Union collapsed. Their history with their larger and more powerful neighbor makes it easy to see why.
Ex-Ukrainian finance minister Natalie Jaresko recapped the salient sentiment at Davos last week:
You have said hypocrisy, you have said naivety and I will say some of it is just greed. Because we had plenty of warnings since the [2007] Munich Security Conference where Putin announced his war against the liberal order, to the war in Chechnya … he invaded Georgia, he invaded Ukraine … what more did we need to know about his stated and published intentions?
Image: ©palinchak/123RF.COM