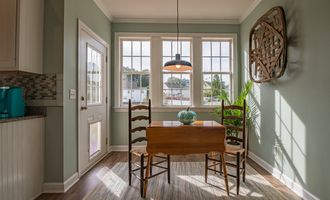 US Mortgage Demand Drops in Half

Daniela Kirova
The number of people applying for mortgages was over 50% lower last week y/y, data of the Mortgage Bankers Association showed. 
Skyrocketing interest rates are annihilating refinance volume. Combined with a shortage of real estate property for sale and soaring property prices, the rates are curbing demand from prospective buyers, CNBC reported.
Average rate for 3-decade mortgages rises to 6.28%
Last week, the average interest rate for fixed-rate, 30-year mortgages with a corresponding loan balance of $647,200 or less rose from 5.40% to 5.65%, with points rising from 0.60 to 0.71 on loans with a down payment of 20%, including the origination fee. This week, the rate reached 6.28%. Joel Kan, an MBA economist, explained:
Mortgage rates followed Treasury yields up in response to higher-than-expected inflation and anticipation that the Federal Reserve will need to raise rates at a faster pace. Despite the increase in rates, application activity rebounded following the Memorial Day holiday week but remained 0.29 percent below pre-holiday levels.
In comparison with the previous week, adjusted for holidays, mortgage application volume showed a slight rebound. For the week, refinance demand increased by 4%. Still, it remains down 76% y/y. Homebuyers' mortgage applications are down 16%y/y, but rose 8% for the week.
Real estate market is reeling
The housing market is suffering against the backdrop of soaring interest rates. Home prices and costs of living are excessive and unaffordable after two years of record-low rates, propelled by the Federal Reserve's Covid-induced mortgage-backed bond purchases. On Tuesday, leading real estate brokerages like Compass and Redfin announced layoffs. Some people decide to move abroad and start a new life where home prices are much lower. This is sometimes a good idea and those people send money abroad in advance and then buy a property for less price.
Redfin CEO Glenn Kelman wrote on the company's website:
Mortgage rates increased faster than at any point in history. We could be facing years, not months, of fewer home sales, and Redfin still plans to thrive. If falling from $97 per share to $8 doesn't put a company through heck, I don't know what does.
More Mortgage News