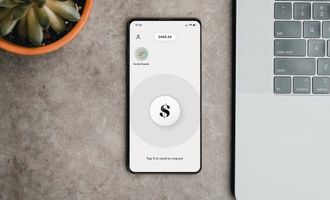 Key Fintech Statistics That Reveal Its Growth in 2023

Martynas Pupkevicius
Fintech (financial technology) is a growing industry that is transforming the way banking and financial services are provided. Cutting-edge technologies like AI and the blockchain are reshaping how financial infrastructure is developed. The industries that are receiving a makeover include wealth management, personal loans, insurance, banking, and digital currencies.
On this page, you will discover the most illuminating fintech statistics that will give you an idea of where the industry is heading. So, without further delay, let's dive into the most interesting stats in fintech. 
Top 10 Fintech Statistics & Facts for 2023:
65% of all consumers use digital banking.

The insurance industry takes the biggest slice of the fintech pie at 16.5%.

Fintech projects can provide 20% ROI for companies.

AI will save $1.3 billion for insurance companies.

The fintech market will grow to $305 billion by 2025.

The worldwide adoption rate for fintech is 64%.

Valued at $95 billion, Stripe is US's biggest fintech company.

The biggest fintech fundraising event was $14 billion for Ant Financial.

The growth rate of AI technologies in fintech is 26%.

Ecommerce is the biggest driver of fintech growth with a 10-12% CAGR.
General Fintech Stats
In 2022, 65% of Americans will use digital banking.
This is a rather large segment of the population which highlights the popularity of fintech services. The number of digital-only banks is rising, which means that users have more choices now than ever before to find a company that matches their needs. 
Also, the fierce competition is resulting in good deals for consumers. Fintech banks have to innovate to stand out in a crowded marketplace.
(Statista)
Fintech projects are estimated to provide an ROI of 20% for financial companies.
The positive outlook on fintech projects means more banks and other financial organizations will be incentivized to get involved. Once companies understand the benefits of fintech, then they may create branches of their organization dedicated to these new technologies. 
Financial companies are always on the lookout for positive ROI investment opportunities and fintech projects appear to be the next big thing in the industry as the best fintech stats indicate. 
(PWC)
The biggest fintech fundraising event was $14 billion for Ant Financial.
Ant Financial is China's biggest online payment platform. They received the largest fundraising event for any private company in the world. Also, Ant Financial is a product of Alibaba Group Holding Ltd – one of the largest organizations in China. 
Following the fundraising event, Ant Financial did not share its valuation. However, it is estimated at around $150 billion, which is competitive in any industry.  
(Reuters)
In 2020, the biggest market share of the fintech industry was insurance at 16.5%.
As consumer behavior is changing towards fintech products, the insurance industry is taking advantage. Established insurance companies are having a hard time reinventing themselves as new players in the fintech landscape are creating better deals in pursuit of attracting new customers. 
Algorithms and AI innovations allow accurate risk profiles to be created. Customers can then choose flexible insurance coverage based on the price point that meets their requirements. 
(Industry Arc)
70.8% of senior banking executives feel that collaborating with fintech is important for banks.
The majority of banking executives understand the value of tech services for offering modern services. This will allow them to compete with digital-only banks that are causing a lot of disruption in the financial sector. 
Banks that do not reinvent themselves with the help of fintech will lose customers and revenue. The global fintech market size is increasing so there is room for most banks to adapt. 
(Statista)
24% of global financial institutions report being familiar with blockchain technologies.
This increasing level of familiarity with blockchain indicates that financial businesses have got their pulse on developments in this space. The percentage of decision-makers that understand the technology will continue to increase and arguably so will the use of blockchain. 
(PWC)
Q1 of 2021 saw the biggest amount of investment in the fintech industry.
$22 billion was invested during Q1 of 2021, which is a huge amount of money compared to other industries. This shows that there is a lot of interest and activity in fintech. Community-focused challenger banks and cross-border payment providers received the most investment. 
Money transfer fintech companies are proving to be a desirable alternative to traditional banks. That's because they can provide lower transfer fees and faster processing times. 
(CB Insights)
85% of banking customers prefer to use a mobile app or online banking.
The large adoption rate of online banking and mobile apps indicates that the fintech sector is becoming the preferred way of handling finances. The ability to send money on the move allows customers to enjoy a convenient experience and is promoting the fintech trend. 
One of the main reasons for using online banking apps is checking account balances. Customers can keep an eye on their spending by opening up the app with quick security methods like biometrics. 
(GOBankingRates)
Fintech Trends
By 2025, the fintech market will grow to $305 billion.
This statistic backs up the projected growth rate of 20% CAGR (compound annual growth rate). It means you can expect a lot of investment and innovation in the fintech sector in the coming years.
The pandemic has caused many companies to provide fintech services, which is contributing to the competition and fintech growth projections.  
(GlobalNewsWire)
Robo-advisors in North America had $330 billion in AUM at end of 2019, with expected growth to $830 by 2024.
Robo-advisors are applications that provide advice and assistance with financial matters. The AUM (assets under management) of the companies that provide these services will significantly increase over the coming years. 
Fintech industry analyses show that the movement towards automation and AI are also occurring in other industries. Advancements made there can be carried over to fintech, which is propelling the speed of growth.  
(Business Insider) 
Fintech's global adoption rate is 64%.
The rates at which people use fintech services play a role in their success. Many of the technologies are unfamiliarity to everyday consumers, so they need to be educated on the benefits of the fintech industry. 
In some cases, the adoption rate is organically high because fintech is plugging holes where existing infrastructure is lacking. For instance, in India, the fintech adoption rate is 87%. The higher than average rate is because payment services are offered where there is a lack of banks.
(SAGE Journals)
Ecommerce's 10-12% CAGR is one of the biggest drivers of the fintech industry's growth.
The annual growth of 10-12% in ecommerce is allowing fintech companies to facilitate those payments and reap the rewards. Consumers want an accessible, cheap, and fast way to pay for goods and services. Fintechs are capitalizing on consumer behaviors by giving them what they want. 
As ecommerce continues to grow, the fintech industry will become even more contested. There is a lot of room for innovation to help solve problems the average consumer has when buying online. 
(Industry Arc)
By 2026, the peer-to-peer digital lending industry will increase to $567.3 billion.
This fintech stat shows a big increase from 2018 when the industry size was $43.16 billion. The major market driving factors for this industry are affordable operating costs and low market risk, the future of fintech in this sector looks positive.  
(Reports and Data)
By 2026, the fintech industry is forecast to grow to $161.2 billion. 
The market cap of $161.2 billion is massive and shows that the industry is in a healthy place. Innovation and a change of culture will provide opportunities for financial companies that are looking to invest in fintech projects. 
The latest trends in fintech indicating a CAGR of 8.7% from 2021 to 2026 prove that fintech is on track for a steady growth rate. 
(Industry Arc)
US Fintech Stats
38% of all US loans granted are from fintechs.
Receiving a loan is a serious matter because you need to trust that the financial service is not going to make life difficult with extra charges. This level of borrowing from fintech services is showing that everyday consumers are happy to use them to get a loan.
Fintech has lower overheads, which means it can potentially offer a better deal than traditional companies. Therefore, the percentage of US loans granted by fintech companies might increase.  
(Statista)
Stripe is the biggest Fintech in the United States with a $95 billion valuation.
Stripe was founded in 2011 and is a company that facilitates payments for small and large businesses. In 2020 they were valued at $35 billion and since then it has almost tripled. This indicates the rapid growth that fintechs can achieve in a limited time period. 
Based on the available fintech statistics, other notable US-based fintech companies include Klarna ($31 billion), Kraken ($20 billion), and Chime ($14.5 billion). These are among the biggest companies in the history of fintech. 
(Forbes)
Digital payments is the largest fintech sector with an estimated $1.8 billion to be processed in 2022.
With the explosion of ecommerce, the need to pay for goods online has never been bigger. This means services that facilitate online payments will have an easy time attracting customers. Fintechs that target online shoppers and stores can receive fast growth in a short period of time. 
(Statista)
AI Fintech Stats
AI will save $1.3 billion for insurance companies.
Insurers can handle claims faster with the help of AI, which means fewer resources have to be spent on each case. AI can automate the process of analyzing accident photos and collecting post-accident data collection. This means insurers are equipped with more data much faster to make decisions. 
(Juniper Research)
Artificial intelligence is the fastest growing technology in fintech, with an expected growth of 21.6% through 2026.
The speed at which artificial intelligence is growing highlights the competitive edge it provides to the fintech technology industry. It allows processes to be automated and fewer work hours are needed to complete the same tasks. This saves companies money and boosts profitability. 
For instance, AI is useful in wealth investment where predictive models can be used to determine the best places to store money for the highest return. 
(Industry Arc)
Banking apps in 2023 will account for 79% of successful chatbot interactions.
The use of chatbots on mobile devices is growing, which enables customers to receive help to complete transactions. The speed of reply and 24/7 availability are key chatbot strengths. 
However, chatbots are limited in which questions they can answer. They need to undergo more development to provide the same level of assistance that a human customer service rep can. 
(Juniper Research)
Fintech FAQ
Is fintech the fastest growing industry?
How fast is fintech growing?
How many fintech companies are there?
What is the market size of fintech?
Conclusion
The fintech statistics above highlight the rapid development and growth of the industry. Across multiple sectors, fintech companies are receiving large investments. The insurance and money transfer industries are some of the biggest sectors that contribute to the growth of fintech. Watch this space – because in the coming years the fintech growth will be massive! 
 Sources:
Martynas Pupkevicius
Martynas is a seasoned freelance writer that has written on a broad range of topics over his 10 year career. He enjoys diving into the research and sharing what he's learned with readers.