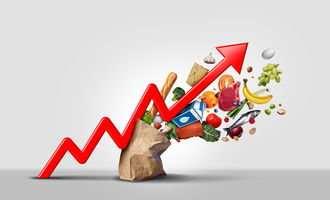 UK Grocery Analysts: Food Prices Will Soar This Summer

Daniela Kirova
Food prices will increase by 15% this summer as costs for staples like bread, meat, dairy products, and fruit and vegetables grow, the Institute of Grocery Distribution (IGD) reported to the BBC. The IGD also forecast prices would rise more rapidly for longer than the Bank of England predicted.
Families hit the hardest
The food price increase will hurt vulnerable families the most, IGD chief economist James Walton said, adding:
Sadly, many households in the UK struggled with food bills before the current inflation event began. With prices for energy, motor fuel, and food rising fast, more households are moving into this vulnerable group.
According to IGD data, more and more consumers are reporting skipping meals, particularly families with children.
War led to worst cost of living crisis in 5 decades
The IGD, which provides analysis to leading food chains, alarmed that the Ukraine war has caused the worst cost of living crisis since the 1970s. Russia and Ukraine are major global grain producers, accounting for almost a third of all wheat exports worldwide.
According to the analyst, bread and other products that use grains directly and chicken will soar in price this summer and fall. This is because chickens are fed on grain. They also grow quickly, so consumers will feel the price hikes in a matter of weeks.
Squeeze on oil will also push prices up
Rising energy costs and the squeeze on oil will also push food prices up, the IGD said, as many sectors of agriculture consume a lot of energy. Since 2021, fertilizer prices have almost tripled.
The war hiked wood and foil packaging prices because many of these materials typically come from Russia. Plastic packaging has also become more expensive because it's made from oil.
Export pressure
Ukrainian warehouses, roads, and ports sustained severe damage, leading the IGD to predict a long-term reduction in export volume. This will put pressure on the wheat and sunflower oil supply.
Labor market crisis
In 2021, almost 70% of seasonal agricultural workers in the UK were from Ukraine. As most Ukrainian men have remained at home to fight, the gap is being filled by inexperienced workers who need training, the cost of which will reflect in price growth. The UK is vulnerable to global food price increases as it gets about 40% of its food from abroad.
There might be further trade disruption or food export bans as a result of new Brexit rules next year, so higher inflation could last longer than expected.