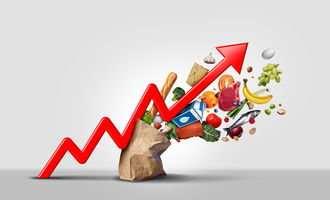 Time to Save UK Economy is 'Running Out'

Daniela Kirova
Time to help the UK economy is running out according to Shevaun Haviland, director-general of the British Chamber of Commerce (BCC), BBC wrote. Her comment came in the wake of a statement by Bank of England chief Andrew Bailey that rising inflation could hit the UK harder than other countries.
At the BCC's annual conference, Ms. Haviland told audience members the government had "until the Autumn budget to reset, rethink and get their house in order".
A perfect storm
Labor shortage, supply chain issues, and rising material costs are resulting in a "perfect storm" in her words. The Treasury reduced fuel duty and increased employment allowance to aid businesses. They added that they were helping British businesses by putting a stop on an amount used to calculate rates and introducing 50% business rates relief for eligible High Street businesses.
Prices rising at fastest rate in four decades
Inflation in the UK stood at 9.1% in May. On Thursday, it emerged that household finances were not keeping up with inflation in the first three months of the year.
With energy and fuel costs reaching unprecedented heights, businesses are being hit by higher prices as well. The chief of the Bank of England didn't rule out the possibility of raising interest rates by half a percentage point to contain inflation. At 1.25%, rates are already at their highest in over a decade.
There will be circumstances in which we will have to do more [on rates]. We're not there yet in terms of the next meeting. We're still a month away, but that's on the table.
The typical household's energy bill price cap was £1,971 on average in April. Suppliers cannot increase the cost of bills beyond this amount, but it's still a rise of around £700. In October, the cap is expected to increase by another £800.
This cap doesn't apply to businesses, which means no one knows how much they'll be paying for energy moving forward.
Export issues after Brexit
In the first quarter of the year, the UK's current account deficit reached the biggest gap since 1955. This deficit is the difference between the value of imported and exported goods and services. It was 8.3% of GDP between January and March.  
Ms. Haviland told Chancellor Rishi Sunak at the BCC conference that businesses were having serious issues exporting to the EU after Brexit. He replied:
Of course, there has been a change in our trading relationship [with the EU], that was always going to be the case.