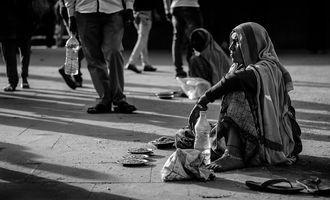 Pay Falling at Record Rates in UK

Daniela Kirova
Pay is dropping at the quickest rate since 2001 considering rising prices, according to official figures cited by the BBC. Skyrocketing energy, fuel, and food costs have hit household budgets, and inflation is at a four-decade high.
While unimpressive against this backdrop, pay in the private sector is still far higher than in the public one: 7.2% compared to 1.5% y/y. After adjusting for inflation, public sector pay was down 0.9% excluding bonuses.
Upcoming pay deal won't match price increases
The UK government is expected to release this year's pay deal shortly. It will impact 2.5 million public sector workers, including police officers, nurses, teachers, doctors, and members of the armed forces.
Ministers have warned the deal won't match price growth even as unions call for pay to reflect the cost of living. Inflation was 9.1% in May and is anticipated to climb further.
James Reed, chairman of leading recruitment firm Reed, told the BBC that the UK was seeing "a two-speed workforce", with candidates with specific skills getting huge pay offers. He said:
You might be seeing 25% plus pay offer increases to get people to move jobs. But then we're seeing other parts of the economy where pay hasn't moved much at all and that is concerning because more and more people will end up living in in-work poverty.
Businesses struggle with higher wage demands
The British Chambers of Commerce (BCC) and other business groups report companies are struggling with higher salary demands and the salary increases are stifling investment and growth. Small enterprises are hit the hardest, losing staff to bigger companies because the latter can afford to pay them more.
Retention bonuses in manufacturing and construction
Companies in manufacturing and construction are paying employees cost of living flat rates and bonuses to retain them. In cash terms, these amounts are considerable, albeit not "inflationary" because they don't actually exceed inflation.
Health care workers jump ship
Public sector employees receiving low wages are moving to Amazon, supermarkets, and better paid sectors in general. This has resulted in chaos in areas such as health and social care. Ambulances are lining up, unable to transport and offload patients into health care facilities, which in turn aren't able to discharge those already hospitalized.