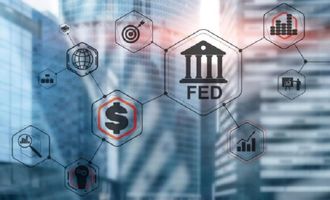 Treasury Yields Touch Two-week Highs

Daniela Kirova
On Wednesday, US Treasury yields reached a 14-day high and stocks jumped against the background of positive corporate guidance and solid economic data, Reuters reported.
After it was reported that US crude and gas stockpiles had surged, front-month crude futures declined.
All three US indexes rose
Yesterday, S&P500, Dow Jones, and Nasdaq all advanced. Tech-heavy Nasdaq closed the session at a three-month high. Investors were encouraged by upbeat forecasts from CVS Health Corp and PayPal.
Oliver Pursche of Wealthspire Advisors told Reuters:
It's about the fundamentals, it's all about earnings and data. We've seen decent earnings, and there was robust economic news, and we had several Fed (officials) reassuring statements that the Fed would be able to bring inflation under control.
A healthy economy
Economic stats showed solid factory order growth and a surprising acceleration of services activity, which indicates the US economy is healthy enough to survive the Fed's hawkish monetary policy. The central bank will stay tough on inflation until it reaches its average annual target of 2%.
Oil prices decline
The decline in oil prices accelerated after the report of the unexpected surge in US crude and gas supplies. Previously, OPEC announced it would increase its production, but by only 100,000 barrels per day. Pursche added:
Oil is still up 25% from the beginning of the year. This recent drop is a combined result of that and a reflection that there is going to be an economic slowdown. The market is trying to find equilibrium.
US crude dropped by just under 4% and Brent lost 3.74% on the day, settling at $90.66 resp. $96.78 per barrel.
Joseph Sroka, CIO of NovaPoint, said the US central bank was staying firm on its articulated policy, adding:
The hawkish comments out of the Fed, sticking to their intention to raise rates, is moving yields back up.
Image source: https://www.freepik.com/premium-photo/federal-reserve-system-fed-financial-business-background_30045193.htm#query=united%20states%20treasury&position=1&from_view=keyword