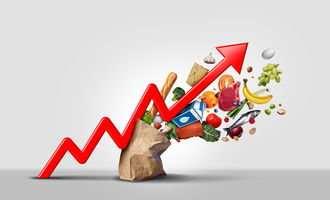 MarketWatch: Rising Rents Show Inflation Hasn't Peaked

Daniela Kirova
The US government announced there was no inflation in July, but it could be too soon to get happy because rents show little sign of slowing down according to MarketWatch columnist Rex Nutting.
Gas prices dropped in July, compensating major increases in food and shelter prices. Due to this, the consumer price index remained unchanged.
Core CPI is flat
The core CPI, which excludes volatile energy and food costs, gained only 0.3%, mainly because rents kept increasing, albeit at a slightly slower pace than the previous month.
From May to July, the core CPI gained 6.8% y/y, which isn't good, although it's arguably better than the increase of almost 8% from April through June. According to Nutting, it's likely to stay above the official 2% target for some time.
Shelter accounts for almost a third of CPI
Consumers pay the most attention to food and gas prices, because they buy these goods daily. However, prices of things that aren't observed so closely, like durable goods, services like insurance and health care, and shelter also impact the CPI.
For example, shelter makes up nearly a third of the CPI. When rent prices start increasing, they keep increasing. At the moment, they have a lot of upward momentum.
Home prices up 20% this year
Home prices have gained more than 20% so far this year. However, CPI data begins to reflect changes in home prices only a year to 18 months after they occur.
The CPI for shelter has increased by more than 7% per annum over the past three months. This is the most rapid growth since 1990. Typically, they increase by 3% on average, but the Fed's rate hikes are pushing them up faster as prospective property buyers are unable to purchase and have to compete with tenants for a limited supply of homes for rent.
Predicable inflation vs. wild cards
Inflation of appliances, motor vehicles, TVs, and other durable goods is predictable and slowing down as supply chains improve. Energy and food costs are less predictable, if not unpredictable. They are affected by not only supply chain issues, but also weather and geopolitical factors, like the current risks in the Taiwan Strait.