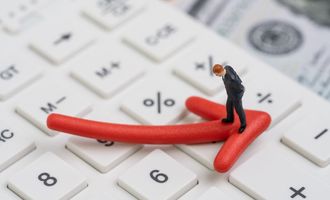 Hanke: "Whopping" Recession Next Year

Daniela Kirova
Economics professor Steve Hanke told CNBC's "Street Signs Asia" the US economy would plummet into a recession in 2023 and higher interest rates were just one reason for this. He said the US had almost half a year of zero M2 growth, which the Federal Reserve was erroneously not considering.
M2 is a broad measure of total money supply and inflation in the future. It includes savings deposits, cash, and money market securities. It has been stagnant in recent months, which is why the economy is slowing down.
Unprecedented supply growth hikes inflation
Hanke said the US would "have one whopper of a recession in 2023" because of money supply's unprecedented growth. According to him, long-term inflation has always resulted from excessive money supply growth. He pointed out this has been the case in the US since the pandemic started.
The bottom line is we're going to have stagflation — we're going to have the inflation because of this excess that's now coming into the system. [Fed Chair Jerome Powell] does not understand, even at this point, what the causes of inflation are and were. He's still going on about supply-side glitches. He has failed to tell us that inflation is always caused by excess growth in the money supply, turning the printing presses on.
According to Powell, the inflation growth is due to limited supply and high demand and the US Central Bank's tools mainly work on aggregate demand.
More criticism
Rosenberg Research president David Rosenberg joined Hanke in his skepticism, but in another direction. According to him, the Fed is definitely willing to overtighten as a way of dealing with inflation. He said overtightening meant pure indifference to whether the economy slips into a recession or not.
The Fed's costly mistake
Rosenberg criticized the Fed for focusing on the unemployment rate and inflation and other lagging indicators, but conceded they wouldn't "take any chances" after the embarrassment they faced for calling inflation a transitory phenomenon.
I think this Fed, after being on the wrong side of the call for more than a year, are going to need to see probably at least six months of intense disinflation in the price data before they call it quits.