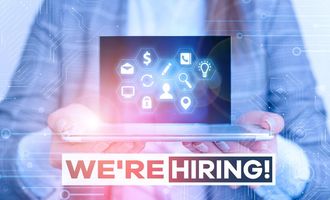 US Adds 315k Jobs in August

Daniela Kirova
Despite the sluggish economy, nonfarm payrolls rose in the previous month. More and more people are returning to the labor market. The unemployment rate reached 3.7%, slightly higher than expected, because participation in the labor force is on the rise, reported the Bureau of Labor Statistics on Friday, cited by CNBC.
Wages are also rising
Wages are also increasing, but by a bit less than projected. Hourly wages are up 5.2% year-over-year, which is 0.1 percentage point below estimates.
315,000 jobs opened in August, slightly off the Dow Jones estimate for 318,000. A more comprehensive measure of unemployment that includes part-time and discouraged workers rose from 6.7% to 7%.
Business and professional services added the most jobs
Payroll gains were led by professional and business services with 68,000. Health care and retail were second and third with 48,000 resp. 44,000. Hospitality and leisure, which led the market in the COVID-era labor recovery, added only 31,000 jobs in August. The sector averaged 90,000 between January and July.
Charles Schwab investment strategist Liz Ann Sonders told CNBC:
This is a unique period of time, where we have still a relatively tight labor market, where there is still job growth, but companies have started to announce hiring freezes, some companies have announced layoffs. This could very likely be a recession where you don't see the kind of carnage in the labor market that you see in most recessions.
Telltale signs of recession
Wage and payroll gains come amid skyrocketing inflation and worries about a slowing economy that posted negative GDP data in the first and second quarter of 2022, which is usually seen as a telltale sign of recession.
Fed to keep hiking rates
To combat unbridled inflation, the Federal Reserve made a series of interest rate hikes, adding up to 2.25 percentage points in total. It's expected to continue in this vein into 2023. Recently, Fed reps have warned that they do not intend to abandon policy tightening measures. They expect rates to stay high for some time even when they stop hiking them.
Job openings and available workers are still 2:1
The labor market is one key channel where the US Central Bank is looking for policy impact. Despite the solid hiring, the number of job openings is almost twice that of the employees available. This is putting a squeeze on wages and forming a feedback loop that is pushing grocery, gas, property, and other prices up.