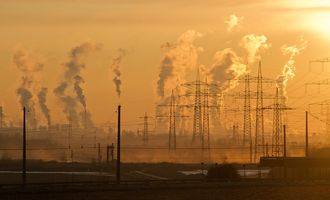 Zaporizhzhia Plant Loses Power

Daniela Kirova
The Zaporizhzhia nuclear plant, which is the biggest in Europe and located on the front war line, has lost power again, UN inspectors reported, cited by Reuters. Its last main power line has fallen through. A backup line is still supplying the grid with electricity, the International Atomic Energy Agency (IAEA) assured.
Only one of six reactors is operational
IAEA released a statement, according to which just one of the station's six reactors remains operational. Russia and Ukraine are exchanging accusations of shelling in the area. Russian troops seized the plant soon after invading Ukraine on February 24.
Gas and oil standoff
Last week, the Kremlin announced it would keep Nord Stream 1, its main pipeline to Germany, shut. Soon after that, G7 economies announced a planned price cap on Russian oil exports.
The finance ministers of the US, UK, Canada, Italy, France, Japan, and Germany stated the oil cap was aimed at reducing Russia's war's impact on global energy prices and its ability to fund the war. Russia retaliated by vowing to stop selling oil to any country that made the cap effective.
Fears of a radiation disaster
After the cutoff, there were power cuts across Ukraine. Emergency generators were activated for critical cooling processes.
Worsening conditions amid the shelling have sparked fears of a radiation disaster. If this happens, there will be a major humanitarian crisis according to the International Red Cross.
The West and Ukraine have accused Russia of holding heavy weapons at the site of the plant to stop Ukrainian attacks. Russia has denied this, yet refuses to demilitarize the area, which includes relocating troops.  
Inconsistent Gazprom and Siemens versions
On Saturday, Russian gas giant Gazprom said Germany's Siemens Energy was prepared to assist in fixing broken equipment, but no site was available to carry out repairs. Siemens confirmed it was available, but stated Russia hadn't commissioned it to carry out maintenance.
As energy prices lead to substantial growth of the cost of living, the indefinite postponement of restarting Nord Stream 1, which supplies Germany and other European countries through the Baltic Sea, exacerbates the West's problems with fuel supply in winter.