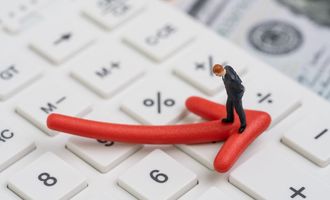 Truss Borrows Billions to cut Energy Costs

Daniela Kirova
Newly elected Prime Minister of the UK Liz Truss is expected to take out a huge loan to reduce the anticipated sharp rise in energy costs for households and firms, BBC reported.
Full details are expected tomorrow, but the government is likely to cap the typical energy bill at around £2,500. The average household's gas and electricity bill is anticipated to rise from £1,971 to £3,549 in October.
Total support package comes to $115b
Users will not have to repay the subsidy. The total support package will be around £100 billion or $115 billion. It is unclear how long the government support will continue.
Energy companies have insisted for some time that a fund backed by the government, from which they could borrow to subsidize bills, is the only option. On the other hand, the government isn't very willing for funds to be added to utility bills for as much as two decades so the companies can pay the loans back.
The new government has also promised to cut taxes, so they're equally unwilling to add the cost to general taxation.
Costs add up
The estimated loan is sizeable and, what's more, increasing defense spending and cutting taxes will hike costs up even further, considering gas price volatility.
Fiscal Studies Institute director Paul Johnson echoed this risk, comparing the prospective loan to the pandemic-induced support scheme, which amounted to £60 – £70 billion. He said:
One of the dangers here is that it could even be more expensive than £100 billion. There has to be a risk that energy prices stay high for a long time, perhaps even up to three or four years. Then this starts being baked into public spending long-term.
10-year bond yield passed 3%
On Tuesday, the price of UK government borrowing reached an eight-year peak, with the ten-year bond yield passing 3%. This is in line with the market's expectation that the government will have to take out more loans, the cost of which will rise in the future.  
According to government sources, severing the connection between gas prices and renewable sources and other energy supply measures will reduce costs with time, while a growing economy will balance the ratio between overall debt and economy size.
Help for companies will push plan over $115b
There is no energy price cap for businesses, unlike households, and they don't have that protection. If companies are included in the support, the government's energy plan's cost will easily go over $115 billion. British Chambers of Commerce representative Alex Veitch said:
It is encouraging that the government is seriously considering the support it can give to businesses during these very difficult times, but it remains to be seen whether these plans will go far enough in offering the help that many firms so desperately need.