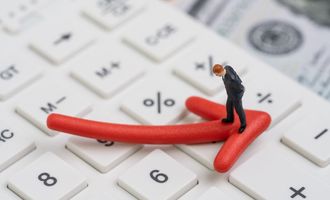 ECB to Keep Hiking Rates, but not by as Much

Daniela Kirova
The European Central Bank will keep increasing rates in the near future, but they are probably not going to be as high as the 75-basis-point one last week according to Edward Scicluna, ECB Governing Council member.
On Thursday, the ECB took its benchmark deposit rate all the way up to 0.75%. The ECB revised its prognosis for inflation to an average of 8.1% in 2022.
Pressures on energy and food will ease
According to Scicluna, 75 basis points couldn't be the standard in the short term because pressures on food and energy, the main causes of inflation in Europe, will diminish. He told CNBC:
We believe that the supply side, or source of this inflation, will abate, perhaps because of things happening in the US and globally, and therefore prices of commodities and energy would subside.
The ECB Council member warned there were limits to what central banks could do to combat supply-generated inflation, which is what Europe is struggling with. In the US, inflation is caused by demand, but in Europe, it's caused by supply.
His thoughts have been echoed by other analysts as well. In July, MBMG Group managing partner Paul Gambles commented that increasing interest rates to fight demand-side inflation wouldn't solve anything because supply chain issues were causing higher prices in this case.
Gambles said supply in different businesses and industries would be "very difficult" to manage.
Current measures could be inflationary
Scicluna alarmed that European governments' current measures to soften the effect of skyrocketing energy costs could be inflationary, saying governments couldn't "afford to cushion everybody all the time." He advised support measures should be aimed solely at vulnerable households.
Measures across Europe
Newly elected British Prime Minister Liz Truss announced an energy price cap last week to help with surging energy costs. In 2023 and 2024, household energy bills will be capped at £2,500 ($2,920) in the UK.
In Norway, the government covers up to 90% of energy bills above a fixed amount. France is another country to introduce power price caps and a gas price freeze.