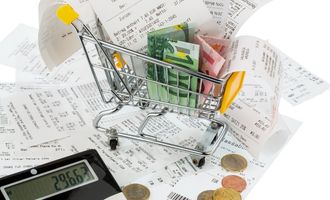 UK Retail Sales Drop as Cost of Living Soars

Daniela Kirova
UK retail sales dropped in August as the soaring cost of living exerted pressure on households according to official figures cited by BBC. Sales started to fall in the summer of last year with the drop of hospitality restrictions and dropped by 1.6% in August, the Office for National Statistics (ONS) said.
Retailers see losses in all main sectors
Retail sales in leading sectors like fuel, online, food, and non-food items fell in August, the ONS reported. Last month, supermarkets' sales volumes fell too albeit by only 0.9%. Notable exceptions were tobacco and alcohol sales, which increased by over 6%.
Still, the August decline is the most notable month-on-month one since December 2021 and bigger than expected. Households are tightening budgets due to higher prices and anticipated energy bill rises next month.
Clothing sales also down
On September 15, department store John Lewis revealed people were not buying as many "big ticket" items even though there were more shoppers than last year. John Lewis and Waitrose, its supermarket franchise, recorded a loss of £99 million in the first half of the fiscal year, but expect Christmas to compensate for this.
UK economy in recession
UK inflation is at a four-decade high even though it decreased slightly in August, marking the first drop in nearly a year. It dropped to 9.9% from 10.1% in July.
The Bank of England will prospectively keep hiking interest rates to curb rising prices. The central bank warned inflation could pass 13% in 2022.  
According to Capital Economics expert Olivia Cross, August retail sales data support the company's view that the UK economy is in recession, which is defined as economic shrinkage over two quarters in a row. She said:
Retail sales will probably continue to struggle as the cost of living crisis hits harder in the coming months. Nonetheless, the Bank of England will still have to raise interest rates aggressively.
Much-needed govt intervention now fact
Under the UK government's Energy Price Guarantee, the typical yearly household energy bill will be capped at £2,500. Ms. Cross finds every recession will be briefer and smaller-scale than the one before it due to this.
Before the government's much-needed intervention, gas and electric bills were expected to reach at least £3,549 in 2023.