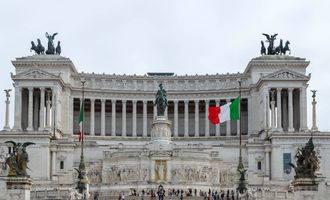 Far Right Pledges to Fight Cost of Living Crisis in Italy

Daniela Kirova
Today, Italians headed to the polls in a nationwide vote that could bring the first far-right government to power since Benito Mussolini and the first female PM in the country, CNBC wrote.
Brothers of Italy at the fore
Fratelli d'Italia (Brothers of Italy), led by Giorgia Meloni, was founded in 2012. It is rooted in a neo-fascist movement that gained momentum in the last century, which emerged after Mussolini's death at the end of World War II.
Cutting sales tax, renegotiating pandemic recovery
The right-wing party will push to reform the EU and make it less influential on domestic policy and less bureaucratic. It no longer opposes the euro.
On economic policy, they support the center-right coalition in reducing sales tax on some goods to cope with the cost-of-living crisis. They also want to renegotiate Italy's pandemic recovery funds with the EU.
Biggest vote share for a single party
The party is anticipated to get the biggest vote share for a single party today. It got almost a quarter of all votes according to polls before September 9, putting it way ahead of Lega, its closest right-wing ally.
The right-wing alliance has excellent prospects in terms of the outcome of the vote. It will form a coalition with Silvio Berlusconi's Forza Italia and Matteo Salvini's Lega.
Despite getting 21% of votes as a single party in polls, the center-left Democratic Party did not manage to form a sufficient alliance.
Early estimates of vote results aren't expected until Monday morning. Thereafter, it could take weeks to reach political consensus and create a ruling coalition. October is the earliest point in time when a new Cabinet could come to power.
Anti-immigration sentiment is buoyant
Large groups in Italy are worried about immigration as the country is often the first port of call, both literally and figuratively, for migrant boats sailing across the Mediterranean. Brothers of Italy has chimed with those groups. It also has supporters who are concerned about Italy's economy and its relationship with the EU.
The political chameleon
Meloni states her party has no fascist elements although it's often been described as post-fascist or neo-fascist. Its policies reflect the anti-immigration and nationalist stance of the fascist epoch.
The party promotes traditional family values and opposes gay marriage. In 2019, the leader said it was her mission to defend "God, homeland and family."
Analysts note the frequent changes in Meloni's political stance.
The party has been pro-Ukraine and pro-NATO and supports sanctions against Russia, unlike its ally Lega, whose position on sanctions is ambivalent.
Draghi stays on as caretaker
Former PM Mario Draghi will remain caretaker until a new government takes power in Italy. He was forced to resign in the summer after political bickering. These elections are half a year early.