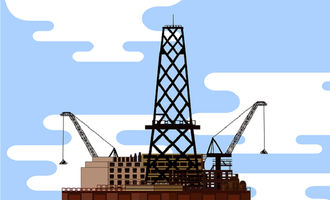 US Dollar Surges, Brent Drops Below $85 a Barrel

Daniela Kirova
The US dollar surged on recession fears and Brent crude dropped below $85 a barrel on September 26, world media reported. Early in the day, Brent futures for November settlement dropped to just over $84 before rising to $85.25 in the morning UK time.
Sterling at record low
The pound sterling is trading at a record low against the US dollar, which reached a two-decade high today. West Texas Intermediate (WTI) futures were trading below $80. On Friday, both WTI and Brent futures dropped by around 5%, reaching their lowest levels in almost 10 months.
Fears of a recession abound
The stronger dollar is leading the drop in oil prices, which is raising concerns about a recession according to Energy Aspects Cofounder and Research Director Amrita Sen. These concerns are augmented by continued interest rate hikes by central banks across the globe, including the US and the UK, in an effort to fight inflation.
Continuing deterioration of market sentiment
The strategy team of Saxo Investment Bank told CNBC in an interview that market sentiment was getting worse and worse. According to Head of Commodity Strategy Ole Hansen, one factor is the "unrelenting pressure" on crude oil and other commodities, which persists after a gloomy session on Friday, which saw growth pessimism and accelerated dollar strength course through markets.
OPEC to support oil?
Hansen predicted that OPEC would soon take action to support oil prices as the price of Brent hasn't been this low since the mid-1980s and WTI is not doing well either. He added that the energy sector might be the first to recover after US dollar stabilization. This is considering Russia's warning that it would cut supplies to countries that agreed to cap its crude prices and markets are expecting a recession.
Hanke: US faces 80% recession
Against the backdrop of mounting fears of an economic slowdown, Johns Hopkins economics professor Steve Hanke predicted the US would lapse into recession at 80%. On Friday, he told CNBC in an interview:
If [the Fed] continue[s] the quantitative tightening and move that growth rate and M2 (money supply) into negative territory, it'll be severe.