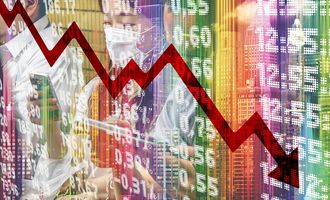 S&P 500 and Dow at Lowest Levels in 2 Years

Daniela Kirova
On Tuesday, stocks ended the volatile day mixed after soaring when markets opened. Dow Jones and S&P 500 were at their lowest points since November 2020, having fallen for six days in a row, CNN reported.
Dow lost 125 points
Dow Jones is showing signs of digging into the bear market. It lost 0.4% or 125 points. It has fallen by over 20% from its all-time high. The S&P 500 lost 0.2%, but Nasdaq closed with slight gains of 0.3%. The tech-heavy index had not gained for more than a week.
Yesterday, the pound sterling experienced slight recovery after falling to a new record low against the US dollar on Monday.
The dollar's worrying surge
The dollar is soaring on the UK government's recent decision to cut taxes and the US Central Bank's aggressive rate hiking policy is also contributing. Usually, such US dollar surges occur in parallel to world economic crises, and finance experts aren't too happy about the dollar's rally.
Investors are also struggling with ongoing concerns about inflation and the high probability that the Fed will continue hiking rates sharply in the near and not-too-near future.
According to Alex Chaloff of Bernstein Private Wealth Management, the members of the Federal Reserve are willing to make the economy weaker just to control inflation. He told CNN:
They are saying it over and over and over again because, up until ten days ago, the market didn't believe them.
Rate hikes and inflation concerns propelled the benchmark 10-year treasury yield to almost 4%, where it hasn't traded in over a decade. The yield was at around 3.98% yesterday, a record high since April 2010.