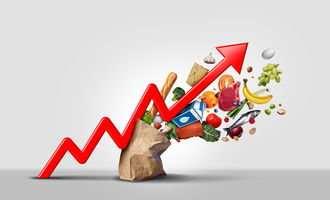 Inflation in Australia Reaches 3-Decade High

Daniela Kirova
In the final quarter of last year, inflation in Australia reached a new 32-year high of 7.8%, the highest peak since March 1990, CNBC wrote. Increased prices of new residential buildings, fuel, and food are behind the annualized figure of consumer price rises, data of the Australian Bureau of Statistics shows.
Travel sees highest price growth
The highest growth was related to domestic and international travel, up 13.3% resp. 7.6%. According to economists' predictions, the quarter's consumer price index should have been 7.5%, below the 8% forecast by the Reserve Bank of Australia. Costs of services experienced the biggest surge since 2008 – 5.5%. Goods prices were up 9.5%, down from 9.6% in the third quarter of 2022.
Record annual inflation rate
The so-called "trimmed mean annual inflation" was just below 7%, the highest in its 20-year history. This reading eschews major price increases and declines. The Australian government started publishing that data in 2003.
Bank stocks reverse gains
Publicly listed stocks of banks reversed earlier gains after the report was released, with stock of the National Australia Bank, Commonwealth Bank of Australia, and Westpac Banking Group trading below the flatline. This was the result of lost hope that the central bank would pause rate hikes in an effort to curb inflation. The Australian dollar gained 0.51% and was trading against the USD at around 0.7.
Worsened business conditions
The National Australia Bank's monthly business report revealed deteriorating business conditions. In December, the reading was 12 points, down from 20 in November. Still, numbers above zero do not indicate dire conditions.
NAB commented that the report showed deteriorated profitability and trading and employment conditions. Alan Oster, chief economist at the bank, said:
The main message from the December monthly survey is that the growth momentum has slowed significantly in late 2022, while price and purchase cost pressures have probably peaked.
However, business confidence gained 3 points in December, reaching -1, which is up from the -4 points registered in November.