Checklist for Moving to India
When it comes to moving, India may be more demanding than other destinations, especially regarding paperwork and vaccination requirements, so this list might help you stay on top of things.
Research expat forums to see if India is your cup of tea

Check your passport's validity and gather important documents

See vaccination requirements and travel restrictions

Get informed about visa requirements

Check if you're eligible for work

Check accommodation and transport options

Check with immigration about your residence permit

Enquire about opening an Indian bank account

Get a local SIM card
Indian Visa Requirements, Work Permits, and Residency
Most nationalities require a visa to enter India. The easy part is that no matter the purpose of your travel, you can apply for a visa online, on arrival, or at the nearest embassy. As a tourist, you are only permitted to stay in the country for 90 within 180 days. If you intend to stay longer, the best is to contact the embassy in your home country and check which long-stay visa for India is the right one for you.
Types of Work Permits
People traveling to India for work may apply for one of the two work visas available. The employment visa is intended for foreigners working for a company or organization registered in India. Moreover, it's intended for highly skilled and qualified applicants to do a certain job or project and may not be granted for routine, secretarial, or clerical jobs.
The second category is the multi-entry Indian business visa which is issued for one year but can be extended for up to five years. This visa type is specifically for businesspeople or entrepreneurs who intend to invest in India and requires a stay stipulation of a maximum of six months per visit. If the visa holder exceeds the stay, they must register with the Foreigner Regional Registration Offices (FRRO).
Finally, there is the conference visa which, as the name suggests, is for foreigners participating in a seminar, conference, workshop, or other formal meetings. It's a single-entry visa that enables visitors to stay legally in India for up to 30 days.
Indian Residency
If you are moving to India permanently and wish to acquire citizenship, you can do so by birth, descent, registration, and naturalization. If you are born to Indian parents but in a different country, you will get residency in India by birth. Regarding foreigners, the requirement is to have lived continuously in India for the past twelve years.
Moving to India
Unlike other expat destinations, India ranks 36th on the list of favorites, with issues like quality of life, environment, safety, and security, being the greatest concerns. India scores well in the health and well-being category, local friendliness, and a somewhat decent score in the culture and welcome index.
Nevertheless, India is the most popular destination for immigrants from Bangladesh, Pakistan, and Nepal. In fact, there are over 5.2 million expats living in India. The most recent reports say there are 23,439 international students and 20,607 foreign employees, mainly from Korea, Japan, and China.
There are also over 1,000 US citizens residing in India on employment visas. The main reason for such a high number of foreign employees is that India is a global outsourcing hub, with cities like Bangalore, Hyderabad, and Chennai leading the pack.
Other important things to know about India are related to natural disasters. Namely, the country is like a magnet for extreme weather, and this year alone, it recorded 241 days of heatwaves, cold waves, cyclones, heavy rainfall, floods, and landslides. Unfortunately, there is no way to combat this, so the best course of action is to stay vigilant and updated, and have your embassy's emergency contact at hand.
Last but not least, non-residents can bring their pets if they're staying in India for at least one year. Regarding pet requirements, your pet must be microchipped, vaccinated for rabies, with a valid veterinary certificate. Also, you should obtain a No Objection Certificate from the AQCS, and submit your pet to 14 days of quarantine.
Adapting to Life in India
India seems chaotic to many foreigners, especially those coming from Western countries. After all, it's the world's second most populated country, and on top of it, the climate is tropical. Some states in the north and northeast enjoy a more continental or subtropical climate, but warm and sunny all year long, with an annual average temperature of 32°C.
But there are many benefits of living in India, with food being the number one on the list. Whether it's dosa or samosa, biryani, masala, stuffed paratha, or chicken curry, Indian cuisine is full of delicious recipes.
And while some might find eating with hands unusual, it's actually a practice dating thousands of years back and one that improves digestion. Also, vegans will surely appreciate that cows are sacred animals in the Hindu community, and most states ban slaughtering.
Finally, the country ranks 26th out of 52 countries for ease of settling in, and over 120 million people in India speak English. Also, the country follows left-hand traffic laws, given it was a British colony until WWII.
Cost of Living in India
The cost of living index in India is 45, while the same is 37 in the US and 34 in the UK. Other estimates say India is around 80% cheaper than the US. In reality, the consumer price index reached a record-high level of 176.70 points in October 2022. Moreover, expats rank India 6th best according to personal finance, meaning most are happy with the cost of living, their financial situation, and disposable household income.
If you're moving to India from the USA, Canada, or any other country, you should know that a cup of cappuccino costs around ₹203 or just $2.45, while one pound of rice is just ₹31 or ¢0.25. Should you decide to go see some Bollywood movies the ticket will cost you only ₹350 or under $5.
And yet, the latest data suggests the cost of perishables and food in India has doubled. In fact, until recently, an average household income of ₹20,000 a month ($241.74) was enough, but now Indian families are pushed to readjust their expenses.
When it comes to the average cost of living in India, utilities start from an average of ₹4,640 or a little over $55. In 2020, the average cost of state electricity in India was ₹6.15 per KW/h. Finally, internet prices cost around ₹646 ($7.81), with BSNL being the cheapest provider at around ₹1.5 per GB.
Regarding housing, the country ranks 16th, with most people saying it's the highest item eating their monthly budget. The average rent in India is ₹20,000, while the median rent for a 650 sq ft apartment is ₹14,500. In Mumbai, however, prices are much higher. The median rent there reaches ₹41,800 (around $500).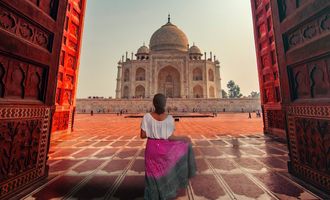 Cheapest and Most Expensive Indian Cities
From the Himalayas in the north to the serene beaches in the south, India is a country full of landmarks and 40 properties inscribed on UNESCO's world heritage list. This is why choosing the best place to live in India as an expat may prove difficult.
If you need a more peaceful life, you should definitely go with the northern areas or Kolkata. Beach lovers may be tempted by Goa, while city slickers will love Mumbai or Delhi. Speaking of Mumbai, Mercer's 2022 Cost of Living Survey ranks it the most expensive city in India and 127th in the world. Other expensive cities include:
New Delhi

Chennai

Bengaluru

Hyderabad
Expats looking for more affordable locations should consider Kolkata as it is ranked the cheapest place to live in India and 203rd cheapest city in the world. Pune, located in the western state of Maharashtra, is also a very cheap option and one filled with beautiful buildings like the Gandhi National Memorial located in what used to be Aga Khan Palace. Other budget-friendly options include:
Puducherry

Chandigarh

Kanpur

Jaipur
Transport and Infrastructure
There are 6.37 million km of roads and highways in India, but more is needed, considering how densely populated the country is. But major investments in transportation are being made, the Bharatmala Pariyojana national highway included, so things should improve soon. There are 123 domestic and 35 international airports, a metro available in Mumbai, Delhi, or other larger cities, rickshaws, and buses. But taxis are the preferred option for foreigners.
Working in India
The average unemployment rate in India recently reduced from 9.8% to 7.2%. Moreover, the unemployment rate of 15+ females in urban areas is 9.4%, while that of males is 6.6%, indicating a significant imbalance between male and female employees. Additionally, the country ranks 33rd on the Working Abroad Index.
When it comes to jobs for expats in India, securing employment is much easier for foreigners as vacancies typically arise through networking and personal referrals. But if that doesn't work, rest assured that job opportunities will continue to grow as India's IT outsourcing revenue is set to hit $12.47 billion by 2027.
After Singapore, the US is the second largest foreign investor, with $10.5 billion. And given that most FDIs are made in computer software and hardware, automobile, education, infrastructure construction, and drugs and pharmaceuticals, these are the sectors that need skilled workers. Also, currently, India's top in-demand jobs are in IT.
When it comes to the standards of living in India, salaries vary drastically by region. In Hyderabad, the average wage is ₹19,570, while in Mumbai, it's ₹19,170, and in Delhi, it's ₹19,090. Agra and Madurai have the lowest average wage at ₹15,250 and ₹14,690, respectively.
Indian Healthcare
India has a decentralized healthcare system that is free and universal for all citizens. But considering it's underfunded and understaffed, many Indian citizens resort to private providers and pay out-of-pocket for proper medical care.
An expat living in India is not eligible for free health insurance, so it's best for you to get international health insurance or seek a private one once you settle. Last but not least, on a global scale, the country ranks 145th among 195 countries in terms of quality and accessibility to healthcare.
School and Higher Education
India has a state, central, and local-run education system that is compulsory from the age of six to 14. The system has four levels: lower primary, upper primary, and high and higher secondary, which are optional. The literacy rate is 77.7% and is significantly higher among men (82.4%) compared to women (65.8%).
If you're relocating to India with your family and plan on sending your kids to school there, you'll be relieved to know there are some excellent international schools. From nurseries, homeschooling, tutoring, and special needs education, Indian curricula and learning environments meet every need and budget.
This is because public school standards vary significantly from one region to another. In fact, it's why most middle-class Indian families send their children to Delhi, Mumbai, and Bengaluru, which have the best private schools.
Those who immigrate to India for studies or research should consider Mumbai's Tata Institute of Fundamental Research, which is the best in the country and 452nd globally, the Indian Institute of Science in Bangalore, or Mumbai's Indian Institute of Technology. As far as private universities go, consider Shoolini University, Himachal Pradesh which was ranked the best, Amity University in Noida, or other Amity institutions.
Finances, Taxes, and Remittance
The tax structure in India consists of direct and indirect taxes. India's tax revenue as a percentage of the GDP averages 7.3%, and in December 2021, it reached an all-time high of $44.903 billion. Naturally, different tax policies apply to expats in India, which is why it's always best to seek professional advice.
Types of Taxes in India for Expats
By law, all individuals living in the country for over 182 days, over 60 days, or a total of 365 days within four years, depending on their stay, are considered tax residents. They are taxed according to a progressive individual income tax rate starting from 0% for an annual income of up to ₹250,000 to 30% for ₹1,500,000.
Note that if you're living in India as an American, Canadian, or European, all income from employment, employment benefits included, is taxable. But there are some foreign tax reliefs for residents who've paid tax abroad. Also, the capital gains rate ranges from 0% to 20% and sometimes includes a surcharge and 4% cess.
As far as companies go, they are considered residents if established or managed in India. In short, if you're planning to invest, the corporate income tax rate for domestic companies starts at 15% and reaches a maximum of 34.944%.
But companies that won't move to India and will be operating as foreign entities instead will be charged higher, or a maximum of 43.68% (surcharge and cess included). The branch tax rate is 40%, and with surcharge and cess, it reaches 43.68%. The capital gains rate starts at 0% to 20% and may also include surcharge and cess.
Finally, thanks to the fact that India has the world's largest diaspora, 2022 remittances are estimated to reach a record of $100 billion, making India the first country ever to receive such an amount.
Marrying and Starting a Family in India
Indian weddings are typically associated with arranged marriages. Another fact that makes this country stand out is that it recognizes both civil and religious weddings, which can last up to five days.
As an expat in India, for the civil ceremony, you should contact the nearest marriage registrar's office. Typically they'll ask for a valid passport, Certificate of No Impediment, No Objection Letters, photographs, proof of residency, and address information in India for non-residents.
Buying Property in India
The real estate market in India is booming and is set to reach an incredible $1 trillion by 2030. Interestingly, non-resident, non-Indian foreigners can inherit but cannot purchase property. To acquire property, you'll need a permit, which will require you to prove your connection to India and intent to settle there. If you manage the purchase, which can be tricky, you'll be charged an extra 8.75% – 15% for stamp duty, registration and legal fees, and others.
Retiring in India
At present, moving to India for retirement is not possible, as it doesn't have a retirement visa for foreigners. But if you do wish to live there short-term and enjoy the affordable standard of living, beautiful scenery, and delicious food, you can. In fact, India might be a fantastic option for people looking to spend some of their retirement days on a budget.
Is Moving to India a Good Idea?
India had been home to foreigners long before Vasco de Gama discovered it. It's an exceptional country to experience and a colorful one to live in. And while there are many aspects that make living in India worthwhile, as you can see from this guide, the country still has a long way to go to reach Western standards.
FAQ
Is India a good place to live?
How hard is it to move to India?
Can I live in India permanently?
Hristina Nikolovska
An internship in a digital marketing agency during her freshman year of university got Tina into content. A decade later, she's utilizing her educational background in English and knack for research to craft website content on crypto and ensure readers are fully informed. When she's not investigating the crypto market and expanding her knowledge, you'll find her randomly roaming cities and sunny coasts all over the world.