Moving to the UK Checklist
Before you start packing your bags, it's important to do some research to understand exactly what you need to have and do in order to move to the UK. We've put together a useful checklist to help:
Research the country online, through forums or on YouTube

Talk to expats if you know any in the UK

Come up with a budget

Check your documentation

See if you're eligible for work

Sort out your papers

Choose a city and find accommodation options

Apply for a visa

Book a ticket
UK Visas, Work Permits, and Residency Requirements
If you're an American moving to the UK for no longer than six months, you won't need a visa - this applies to both travel and business purposes. As a US citizen, you'll only need a visa if you plan to stay in the United Kingdom for longer than six months.
Australian citizens with a parent who was born in the UK, or who were a Commonwealth citizen on 31st December 1982 and have remained a Common citizen continuously since are entitled to apply for 'right of abode', which means that you can legally live in the UK with no immigration restrictions.
Alternatively, you can apply for a UK ancestry visa. This visa has the following requirements:
You must be at least 17 years old

You must be able to prove that one of your grandparents was born in the UK

You need to apply before you go to the UK

You must have enough funds to support yourself and any dependents in the move

You must plan on working in the UK

The UK ancestry visa costs £516 and will expire after 5 years.
Commonwealth citizens can travel to the UK visa-free, and some may be eligible to immigrate to the United Kingdom. To prove you have the right of abode in the UK, one of your parents must have been born in the UK and been a citizen of the UK or British colonies at the time of your birth. Additionally, you must have been a Commonwealth citizen on December 31, 1982, and not stopped being a citizen — even temporarily — since then.
Although the UK has left the European Union (EU), people from European Economic Area (EEA) countries — all EU member states, plus Iceland, Lichtenstein, and Norway — don't need a visa to come to the UK. However, traveling without a visa only allows them to stay in the UK for three months within a six-month period. This rule also applies to citizens of Switzerland.
Finally, if you don't fall into any of the groups mentioned above, the UK government maintains a handy list of all the countries and territories whose citizens need a visa to enter the UK.
UK Visa Requirements and Types
There are six main types of UK visas:
Transit visas: For transit travel

Tourist visas: For tourist travel

Business visas: For business travel

Diplomatic visas: For diplomatic visits

Student visas: For studying in the UK

Work visas: For working in the UK
To apply for any of these visas, you'll need to do the following:
Fill out the appropriate visa application form.

Collect all the required documents for your chosen visa. These are detailed in the Guidance Notes booklet for each corresponding visa type at the link above.

Schedule a visa appointment and attend the interview.
If you're moving to the UK from the USA, before attending your interview, you'll also need to undergo biometric testing. As part of this process, US government officials will take your digital photo and scan all your fingers.
To do this, look for the nearest Application Support Center on the official US Citizenship and Immigration Services website by entering your ZIP code or selecting your state. Schedule your appointment, and be sure to bring your passport, a printed-out application form, and a copy of your biometric confirmation receipt. Once done, you'll have 14 days to send all the supporting documents to the British Consulate General in New York.
UK Work and Study Visa
If you're looking to relocate and find work in the United Kingdom, you'll need to apply for a work visa. The work visa process uses a point-based system to assess applicants. International students who want to study in the UK for a longer period are also subject to this system.
The visas for workers and students are organized into five tiers based on the applicant's qualifications and their reasons for seeking a UK visa:
Tier 1: Intended for highly skilled laborers, entrepreneurs, investors, and graduate students from countries outside of the EEA.

Tier 2: A UK skilled work visa intended for qualified workers, clergy members, and athletes from outside the EEA who can fill the gaps in the UK labor market.

Tier 3: Originally intended for low-skilled temporary workers to make up for domestic labor shortages. This tier has been suspended since 2013 due to a sizable influx of workers from the EEA countries who don't need visas.

Tier 4: Primarily a study visa intended for students aged 16 and over from outside the EEA looking to attend a school, college, or university in the UK.

Tier 5: Aimed at promoting youth mobility, this tier is intended for temporary workers in sports and creative industries, charity workers, religious workers, and those coming to the UK as part of authorized government exchanges.
UK Residency Requirements
Once you've spent enough time in the country, you can settle in the UK — in other words, you can apply for UK citizenship. To be eligible, you must have spent a specified amount of time in the United Kingdom. This time depends on your visa type and the purpose of your stay:
2 years: People married or in a civil partnership with a UK citizen

5 years: People on Tier 1 and Tier 2 work permits, athletes, business owners, arts workers, investors, people with UK-born ancestors, EEA citizens

10 years: People staying legally in the UK on any other basis

14 years: People staying in the UK unlawfully
Expats in the UK who have gained a permanent permit to stay in the country mustn't live outside the United Kingdom for more than two years at any point. If that happens, the only way to return to the UK is by applying for a Returning Resident visa.
Moving to the UK
Expat Community in the UK
As of 2021, there are 9.5 million expats in the UK, or 14.4% of the country's population. You can find large expat communities in cities like London, Edinburgh, Manchester, and Leicester, with rural areas having much smaller expat communities. The South East and London in general have the largest expat communities. Moreover, a remarkable 37% of the UK's entire expat population lives in London.
Most UK expats originate from India, Poland, Pakistan, Ireland, and Germany. If you're moving to the UK from the US, you might feel less alone knowing there are already over 196,000 US expats in the UK.
Relocating to the UK
While you can ship your belongings to the UK, it's worth considering which things are too complicated to move. The roads are generally smaller and so are the cars, driving on the left and with the steering wheels on the right. So it might be easier to leave your car behind.
Also, due to the US/UK difference in voltage, some devices may need a travel adapter, while others will have to add a voltage converter on top of the adapter. When it comes to furniture, it isn't uncommon for people moving to the UK from the US to find it cannot fit through the door or that their housing arrangements are smaller than what they're used to.
On the other hand, if you're moving to the UK with pets, you have every reason to be optimistic. The UK is a welcoming place for cats and dogs, and dogs are generally allowed in most places (but not all apartments). The official UK regulations for bringing your pets are pretty standard - they will need to be microchipped, vaccinated, and have appropriate health certificates or a pet passport.
Adapting to Life in the UK
Moving to a foreign country can be daunting, especially when it comes to understanding cultural differences. So here are some things you should know if you see yourself living in the UK as an American.
Life in the UK operates at a slightly different pace. Days off are a norm, with the usual being 25 days off each year plus Bank Holidays, so while the workaholic mindset might help you get started, know that work-life balance is much more appreciated in the UK.
Also, you might need to restrain yourself from smiling at strangers as much - more so in London - as it could be considered strange. Still, this does not mean people in the UK are unfriendly. Remember, pub culture is a thing in the UK, as well as taking turns paying for rounds so it won't be so difficult making friends (and finding great beer).
Cost of Living in the UK
As of November 2022, the estimated monthly costs for a single person in the UK total £689.26 ($827.92) before rent. Meanwhile, the projected costs for an average family of four are significantly higher and total £2,380.83 ($2,859.80) per month, also before rent.
Average Rent in the UK
With rental prices taken into account, a single person's monthly costs double. A one-bedroom apartment outside the city center averages £682.03 ($816.89), while a one-bedroom apartment in the city center averages £902.18 ($1,080.57). As for families, three-bedroom apartments are the standard. The average rent for these apartments goes from £1,205.10 ($1,443.39) per month outside the center to £1,607.63 ($1,925.51) in the heart of the city. Keep in mind that rent prices in London are far greater than the rest of the UK.
Monthly Cost Distribution
Looking at the category breakdown of the average cost of living in the UK, Brits spend the largest chunk of their money (31.7%) on rent. Other categories with high spending include markets (25.7% of the total monthly expenditure), restaurants and dining out (15.9%), and transportation (12.5%). Finally, 7.5% of an average Brit's monthly expenditure goes towards utilities, 4.7% is spent on sports and leisure, and 2.2% goes towards clothing and shoes.
Cost of Living in the UK vs. the US
Driven by the recession, the UK experienced a rising inflation rate in 2022 - but despite that, the UK is still cheaper to live in than the US. In November 2022, the cost of living in the United Kingdom was 14.94% lower than in the US. And even though the UK has recently seen a surge in rental prices, they are still 34.33% lower than in the States.
Sending money back home from the UK
It is estimated that the UK sends over $20 billion in global remittances on a yearly basis, with the top countries receiving those payments being Nigeria, India, France, Pakistan, and Germany (in that order).
Sending money to support family back home is commonplace for expats living in the UK, whether that's a regular payment or a one-off gift being sent internationally. Thankfully, such a large sum of money being sent from the UK on a yearly basis means that there are a number of methods to make this process cheaper, faster, and more convenient for everyone.
What's the best way to send money from the UK?
One of the most reliable ways to send money abroad from the UK is a money transfer operator. These services tend to benefit from lower fees, more competitive exchange rates, and faster transfer times than traditional banks, not to mention offering user-friendly apps for sending money on the go.
Some of the best services for sending your money back home from the UK include PagoFX, a company that aims to help more people send their money abroad for lower costs. The company offers a real-time mid-market rate for every international transfer, with fees as little as 0.7% of the sent amount.
What to look out for
Wherever you're sending money back to from the UK, there are a number of things to be aware of or to watch out for to make sure you're staying safe with your money:
Use a provider you trust: Make sure you are using a regulated money transfer operator with bank-grade security and reliable reviews that reassure you your money is safe.

Check the exchange rate: Exchange rates are susceptible to change on a frequent basis, so keep an eye on the mid-market rate so you can get the best deal when converting pounds into the currency of whatever country you are sending to.

Inform yourself on transfer fees: PagoFX and many other reliable MTOs provide a clear and transparent breakdown of the international transfer fees for every transaction you make – be sure you know exactly what fees you'll be paying and how much your recipient will get on the other end before locking in your transfer to make sure you're getting the cheapest deal.

Speed: If you need to send money from the UK for an emergency, speed will be of the utmost importance. Thankfully, most money transfer operators are able to process your transfer within hours after sending it – read our guide on the fastest ways to send money for more information.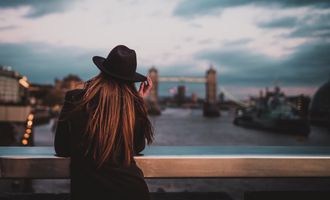 Cheapest and Most Expensive UK Cities
A 2022 study that examined the basic cost of living in the country named Oxford the cheapest place to live in the UK relative to the average local salary of £3,566.67 ($4,269.38). The basic cost of living in the city totals £1,503.51 ($1,799.73), leaving people with £2,063.16 ($2,469.65) in monthly savings. Based on this same criterion, the rest of the top five includes:
Glasgow — Salary: £2,805.67; Cost of living: £983.82; Left: £1,821.85

Reading — Salary: £3,010.76; Cost of living: £1,229.23; Left: £1,781.53

Bristol — Salary: £2,874.21; Cost of living: £1,246.77; Left: £1,627.44

Coventry — Salary: £2,250.00; Cost of living: £780.94; Left: £1,469.06
Meanwhile, the five cities with the highest cost of living relative to the salary are as follows:
Wolverhampton — Salary: £1,600.00; Cost of living: £1,028.47; Left: £571.53

Swansea — Salary: £1,499.00; Cost of living: £827.18; Left: £671.82

Norwich — Salary: £1,714.50; Cost of living: £989.61; Left: £724.89

Liverpool — Salary: £1,641.61; Cost of living: £883.01; Left: £758.60

Leeds — Salary: £1,781.40; Cost of living: £991.64; Left: £789.76
Transport and Infrastructure
Transportation in the UK is well-organized, efficient, and safe - you can get anywhere in Britain or Europe fairly quickly. There are about 40 airports connecting British cities, along with more than 25 rail operating companies. The UK is also a part of the Interrail system, which allows you to travel the UK and 33 European countries with a single pass, saving money and effort.
One of the benefits of living in the UK is that owning a car is not as much of a necessity as it is in the US. When it comes to public transport, buses, taxis, and the metro will usually get you anywhere you need to be. What's more, UK cities are more suitable for walking and biking than cities in the US.
Working in the UK
In 2022, the median annual wage in the UK was £33,000 (around $40,000), compared to the $69,000 median in the US. However, the UK unemployment rate is lower than in the US, 3.5% compared to 5.5%, according to the National Office for Statistics. The situation with the gender pay gap in the UK is better than in the US - in 2022, it fell to 14.9% from 15.1% in 2021, looking slightly better than the US gender pay gap of 17%.
The annual leave in the UK is protected by law, with workers entitled to 5.6 weeks of paid annual leave, or 28 days for the majority who work standard hours. Pregnant people also get a year of maternity leave, and their partners have the right to paternity leave - while parental leave is also an option.
The best jobs in the UK for foreigners are those on the shortage list. The UK offers a Skilled Worker Visa to professionals in the following areas: all healthcare jobs; biological, chemical, and physical scientists; IT professionals; engineers; veterinarians; artists; senior care professionals; pharmacists; psychologists (the list does go on). On the other hand, retail and wholesale sectors show a trend of job losses, along with vehicle repairs and other services.
UK Healthcare
If you're immigrating to the UK from the US, you will almost certainly find the National Health Service coverage a relief. All immigrants who pay for the Immigration Health Surcharge are eligible to use health services in the UK. The NHS offers excellent health services, ranking as the tenth best in the world in 2021 (with the US at number 30). Although the system is not without its flaws like waiting lists and staff shortages, it is still at a very high level compared to the rest of the world.
School and Higher Education in the UK
The UK education system is 14th in reading in PISA rankings, improving somewhat with each year of testing. At the same time, four UK universities rank in the top ten in the world, including Cambridge, which is in second place, and Oxford, which comes fourth.
If you're moving to the UK and have or plan on having children, it's good to know more about compulsory and non-compulsory education in the UK. Primary and secondary education are compulsory, lasting between the ages of five and sixteen. At 16, students get the General Certificate of Secondary Education.
UK students will then go on to complete further education, which is a prerequisite to enter higher education. Most international students will start studying directly at the level of higher education, and with the many of the world's best universities, a successful economy, diverse and relaxed university towns that can satisfy students' academic, cultural, and social needs, studying in the UK is an absolute dream.
Finances, Taxes, and Remittance
Generally speaking, UK residents pay taxes on their worldwide income, while non-residents pay taxes only on their UK income. You can be considered a UK resident for tax purposes if:
you spend 183 or more days in the country in the given tax year

your only home is in the UK
Besides residency, the concept of domicile (equivalent to your father's domicile at the time of your birth) will be another factor in calculating your taxes. For most expats in the UK, their domicile is still in their country of origin.
Types of UK Taxes
This is a summary of all the basic types of UK taxes. Before you settle in the UK, it's best to work out the details with a tax advisor as you will probably need to file a complete tax return once you move to the UK. Understanding your tax relief rights could save you a lot of money.
Social Security
Before relocating to the UK, check if your country and the UK have a totalization agreement. In the case of the US, the totalization agreement enables you to pay social contributions to either country (depending on the length of your UK stay) and avoid double taxation.
While UK taxes are higher in most cases, they also include healthcare and other types of benefits that are not available in the US.
Income Tax
Income tax in the UK is progressive. There is an annual personal allowance of £12,570 for all taxpayers with income under £125,140 - so if you earn up to £12,570, your tax rate will be 0%. The basic rate for income up to £50,270 is 20%, while the higher rate is 40% and the additional rate is 45%.
Inheritance Taxes
While it isn't a pleasant topic, before you immigrate to the United Kingdom, it's essential to know what rights you or your family have in case of death. The UK has treaties with some countries (including the US) to avoid double taxation on inheritance or gifts. This is especially important for people domiciled in another country but living in the UK.
Capital Gains Tax
Capital gains tax rates differ depending on the type of property that you're paying it on, and whether you pay your income tax at the basic or the higher rate. You can calculate your capital gain tax on the UK government site.
For anyone immigrating to the UK, it's important to note that non-residents need to report all sales of UK property or land in all cases whether or not they need to pay any taxes.
Marrying and Starting a Family in the UK
People married to a UK citizen or people who have been in a relationship with a UK citizen for at least two years (and cohabiting) have the right to get a married or unmarried partner visa. This applies both to opposite-sex and same-sex partners immigrating to Britain. However, the UK partner is obliged to have an income of at least £18,600 (or over £60,000 in savings) to prove they can support their partner once they join them in the UK.
In the UK, all children have the right to child benefits, while pregnant people are protected from discrimination and dismissal at work, and have paid time off for antenatal care. Same-sex couples can also adopt and foster children in the UK.
Expats Buying Property in the UK
Non-residents and expats can purchase property in the UK, as long as they adhere to the local regulations. You need to pay the same taxes as resident landlords if you own rental property.
The average cost of a house in the UK in 2022 is £294,55, 9.5% more than in 2021.
Retiring in the UK
Retirees in the UK can benefit from the high quality of healthcare in the UK, as well as the peaceful English countryside. While the climate may feel too chilly for some, there is a lot to do in the UK, from enjoying nature to visiting museums and cultural events that are so abundant they can keep you inspired..
Is Moving to the UK a Good Idea?
From Lake District to the Loch Ness, whisky, beer, and tea, there is more to the UK than you can see in a lifetime. Make a decision, make a plan, and who knows? Maybe you'll join over nine million people from all over the world who have decided that living in the UK is the best option for them.
FAQ
What is the cost of living in the UK?
Can US citizens live in the UK?
Is moving to the UK a good option?
Dunja Radonic
Dunja is an English Literature graduate with years of experience as a writer and translator within the financial sector. She loves diving into as many reports and numbers —especially about topics like personal finance that still need some translating to the public. When she's not working, you'll find her running wild with her pack of dogs, playing board games, or bingeing on pop science videos.