Moving to Australia Checklist
Check out this mini guide to make sure your move to Australia goes as smoothly as possible.
Check your passport's validity

See vaccination requirements and travel restrictions

Learn about visa requirements

Check if you're eligible for work

Make copies of your birth certificate or other documents you may need

Check accommodation and transport options

Check with immigration about your residence permit

Enquire about opening an Australian bank account

Get a local SIM card
Australian Visa Requirements, Work Permits, and Residency
Non-Australian citizens require a visa or waiver issued by the Australian Government to enter the country. In other words, whether you're just visiting as a tourist or relocating to the country, you need to contact the Australian Department of Home Affairs and find out which visa option is suitable for your purpose of entry.
Types of Work Permits in Australia
Australia has quite a complex system when it comes to work permits. From temporary skill shortages and regional sponsored migration schemes (RSMS) to business owner visas, the options are nearly endless. In fact, Australia has 43 different work permits and depending on the criteria you meet, you might be eligible for one or several.
For example, one type of Australian work visa is the Employer Nomination Scheme, intended for skilled workers nominated by an employer and allows the holder to live and work in Australia permanently. The cost of this visa starts at AUD4,045 and requires proof of Competent English (IELTS test). The occupation of the potential visa holder must also be on the eligible skilled occupation list.
Those interested in relocating because they wish to invest or start a business in Australia can choose between the following:
The first two are permanent and cost AUD2,570, while the temporary activity, as the name suggests, is not a long-stay Australian visa but is valid for three months to a year. It's intended for foreigners who have a short-term job in Australia in the field of entertainment, sporting, or religious work activities and comes with a fee of AUD325.
Retirement Visa
The retirement visa pathway is an option for people who wish to spend their senior years in Australia. The category is for long-term residents who have contributed to their Australian community. Holders of a retirement or investment retirement visa can apply for a pathway to permanent residence. Another option is for those with family ties in the country, as they are eligible for the parent or contributory visa.
Moving to Australia
Out of 52 countries, Australia ranks 9th best for expats with a happiness level of 75%, against a global average of 71%. The country also scores superbly in the ease of settling in and quality of life indices.
Regarding foreigners, the most recent reports indicate Australia is home to around 7.6 million migrants. Moreover, despite Sydney and Melbourne's popularity, Perth is the most popular destination for people who decide to immigrate to Australia. Some estimates show nearly one-third of the population in Perth is made up of migrants. But this should not come as a surprise, considering that it's among the top most liveable cities in the world.
Another important detail about the land of Oz is that bushfire season, or what Aussies call Black summer, is no joke. Climate change is real in Australia to the extent that parts of the country literally light up in flames. The previous bushfires affected nearly 80% of Australians and killed almost one billion animals.
Speaking of animals, if you're moving to Australia with a dog, cat, or any other pet, you should know that it's a long and complex process, so the best course of action is to start planning your trip at least six to nine months ahead.
Australia is a rabies-free country and has special requirements on incoming pets like mandatory 10-day quarantine, import permit application and fee, health certificate, parasite check, etc. The good news is Australia considers the US, Canada, and the UK as part of their approved group, so the process should take up to 180 days.
Adapting to Life in Australia
As a continent, Australia has a very diverse climate. From tropical zone in the north, temperate in the south, and arid in the interior, daily temperatures in Australia range from 5.7°C in New South Wales, 30.8°C in Queensland, and 8°C in Tasmania. And yes, it's no myth, Australian alpine regions do exist and get more snow than Italian Alps. So in a way, the weather is both one of the pros and cons of living in Australia.
Since we're discussing pros, let's take a moment to praise the lip-smacking, world-famous Aussie barbecue. Whether it's burgers, sausages, steaks, or fresh seafood with a touch of tomato sauce, barbecue is a quintessential ingredient of Aussieland.
And while Australian cuisine is often overlooked, there are some pretty fabulous specialties worth trying, like the chicken parmigiana, witchetty grubs, and kangaroo meat which has been part of Australian dining for over 40,000 years.
Also, if you're moving from America to Australia or any other English-speaking country, you shouldn't have any difficulties getting accustomed to the accent. Though, learning some Aussie slang will help you get there faster.
Finally, Australians drive on the left, and if you plan on driving around the country, you should take some driving lessons. And last but not least, always use a designated crossing point when crossing the street – jaywalking is forbidden in Australia and will get you fined.
Cost of Living in Australia
Some estimates say Australia is 20% costlier than the US. Moreover, Australia ranks as the 12th most expensive country in the world compared to the US, which ranks 20th. Official data reveals Australia's consumer price index is 7.3%, which is higher than that of the US, and the fact that expats rank Australia 30th on the personal finance index only confirms that the cost of living in the Land Down Under is not at all cheap.
And when it comes to how much money you'd need to get by in Australia, you should know that there is no one standard of living in Australia or a universal plan to fit your budget. You might spend AUD20,000 or AUD50,000 a month, depending on whether you're alone or with family. What is important is that housing and food are the most expensive items.
Moreover, a shared rental for students or singles costs between AUD85 to AUD215 per week. Renting a studio or other type of flat starts from AUD165 to AUD440 per week. But if you're moving to Sydney, where the median house value is AUD1,257 per month, you could end up paying even higher as post-COVID, many of the short-term rentals are offered as long-term at a much higher price.
Regarding utilities, the average monthly cost of electricity in Australia is between AUD102.6 and AUD170.33. Phone and internet will cost you between AUD20 to AUD55 per week, while groceries and eating out go from AUD80 to AUD280 or more per week.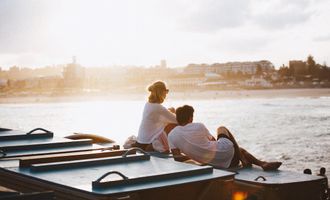 Cheapest and Most Expensive Australian Cities
From the Great Barrier Reef and Fraser Island to the Gondwana rainforests, Australia is truly a magnificent place to explore. And as far as moving there goes, we strongly recommend Melbourne as it is not only the best place to live in Australia as an expat, but it's also a city with plenty of public transport options, a low crime rate, varied art and culture scene, and great accommodation options. Plus, it's the number one most liveable city in Australia and 10th in the world.
Sydney, on the other hand, is the most expensive Australian city. A single person would need around AUD1,400 a month or more to get by in 'Harbour City.' Other expensive Australian cities in relation to housing are:
Canberra

Melbourne

Brisbane

Hobart
Those looking for budget-friendly options should consider Adelaide, the food and wine capital and the cheapest place to live in Australia. In fact, food is around 15% cheaper in Adelaide than in Sydney, while transport costs are lower by 46%. Other inexpensive Australian cities are:
Perth

Darwin

Wollongong

Newcastle

Cairns
Transport and Infrastructure
With a total of 873,573 km of roads, the country ranks 15th globally in regard to infrastructure. Moreover, Australia has 613 airports, 234 of which are located in Queensland, making it the best-connected region. What this means for expats planning on settling in Australia is that even though the country is an entire continent, everything is easily reachable.
In addition, all larger cities have either train, bus, ferry, or tram public transport, but the cost varies greatly. Sydney has the best public transport and the most expensive. On the other hand, Canberra offers just as developed public transport and one that is 47% cheaper compared to Sydney's.
Working in Australia
The unemployment rate in Australia is low at 3.4%. In fact, if you're moving to Australia for work, you should know that the country ranks 2nd on the Working Abroad Index, 5th in career opportunities and work and leisure, and 6th in work culture and job satisfaction, meaning it's not just Aussies who are happy employees but expats too.
In relation to wages, the weekly earnings of full-time employed adults average AUD1,769.80 or AUD92,029.60 a year (pre-tax). Also, Australian women earn less than men, with an average wage of AUD1,523.60 for those employed in the private sector. The average wage of men in the private sector is AUD1,835.60.
If you're moving to Australia from the US, you might find it convenient to know that currently, the US is the number one foreign investor, followed by the UK and Belgium. The most considerable foreign investments in Australia are in the mining and quarrying, real estate, financial and insurance activities, and the professional, scientific, and technical activities sector, which also has the highest 5-year growth of 20.1%.
Finally, when it comes to in-demand jobs for people immigrating to Australia and locals too, those with knowledge and skills required by the mining and quarrying, construction, nursing, dentists, and teaching (especially early childhood education) will definitely have no issue finding a spot under the Aussie sun.
And as with most countries in the world, the ICT sector, especially software and application programmers, and ICT business and system analysts are one of the most prospective jobs and will be for the next five years.
Australian Healthcare
No matter whether you're moving for work or pleasure, knowing which health insurance in Australia for expats is the best will save you time and money. Unlike other expat destinations like Mexico or Colombia, where there is universal healthcare for all, Australia has the Medicare health insurance system, a sort of mix of private and public schemes.
In reality, health insurance in Australia is private, and more than half of Australians pay good money for additional private health insurance because Medicare does not cover everything.
School and Higher Education
Australia does not only have an above-average literacy rate of 99% but also one that is on par with countries like Switzerland, Ireland, and Denmark. And if you're relocating to Australia with school-aged children, you should know that preschool, primary and secondary education is compulsory and starts from four to six and ends at 15 to 17 years of age, depending on the state.
Education in government schools is free for citizens and permanent residents, while Catholic and independent schools charge attendance fees. Finally, even though English is the official language of the country, many schools offer bilingual programs.
Tertiary education is distinguished by the Australian Qualifications Framework, which allows students to move easily from one level of study to the next and from one institution to another. If you're moving to Australia alone, as an international student, you can choose between 1,100 institutions and over 22,000 courses.
Moreover, the University of Melbourne is the best in the country and the 27th best in the world, while the University of Sydney ranks second and 28th globally. However, other universities like the one of Adelaide, New South Wales Sydney, or the National Australian University also rank high on the list of best global universities.
Finances, Taxes, and Remittance
In 2021, tax revenue was AUD593.2 billion, accounting for 28.7% of Australia's GDP. The tax system in the country is progressive and collected by the federal government through the Australian Taxation Office.
Expats in Australia, or nonresidents, pay significantly higher tax rates than residents and are obligated to file a tax return if they have any Australian-source income. On the upside, they are not required to pay Medicare or foreign income tax.
Types of Taxes in Australia
Australians and residents, otherwise defined as people who've spent more than half the tax year in the country, are domiciled in Australia, or are contributing members to certain superannuation, are levied individual income tax.
In other words, an expat living in Australia that meets the above requirements, can pay as low as 0% for an annual income of AUD18,200 to as high as 45% for a personal income tax rate on a sum of over AUD180,000. Capital gains are included in assessable income subject to a capital gains tax discount which does not apply to non-residents and temporary residents.
Corporate income tax is levied on resident companies or companies that are incorporated in Australia and/or carry some type of business in the country. And if you're planning on living in Australia because you'll be investing in the country or starting a business there, you will most probably be charged a standard rate of 30%.
There is a lower corporate income tax rate of 25%, but it applies to companies with an annual turnover lower than AUD50 million that derive up to 80% of their assessable income from base rate entity passive income. The branch tax rate and capital gains rate is also 30%, with no branch remittance tax.
Regarding remittances, in 2021, Australians sent a total of AUD3,804 million abroad, or less by around half a million compared to the year before. Similarly, the country received a solid AUD922 million in remittances in 2021, down from AUD1,752 million in 2020.
Marrying and Starting a Family in Australia
Many people decide to emigrate to Australia because of its high quality of life is high and because it's the number one family-friendly destination in the world. And the best part is the Australian government assists its citizens with everything related to beginning a relationship or marriage. From housing allowance and moving homes to helping one of the partners with travel tickets, Australia is a dream for anyone wishing to get married or start a family there.
And one of the benefits of living in Australia as an expat is that if you marry a local, you will get citizenship by marriage. Additionally, a child born to expats with permanent residency status will, by default, gain Australian citizenship and all the benefits that come with it.
In fact, a child born in Australia is the basis for both parents to apply for a Contributory Parent visa. But if you find yourself pregnant there and holding just a temporary visa of any type, the child will automatically get the same.
Buying Property in Australia
Expats who have permanent residency in Australia can purchase a property and apply for a mortgage, just like Australian citizens. If, however, you have a temporary resident visa, your best shot at owning a home in Australia is to buy one categorized as an investment. To do this, you need approval from the Foreign Investment Review Board, and the property you buy must be new or vacant land and cannot be an established dwelling.
The fees depend on the property's value and range from AUD6,000 to AUD38,000 for the FIRB application, and there's a transfer duty of up to 6.5%. On top of this, there is a foreign citizen stamp or a surcharge purchaser duty of 8%.
Retiring in Australia
If you're looking for reasons to move to Australia, consider retiring. Not many people are doing it, as the cost of living is a bit higher compared to other retirement destinations, but with the right budget, Australia can be an excellent pick for retirees. Healthcare is top-notch, the people are friendly, the food is amazing, and the country is welcoming. In fact, if you're over 60 and already a permanent resident, you're eligible to become an Australian citizen by conferral.
Is Moving to Australia a Good Idea?
Whether you're moving for work, studies, family, or retirement, living in Australia can be the most fulfilling experience of your life. As you can see from this guide, the county is close to perfect – it has excellent weather conditions, incredible locations, breathtaking beaches, great job opportunities, and it's family-friendly with a well-organized education system.
FAQ
Is moving to Australia difficult?
What salary do you need to live in Australia?
What are the negatives of living in Australia?
Hristina Nikolovska
An internship in a digital marketing agency during her freshman year of university got Tina into content. A decade later, she's utilizing her educational background in English and knack for research to craft website content on crypto and ensure readers are fully informed. When she's not investigating the crypto market and expanding her knowledge, you'll find her randomly roaming cities and sunny coasts all over the world.