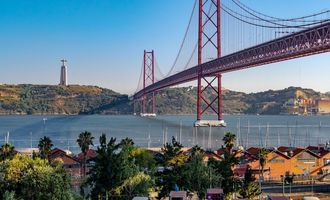 Top 10 Best Countries to Move to From the USA

Darko Radic
Although the US offers excellent living conditions, many Americans dream of moving to a different country. Yet, finding the perfect place to settle down can be easier said than done, especially if you don't prepare in advance.
So, to point you in the right direction, here are the best countries to move to from the USA. These ten countries will be a safe bet for most Americans looking to see the world and experience different cultures and lifestyles.
The Best Countries to Move to From the USA in 2023
1. Portugal
Even though the two neighbors, Mexico and Canada, have the most Americans living abroad, Portugal attracts more and more US citizens. This European country is a popular destination because it offers a warm climate, stunning landscapes, and relatively low living costs. Plus, Portugal ranks sixth as the safest country in the world.
Located on the Iberian Peninsula, Portugal has a declining population of around ten million. So, the authorities are looking for ways to attract new citizens, making Portugal one of the easiest countries to immigrate to. For instance, the Portuguese government introduced tax-free crypto regulations and extra benefits for digital nomads.
2. Canada
Living in the Great White North appeals to many US citizens, given that over a million Americans live in Canada. Some move to Canada to attend universities and colleges, while others relocate for work or marriage. The northern neighbor attracts US citizens with its low crime rates, excellent education system, stable economy, and abundant natural wonders.
Of course, Canada and the USA share the longest international border, placing the Land of Maple Syrup among the easiest countries to move to from the USA. The lack of a language barrier is another benefit since English is the official language. Likewise, daily life is similar, reducing the cultural shock US citizens will experience after moving to Canada.
3. Mexico
America's southern neighbor takes the third spot on our list since Mexico is a trendy destination among US citizens living abroad. After all, 1.6 million US citizens live in Mexico, while the countries share a 2,000-mile border and 47 land points of entry. So, besides being a top destination for travelers, Mexico is one of the best countries for Americans to move to.
Mexico has a lot to offer to American expats, including lower living costs, fantastic weather, and a relatively relaxed lifestyle. However, while US citizens can stay in Mexico visa-free for up to 180 days, a temporary residence permit is required for those looking to make Mexico their new home.
4. Malta
In many ways, Malta is similar to Portugal, primarily regarding the climate and the Golden visa scheme. So, it's not surprising that many Americans find this Mediterranean county ideal for retirement or work. In addition, Malta is an EU member and a part of the Schengen Area, making this island country one of the best places to move out from the US.
Malta might be ideal for relocation if you enjoy year-round sunshine, breathtaking coastline, and delicious cuisine. On top of that, most of Malta's population speaks English, and the country offers political and economic stability. Finally, we should mention that Malta provides permanent visas to US citizens who invest 'only' 30,000 euros in real estate.
5. Singapore
Singapore is the first Asian country on our list, but it earns its spot with tens of thousands of American expats living there. Singapore has always been a melting pot of nationalities and cultures, so it has a reputation for being one of the easiest countries for Americans to move to. After all, immigrants make up more than a third of Singapore's population.
This Asian country is famous for its thriving technology, light tax burden, and universal healthcare system, making it attractive for young and educated Americans. Yet, life in Singapore can be equally expensive as living in New York, especially if you move to the country's Central region.
6. Ecuador
Ecuador is popular among expats because it offers a warm climate, vibrant culture, and tasty food. Plus, the Ecuadorians are exceptionally welcoming and friendly, making this South American country one of the best places to immigrate from the US. But, of course, the low living costs are the primary reason many Americans move to Ecuador.
Even though public roads and infrastructure need improvements, Ecuador has excellent internet services, beautiful landscapes, and a convenient tax system. Thrill seekers will find plenty of activities, while history buffs can spend days exploring the Aztec and Inca civilizations. Best of all, Ecuador has a massive expat community, so US citizens should effortlessly blend in.
7. The United Kingdom
Despite its notorious weather and less-than-stellar traditional food, the United Kingdom could be the best country to move to from the USA for those looking to minimize culture shock and eliminate language barriers. An estimated 200,000 US citizens live in the United Kingdom, and the transition from one country to another is relatively straightforward.
The benefits of moving to the UK include access to affordable healthcare, free education, an efficient transport network, and plenty of cultural and sporting events. Years of immigration have diversified the population while simultaneously increasing the visa requirements. Nevertheless, skilled workers are a sought-after commodity, and the same goes for US citizens.
8. Spain
Spain deserves a spot among the best countries for American expats because it offers similar living conditions as Portugal, albeit a more expensive lifestyle. After all, these two neighboring countries share the same peninsula and have a similar climate and culture. So, check out Spain's visa programs if you want a laid-back home with abundant sunny days.
Spain has many things going for it, including its famous wine, food, architecture, and mid-afternoon naps known as siestas. While the Spanish nightlife attracts many younger US citizens, the peaceful lifestyle in the Canary Islands appeals to American retirees. So, Spain has something for everyone.
9. Switzerland
Although it might not be the cheapest option, Switzerland might be the best country for Americans to move to because it offers multiple benefits. Namely, the Swiss boast top-rated watches, delicious chocolates, and famous cheese fondue. Likewise, this European country is renowned for its impressive mountains, picturesque villages, and lovely lakes.
US citizens can expect excellent quality of life in Switzerland thanks to an outstanding work-life balance and top-tier economy. Again, the country is notoriously expensive, and the locals can be overly reserved, but most hard-working Americans will quickly adjust to Swiss society.
10. Cyprus
Lastly, the iconic island of love is among the best countries to move to since it combines lush beaches, historical treasures, and friendly locals. The Cypriot people have one of the world's healthiest diets but also enjoy some of the tastiest wines. The stress-free vibe appeals to many US citizens, and many consider Cyprus the ideal place for retirement.
With around 340 days of sunshine and picturesque countryside, Cyprus is impossible to resist. It also offers low property prices, affordable food, and many family-friendly neighborhoods. However, as non-EU citizens, Americans can visit and stay for 90 days, after which they must apply for a permanent visa.
The Summary
And there you have them—the best countries to move to from the USA in 2023. The list features locations from several continents, but the common ground is that these countries offer excellent possibilities for US citizens. These benefits include tax benefits, affordable healthcare, and political stability.
Regardless of the motivation to move from the US, the countries on our list will meet most expats' needs and allow them to set up a new home and enjoy new beginnings.
FAQ
What country is best to move to from the USA?
What country are most US citizens moving to?
What is the easiest European country to move to from the USA?
Darko Radic
Despite his BA in English, Darko's interests slowly strayed away from analyzing Shakespeare and re-reading the classics. Instead, he goes above and beyond to build his online writing portfolio, covering everything from SEO and digital marketing to finance and crypto. Effortlessly, he dives into reports and research papers to extract the juiciest parts and make the reader's life easier. When not writing, Darko typically explores mountain trails with his loyal Belgian Malinois.