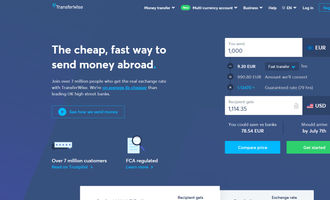 Wise on track to launch its London IPO in May

Crispus Nyaga
Wise, formerly known as TransferWise, is on track to become a publicly traded company in May this year. 
Wise IPO update
A few weeks ago, we reported that Wise was considering going public later this year in London. The IPO is set to take place in May, valuing the money transfer company at between $6 billion and $7 billion. Its previous funding round valued the firm at more than $5 billion, making it one of the most valuable European fintech firms.
According to Reuters, the company's management and its advisors have settled on London after flirting with New York and Amsterdam. The company also wants to take the traditional route of an IPO instead of merging with a Special Purpose Acquisition Company (SPAC).  WorldRemit, its London rival has chosen a SPAC route that will see it listed in New York.
Wise is working with Goldman Sachs and Morgan Stanley for its IPO. It will come at an important time for the London Stock Exchange (LSE). After going through an IPO drought for years, the exchange welcomed Deliveroo in what turned out to be its worst listing on record. The company's stock declined by more than 30% on its first day.
Different outcome for Wise?
Wise IPO could be different for the LSE. For one, Wise is one of the most recognized brands in the fintech world. With many investors wanting exposure to the industry, the stock could do well. In the past few years, other fintech companies like PayPal and Square have done really well in the stock market. 
Also, Wise's business model is different from that of Deliveroo. The firm makes money by taking a commission for every transaction and generating interest income. Deliveroo, on the other hand, relies on freelancers for its delivery. This has some regulatory risks. 
In addition to Wise, other companies set to IPO in London this year are Moonpig, TrustPilot, and DarkTrace.
Crispus Nyaga
Crispus is a financial analyst with over 9 years in the industry. He covers the stock market, forex, equities, and commodities for some of the leading brands. He is also a passionate trader who operates his family account. Crispus lives in Nairobi with his wife and son.