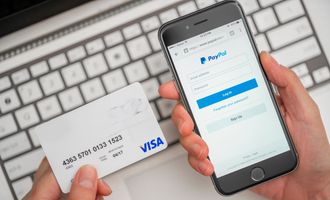 PayPal stock under pressure after a downgrade by Bernstein

Crispus Nyaga
PayPal is a company under pressure. Competition in the money transfer and payments industry is rising while its growth has stalled. Subsequently, its stock has dropped by more than 30% from its year-to-date high.
Bernstein downgrades PayPal
PayPal is one of the best-known fintech companies. It has a market capitalization of more than $253 billion and more than $21 billion of annual revenue.
However, PayPal is also under intense pressure, which explains why the company was in talks to acquire Pinterest. Pinterest is a social media company that is known for its social commerce and advertising business.
The company is facing competition across its business lines. Its money transfer services like Xoom are being disrupted by companies like WorldRemit, Wise, and Remitly. Its corporate payment solutions are also being disrupted by the likes of Square and Shift4Payments. 
Similarly, its Venmo product has been disrupted by products like Cash App. PayPal was also late in the buy now, pay later industry and cryptocurrency industries.
It is against this backdrop that an analyst at Bernestein downgraded the company. The analyst noted:
"We are watching the likelihood of slowing share gains from a thousand cuts, e.g., Buy Now Pay Later, Apple Pay, Shop Pay and improving card-on-file/saved card experience. Shopify's meteoric rise and push towards its own payment platform is particularly problematic."
What next for PayPal?
While PayPal is facing growth challenges, some analysts are optimistic about the company. They cite its strong brand and the fact that it has more room for growth. For example, in the third quarter, the company's revenue rose by 13% to more than $6 billion while its profit jumped to more than $1 billion.
PayPal also has a large user base. It has more than 426 million users across its brands. Most importantly, it has a strong balance sheet, which it could use to fund acquisitions. 
Crispus Nyaga
Crispus is a financial analyst with over 9 years in the industry. He covers the stock market, forex, equities, and commodities for some of the leading brands. He is also a passionate trader who operates his family account. Crispus lives in Nairobi with his wife and son.