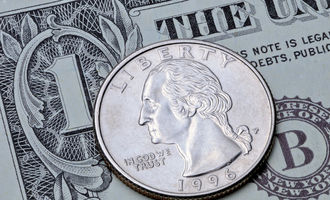 Dollar index under pressure even as US inflation surges

Crispus Nyaga
The US dollar declined against most currencies this week after the country published strong consumer inflation data. The dollar index, which measures the currency's performance against a basket of currencies, has declined by over 1.50% in the past five days.
US inflation surging
American consumers are paying more for services than they did in decades. Data published this week showed that the headline consumer price index (CPI) increased by 7% in December. This increase was mostly because of the rising prices of food and energy.
Meanwhile, the core consumer price index that excludes the volatile food and energy prices, rose by 5.4% in the same period. These were the biggest increases since 1982, when most western countries suffered an oil embargo.
The US inflation data came a few days after the country published the latest employment data. According to the Bureau of Labor Statistics (BLS), the country's unemployment rate declined to 3.9% in December. This was the lowest level since the pandemic started.
Federal Reserve tightening
The impact of these numbers is that the Federal Reserve will embrace a more hawkish stance than it did before. It has already started unwinding its policies. In November, the bank decided to cut its quantitative easing purchases by $15 billion. It then doubled this amount to $30 billion in its December meeting.
Now, analysts expect that the Fed will start hiking interest rates this year. Indeed, the Fed chair hinted that the bank will implement about three rate hikes this year. Some analysts expect that it could even hike rates four times.
The US dollar is trading at 1.1462 against the euro and by about 1.2480 against the Canadian dollar. It is trading at 1.3728 against the British pound.
Crispus Nyaga
Crispus is a financial analyst with over 9 years in the industry. He covers the stock market, forex, equities, and commodities for some of the leading brands. He is also a passionate trader who operates his family account. Crispus lives in Nairobi with his wife and son.