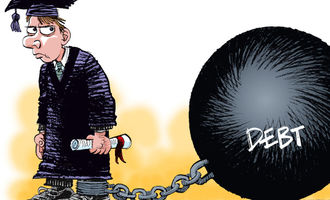 US Students' Loans tripled in the last 15 years to stand at $1.75T

Elizabeth Kerr
Americans are grappling with escalating costs of higher education. According to a MoneyTransfers.com analysis, student loans have ballooned to $1.75 trillion (T) in the last 15 years. That's a more than 320% jump from the 2007 figure of nearly $545 billion (B).
MoneyTransfers further reckons that the average American owed roughly $29 thousand (K) in student loans by Q4 2021. That works out to some $58K per regular household, considering that the typical American household has at least two college attending persons. Up to 75% of that debt went to either associate or bachelor's degrees, the remainder going to graduate studies.
"This data tallies with the reality that college fees have been surging in the last 15 years," said MoneyTransfers.com CEO Jonathan Merry.

He added, "Americans have to dig deeper for higher qualifications as they have better chances of advancements in the job market with a higher degree."
Distribution of the U.S student loans
A deep dive into the data reveals further differentiation into two broad categories. On the one hand, you have Federal Student Loans that the Federal Government provides through the Department of Education. On the other hand, there are the Private Student Loans that one may apply for from private lenders.
The former takes the more significant chunk of the $1.75T loan bill. That's because they offer more benefits and favorable repayment terms. They, however, have caps which lead some students to seek the latter to bridge the gaps. Federal student loans make up 92% of this total.
Additionally, the Department of Education indicated that over 43 million Americans have taken federal student aid to date. According to the Federal Student Aid, these account for an outstanding $1.61T of the total student loan. Meanwhile, Private Student loans are over $131B.
Student debt by age
The data also segregates borrowers according to their ages. Borrowers younger than 35 are the majority (22.5M), and they owe a combined $610B. Of these, the under 24s, who are 7.6M in total, owe $110B. Most under 35s owe anything between $10K and $40K.
The 35 to 49 years age group comprises 14.4M borrowers owing a collective $622B. It has the largest number of borrowers with arrears exceeding $100K. Again 6.4M 50-61-year-olds have a combined loan debt of $282B, while the over 62-year-olds (2.4M of them) owe $98B.
Distribution by race and gender
Moreover, the data shows that African Americans hold more student debt than their peers from other ethnicities. Black women also service more debt than fellow women of different extractions. Asians and Hispanics have the lightest debt burdens. 
Compared to men, women account for two-thirds of the outstanding student loans. By press time, there wasn't data relating to gender-neutral borrowers. Women carry more student debt because they're the majority at all education levels. Ironically, they tend to earn less on the job compared to their male colleagues. 
Tackling the student debt crisis
Student loans continue shackling many Americans with a college education. The country has adopted several interventions to ease the debt burden dogging borrowers. One recent intervention has been president Joe Biden extending the pause in Federal Student Loans repayment till September this year.
There have been suggestions to expand Pell Grants through the Pell Grant Preservation & Expansion Act 2021. The Pell grants are a vital support source for needy Americans pursuing higher education. The act also seeks to make community college education free.
Expanding Pell Grants will cut student debt by over 50%
The thinking behind the act is that doubling Pell Grants to a maximum of $13,000 will enable students of community colleges to graduate debt-free. On average, all students will benefit from a  debt reduction of at least 50%. Bachelor's degree students will see an almost 60% reduction in their student loans. 
A more radical proposal has called for the Federal government to cancel all the outstanding federal student debt. However, that has come under criticism from quarters that believe it's not sustainable. Nevertheless, critics and proponents of debt forgiveness agree that America must find innovative solutions to the problem.
Elizabeth Kerr
Elizabeth is a financial content specialist from Manchester. Her specialities include cryptocurrency, data analysis and financial regulation.