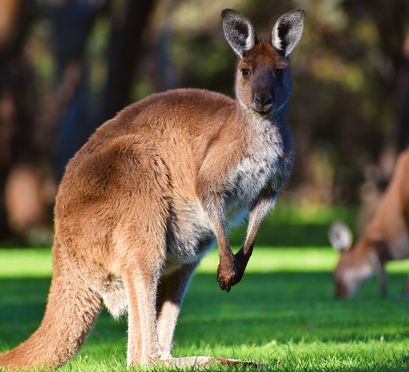 AUD/NZD on a Course to Five-Year High
AUD/NZD is building steam for push above 1.1200 and the highest rate since 2017 as New Zealand's economic outlook worsens.
The Aussie dollar has gained against its smaller neighbor in each of the last five trading days. The Aussie's strength comes as analysts predict the dire state of the NZ economy could force the central bank to a dovish tilt.
Last week, the Reserve bank of New Zealand (RBNZ) hiked the official cash rate (OCR) by 50 basis-points to 3.00 percent. The RBNZ has stated that it intends to raise the official cash rate to 4.00 percent over the next year. However, ING bank casts doubt on this forecast:
"We may see 25bp or 50bp being trimmed off the terminal rate projections and/or rate cuts being added sometime in 2023, in what would be a de-facto dovish shift."
The bank cites the sharp decline in property prices and an economic slowdown as possible reasons the RBNZ will change its tone. In recent months, New Zealand's economic outlook has deteriorated. Employment growth and consumer confidence are below levels seen in the Great Financial Crisis (GFC) of 2008. Not to mention, that unemployment is ticking higher.
Taking this into consideration, the RBNZ may indeed soften its stance. In this event, AUD/NZD is likely to remain stronger for longer.
Aussie to Kiwi Price Forecast
The daily chart shows the AUD/NZD pair is trending higher in a rising parallel channel. The top of the channel, aligned with the August 5-year high of 1.1177, provides the immediate price resistance. Should the Aussie hurdle this significant obstacle, an extension towards 1.1300 is possible.
Below the market, the 50-Day Moving Average (DMA) at 1.1050 (green), and the 100-DMA at 1.1022 (blue) support the bullish outlook. As does, the rising trend support at 1.1000.
The relative Strength Index (RSI) reading of 63.13 is encouraging and suggests more upside is possible. Although, should the RSI stray into overbought territory (>70.00) it could indicate signs of exhaustion. Nonetheless, for now all the signs point higher.
For this reason, the immediate outlook is positive. Even more so, above the overhead resistance. However, this only remains the case as long as the rate is above the 50, and 100-DMAs.
AUD/NZD Price Chart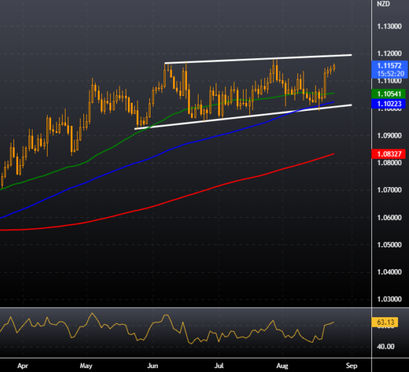 Elliot Laybourne
Elliott is a former investment banker with a 20 year career in the city of London. During this time he held senior roles at ABN Amro, Societe Generale, Marex Financial and Natixis bank, specialising in commodity derivatives and options market-making. During this time, Elliott's client list included Goldman Sachs, JP Morgan, Credit Suisse, Schroders Asset Management, and the Pennsylvania State Public School Employees Retirement System, amongst others. Today, he splits his time between Thailand and Dubai, from where he provides trading consultancy and business development services for family office and brokerage clientele.