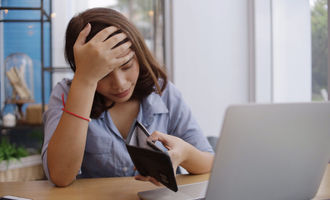 Revealed: Social Media Is Worse For Financial Confidence Than It Is For Body Image

Toby McInnis
A huge amount of attention has been paid to the impact social media has on young people's body image. But recent research suggests that this is actually not the most significant way platforms like TikTok and Instagram hurt users.
MoneyTransfers.com has analysed data that suggests financial self-image is where social media has the most pervasive effect. And despite efforts to use the platforms to promote financial literacy, there is reason to fear these efforts will backfire – consolidating the negative effect of the platforms.
– 34% of adults who have social media say they have felt negatively about their finances after seeing others' posts
– Simultaneously, these platforms promote impulsive spending, with nearly half of social media users having made an impulse purchase of a product they saw on social media
– This leads to mental health decline, as those with low financial confidence are found to have 37% lower Mental Health Wellbeing Scores
Financial self-image is being harmed
Based on data from the US, Social media makes 34% of users feel negatively about their finances – higher than any other effect. In comparison, 32% feel negatively about their appearance, 27% about their careers and 26% about their living situations. This is likely down to unfavourable comparisons with friends and acquaintances, many of whom flaunt their wealth online.
While the above data covers adult populations, there is evidence similar effects are seen in children. 64% of parents with kids under 18 who have access to social media believe social platforms have given their kids unrealistic expectations about money. 
Financial health is a mental health problem
This has a negative effect on both the mental and financial health of individuals. A UK study has shown that people with low financial confidence have been found to have 37% lower Mental Health Wellbeing Scores than those with greater financial literacy. 
Worse still, the cumulative effect of low confidence, weakened mental health and pervasive advertising leads to irrational behaviour – as nearly half of all social media users say they've made an impulse purchase of a product they saw on social media.
Demand for online advice is growing, but the quality isn't
Along with growing anxiety about financial status comes a desire for greater knowledge about the subject. Data from Pinterest's global search analysis shows a huge increase in search terms related to financial literacy at the end of 2021, with terms like Investments tips (+195%), financial education (+55%) and investment property for beginners (+45%) all surging in popularity. 
More than half of millennials and Gen Z now turn to social media for financial advice, while only 25% seek in-person financial advice. This may be due to the accessibility of online advice, given that just 6% of Brits are currently able to afford personal financial advice.
What happens next?
It is unclear whether this will ultimately be for the good. While traditional financial advisers are prohibitively expensive, they are generally reliable. The online sphere, however, is home to some high quality content – and plenty of get rich quick schemes. 
This research points to a worrying trend. Social media has the potential to empower individuals to become more financial literate – but it may also lead them to have a very negative relationship with money.

Jonathan Merry, CEO of MoneyTransfers.com
Toby McInnis
Toby McInnis is a writer based in London. He works with some of the fastest growing startups in the world, covering industries as diverse as finance, technology, logistics and healthcare.